Indonesia Chapter - Members and News

* GAFM Board of Standards is a IAO Accredited Body which is ISO 29990 & 9001 Certified and QAHE Accredited and SIS Licensed for ISO 29993
Chapter President - Dr. Ir. Fauzi Hasan MM, MBA, CISA, CISM, CISSP, CGEIT, CRICS, SSCP, ITIL, PMP, CDCP, CDCE, CSQE, BCMP, Prince2, APICS, IPCMI, CEH, CISCP. - Hon. Global Advisory Board.
Programs in Alliance and Accredited with the BNSP Credentialing Agency.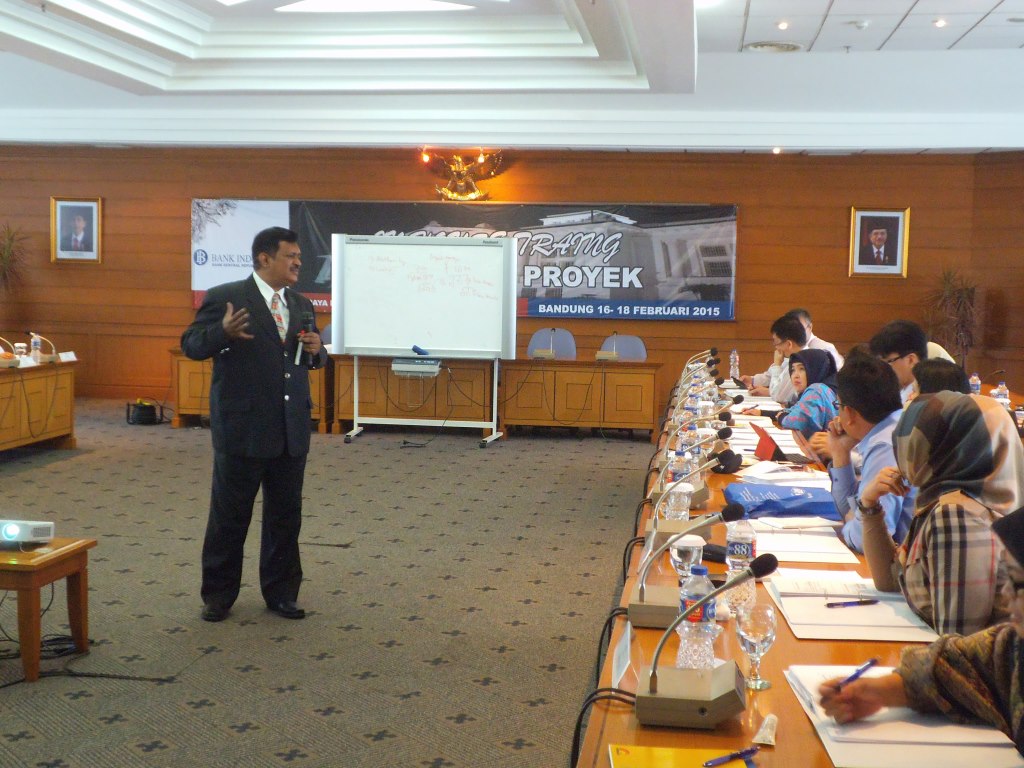 The e-Building- International Business Community (IBC
)
Jl. Suryopranoto No.2 Blok I No.1-4
Phone: +62 21 6331865 – 6331866
Certifications Available:
CIPM Certified International Project Manager ®
MPM Master Project Manager ®
GAFM and AAPM Approved by Indonesia Governmental Credentialing Authority.
New Fellows and Certified Members for AAPM Indonesia
1 Susi Oktriyani Master Project Manager
2 Yono Maulana Master Project Manager
3 Dotty Wimpertiwi Master Project Manager
4 Ifwandi Master Project Manager
5 Erick Hariyona Master Project Manager
6 Susiana Dewi Ratih Master Project Manager
7 Mansur Master Project Manager
8 Irwan Abdullah Master Project Manager
9 Fauzi Hasan Master Project Manager
10 Nico Rudolf Master Project Manager
11 Iwan Kurniawan Master Project Manager
12 Arya Adhi Nugraha Master Project Manager
13 Suhaerudin Master Project Manager
14 Imam Indra Gunawan Master Project Manager
15 Doni Purnomo Master Project Manager
16 Suyogo Parbowo Master Project Manager
17 Untung Suradiono Master Project Manager
18 Arief Mustaqim Master Project Manager
19 Try Edy Asmara Master Project Manager
20 Muhammad Ferhat Master Project Manager
21 I Wayan Gede Putrayasa Master Project Manager
22 Ali Imran Master Project Manager
23 Yunan Fatoni Master Project Manager
24 Tri Haryanto Master Project Manager
25 Nopriadi Master Project Manager
26 Eko Syamsuddin Hasrito Master Project Manager
27 Hari Murti Wirawan Master Project Manager
28 Eka Yudhistira Murliawan Master Project Manager
29 Arief Prabawa Putra Master Project Manager
30 Noval Tajudin Acredited Supply Chain Analyst
31 Chamad Rochmana Acredited Supply Chain Analyst
32 Andi Hernandi Acredited Supply Chain Analyst
33 Firdaus Karim Acredited Supply Chain Analyst
34 Parasmatua Siregar Acredited Supply Chain Analyst
35 R. Teguh Sulistyohadi Acredited Supply Chain Analyst
36 Tri Ratmojo Acredited Supply Chain Analyst
37 Sri Mahendradata Acredited Supply Chain Analyst
38 R. Febriansyah. TR Acredited Supply Chain Analyst
39 Widoyo Yakti Acredited Supply Chain Analyst
40 M.Novemidiansyah Acredited Supply Chain Analyst
41 Posma Silitonga Master Project Manager
42 M. Eryan Master Project Manager
43 HB. Susilotomo Master Project Manager
44 Chamad Rochmana Master Project Manager
45 M. Emil Salim Master Project Manager
46 Sopwan Haris Master Project Manager
47 Yayan Sofyan Master Project Manager
48 Ananto Harimawan Master Project Manager
49 Jati Pratomo Master Project Manager
50 Hotman F. Sitanggang Master Project Manager
51 Ongko Wiyono Master Project Manager
52 Haryono Master Project Manager
53 Atok Kuntarto Master Project Manager
54 Sony Feriawan Master Project Manager
55 Ilham Nugroho Master Project Manager
56 Efvy Zamidra Zam Master Project Manager
57 Widoyo Yakti Master Project Manager
58 Benny Nugroho Budi Priyanto Master Project Manager
59 Made Sukendria Master Project Manager
60 FX. Budi Widyatmoko Master Project Manager
61 Effek Alamsyah Master Project Manager
62 Tresia Mahaputeri Nusantari Master Project Manager
63 Estiningtyas Nugraheni Master Project Manager
64 Lawrens Certified Hospitality Manager
65 Nandan Limakrisna Certified Marketing Analyst
66 Hary Budiarto Certified International Information SystemAuditor
67 Iman Budiyanto Certified Marketing Analyst
68 Suseno Arianto Certified Marketing Analyst
69 Yusup Suhara Certified Marketing Analyst
70 Wirawan Leksono Acredited Supply Chain Analyst
71 Rikrik Supriyadi Acredited Supply Chain Analyst
72 Adian Gogo Hutagalung Acredited Supply Chain Analyst
73 Roy Urich Kusumawardana Acredited Supply Chain Analyst
74 Agus Dermawan Acredited Supply Chain Analyst
75 Rafida Wardana Acredited Supply Chain Analyst
76 Ade Nizar AM Acredited Supply Chain Analyst
77 Arifin Acredited Supply Chain Analyst
78 Choirul Basuni Acredited Supply Chain Analyst
79 Suryono Acredited Supply Chain Analyst
80 Elias A. Ginting Acredited Supply Chain Analyst
81 Abdul Rahman HS Acredited Supply Chain Analyst
82 Noval Tajudin Certified Marketing Analyst
83 Dudung Duhara Master Project Manager
84 M Sigit Lestanto Master Project Manager
85 Abdul Ghofur Master Project Manager
86 Grandys Frieska Prassida Certified International Information SystemAuditor
87 Amna Shifia Nisafani Certified International Information SystemAuditor
88 Alfajri Ismail Master Project Manager
89 Pradnya Paramita Master Project Manager
90 Nina Kirana laksmi Certified International Project Manager
91 Maritza Al Iradah Certified International Project Manager
92 Dedy Kurniawan Certified International Project Manager
93 Elisa Kusrini Certified International Project Manager
94 Toriq Arif Ghuzdewan Certified International Project Manager
95 Wahyu Bintoro Certified International Project Manager
96 Widarto Sutrisno Certified International Project Manager
97 Stevanus Herry Certified International Project Manager
98 Dian Erythrica Yullyanti Master Project Manager
99 Azil Awaludin Master Project Manager
100 Narwoko Master Project Manager
101 Arif Sumarlin Sasmita Master Project Manager
102 Wahyu Hidayat Sulistyawan Master Project Manager
103 Surya Widyanto Certified Professional in Business Continuity Plan
104 Noval Tajudin Certified Management Accountant
105 Wisnuaji Chartered and Certified Human Resource Analyst
106 Narendra Prabhawa Mukti Supangat Chartered and Certified Human Resource Analyst
107 Fitri Ayunda Permatasari Chartered and Certified Human Resource Analyst
108 Ardi Yudistira Chartered and Certified Human Resource Analyst
109 Chandra Ayu Dewi Chartered and Certified Human Resource Analyst
110 Tekad Wahyono Chartered and Certified Human Resource Analyst
111 Basyori Buyung Chartered and Certified Human Resource Analyst
112 MC Maryati Chartered and Certified Human Resource Analyst
113 Lucky B Pangau Chartered and Certified Human Resource Analyst
114 Dony Rivai Master Project Manager
115 Ratna Widiastuti Certified Marketing Analyst
116 Romy Di Putra Certified Marketing Analyst
117 Dewi Setiaty Karya Certified Marketing Analyst
118 Novellindo Pahlevi Master Project Manager
119 Sunarto Master Project Manager
120 Yiyin Irfan Fahmi Master Project Manager
121 Teguh Tri Warso Master Project Manager
122 Anang Barnea Arrayyansyah Master Project Manager
123 Hikmatul Hayat Master Project Manager
124 Alfin Bahtiar Master Project Manager
125 Wifiksana Suhendra Master Project Manager
126 Heri Setiwanto Master Project Manager
127 John Veri Master Project Manager
128 Sarjon Defit Master Project Manager
129 Zulfikri Latief Master Project Manager
130 Dedi Riswandi Master Project Manager
131 Sindu Irawan Master Project Manager
132 M. Sofyan Nurdin Master Project Manager
133 Syahriza Prinka Master Project Manager
134 Suhardi Master Project Manager
135 Oki Nandoko Rakhim Master Project Manager
136 Nendang Retno Djuwita Master Project Manager
137 Pambudi Wahyu Basuki Master Project Manager
138 Agus Hamzah Master Project Manager
139 Dimas Anugrah Prakoso Master Project Manager
140 Rizky Maulana Arief Master Project Manager
141 Toefany Prakarsa Parmulyawan Master Project Manager
142 Rakhmat Aji Jauhari Master Project Manager
143 Eriyawan Master Project Manager
144 Adi Mulyanto Master Project Manager
145 Yudistira Dwi Wardhana Asnar Master Project Manager
146 Indra Lingga Setia Putra Master Project Manager
147 Bahrullah Akbar Master Project Manager
148 Diana Susianti Moro Master Project Manager
149 Maruli Tua Tampubolon Master Project Manager
150 Mahendra Ramadhan Sonday Master Project Manager
151 Rio Harcan Master Project Manager
152 R. Mohammad Arie Ariandhana Master Project Manager
153 Susi Oktriyani Master Project Manager
154 Yono Maulana Master Project Manager
155 Dotty Wimpertiwi Master Project Manager
156 Abdul Firman Radjak Master Project Manager
157 Moh. Ardie Latief Master Project Manager
158 Pinuji Prasetyaningtyas Master Project Manager
159 Jumiati Master Project Manager
160 Agus Arif Algahara Master Project Manager
161 Hendra Mayasdi Master Project Manager
162 Hening Handayani Master Project Manager
163 Pradnya Paramita Master Project Manager
164 Andi Ira Damayanti Master Project Manager
165 Muhudin Abukar Mursal Master Project Manager
166 Abdul Hakim Awke Tarabi Master Project Manager
167 Ahmed Mohamed Hussein Master Project Manager
168 Mohamed Abdurahman Hussein Master Project Manager
169 Semly Saalino Master Project Manager
170 Setyo Nugroho Master Project Manager
171 Muhamad Isnaini Saputro Master Project Manager
172 Defry Reksavagita Master Project Manager
173 Syarmad Haning Master Project Manager
174 August Hoth Mercyon Purba Master Project Manager
175 Muhammad Rizal Master Project Manager
176 I Dewa Made Agus Pramana Master Project Manager
177 Admiral Dasrin Master Project Manager
178 Retno Kurniawati Master Project Manager
179 Krshna Sulanjana Master Project Manager
180 Siti Choiriana Master Project Manager
181 Emanuel Febry Djatmiko Adji Master Project Manager
182 Eka Yuli N Master Project Manager
183 Yunias Adhe Putri Master Project Manager
184 Rakhman Nur Master Project Manager
185 Zatiyas Master Project Manager
186 Sudirman Master Project Manager
187 Ariyanto Agus Setyawan Master Project Manager
188 Wegig Benggala Master Project Manager
189 Acep Supriyadi Master Project Manager
190 Agus Achdiyatna Master Project Manager
191 Sopiansyah Master Project Manager
192 Anang Barnea Arrayyansyah Master Project Manager
193 Dani Pradana Master Project Manager
194 Muh. Roni Indarto Certified Financial Risk Manager
195 FX. Sugiyanto Certified Financial Risk Manager
196 Mutamimah Certified Financial Risk Manager
197 Budi Limansubroto Master Project Manager (MPM)
198 Michael Utomo Master Project Manager (MPM) 199 R. Sahedhy Noor Certified Human Resource Analyst (CHRA)
200 Kunto Wibisono Certified Human Resource Analyst (CHRA)
201 Nur Wening Certified Human Resource Analyst (CHRA)
202 Meswantri Master Project Manager (MPM)
203 Among Waluyo Certified International Project Manager (CIPM)
204 Hannibal Nasserie Certified International Project Manager (CIPM)
205 Among Waluyo Certified Human Resource Analyst (CHRA)
206 Meswantri Certified Human Resource Analyst (CHRA)
207 Hannibal Nasserie Master Quality Manager (MQM)
208 Dudung Duhara Master Quality Manager (MQM)
209 Dedi Riswandi Certified Marketing Analyst (CMA)
210 Sandy Martsanto Master Project Manager (MPM)
211 M. Sofyan Nurdin Certified Marketing Analyst (CMA)
212 Andy Wisnugroho Master Project Manager (MPM)
213 Trisdarisa Dwi Novianto Soedarto Master Quality Manager (MQM)
214 Eko Budiyanto Master Project Manager (MPM)
215 Chandra Basuki Master Project Manager (MPM)
216 Erlin Listiyaningsih Master Project Manager (MPM)
217 Deddy Tedjasukmana Master Project Manager (MPM)
218 Imelda Rachmawati Master Project Manager (MPM)
219 Rahmad Ramadhan Master Project Manager (MPM)
220 Yenny Very Handayani Management Consultant Professional (MCP)
221 Hendra Setiawan Master project Manager (MPM)
222 Dwi Prijono Soesanto Master project Manager (MPM
223 Noval Tajudin Management Consultant Professional (MCP)
224 Rio Seto Wardhana Master Project Manager (MPM)
225 R. Febriansyah T. Rodjak Master Project Manager (MPM)
225 Bambang Tri Cahyono (Certified Marketing Analyst) CMA
227 Besar Agung Martono Master Project Manager (MPM)
228 Albert Hasudungan Sitorus Master Project Manager (MPM)
229 Fakih Usman Master Project Manager (MPM)
230 Djoko Sri Prihanto Certified International Project Manager (CIPM)
231 Surachman Master Quality Manager (MQM)
232 Tiara Asmara Dewi Management Consultant Professional (MCP)
233 Meswantri Management Consultant Professional (MCP)
234 Franky Sya'bandriawan Master Project Manager (MPM)
235 Adriza Certified Marketing Analyst (CMA)
236 Adriza Master Project Manager (MPM)
237 Hapzi Ali Certified Marketing Analyst (CMA)
238 Effek Alamsyah Master Consultant Professional (MCP)
239 R. Andy Herdanarto Certified Asset Management Professional (CAMP)
240 Herman Chartered and Certified Human Resources Analyst
241 Hendra Mahendrata Master Project Manager (MPM)
242 Mohamad Zuber Master Project Manager (MPM)
243 Yohan Effenddy Sunyoto Master Project Manager (MPM)
244 Imelda Chartered Health Care Consultant
245 Herwanto Master Project Manager (MPM)
246 Aris Susanto Master Project Manager (MPM)
247 Sri Rezeki Mangement Consultant Professional (MCP)
248 Lili Suryati Accredited Management Accountant (AMA)
249 Guntur Besar Certified International Project Manager (CIPM)
250 Liliana Puspa Sari Chartered Health Care Consultant
251 Robert lumban Haryono Simaremare Master Quality Manager (MQM)
252 Hendra Mahendrata Certified Project Risk Manager (CPRM)
253 Muhammad Fauzi Certified Planning Engineer (CPE)
254 Mikra Mawardana Master Project Manager (MPM)
255 R. Andy Herdanarto Master Project Manager (MPM)
256 Agus Mansur Master Project Manager (MPM)
257 Muhammad Ragil Suryoputro Master Project Manager (MPM)
258 Harwati Master Project Manager (MPM)
259 Imam Djati Widodo Master Project Manager (MPM)
260 Yuli Agusti Rochman Master Project Manager (MPM)
261 Muhammad Fauzi Certified International Project Manager (CIPM)
262 Robert Lumban Haryono Simaremare Certified International Project Manager (CIPM)
263 Bayu Prawira Hie Chartered Human Resource Analyst (CHRA)
264 Mimi Marlina Certified Marketing Analyst (CMA)
265 Andriasan Sudarso Certified Marketing Analyst (CMA)
266 Lili Suryati Certified International Tax Analyst (CITA)
267 Sugeng Prayitno Master Project Manager (MPM)
268 Harris Gunawan Master Project Manager (MPM)
269 Purwanto Andi Meyanto Master Project Manager (MPM)
270 Imam Agung Prasetyo Master Project Manager (MPM)
271 Nur Ahmad Sjaefuloh Master Project Manager (MPM)
272 Hendra Pujiarto Master Project Manager (MPM)
273 Rudi Kurniawan Master Project Manager (MPM)
274 Dwi Supriandi Master Project Manager (MPM)
275 Rakhman Yossi Herfanda Master Project Manager (MPM)
276 Bambang Setyajidi Certified Marketing Analyst (CMA)
277 Farid Mardin Certified Asset Management Professional (CAMP)
278 Andi Lukman Hakim Master Project Manager (MPM)
279 Ahmad Amin Master Data Center Professional (MDCP)
280 Gilang Sanggraha Master Data Center Professional (MDCP)
281 Dedi Budiman Certified Marketing Analyst (CMA) 282 Gema Merdeka Goeyardi Chartered Wealth Manager(CWM)
283 Yoga Goeyardi Chartered Wealth Manager(CWM)
284 Yorita Goeyardi Chartered Wealth Manager(CWM)
285 Anthonius Sedyason Chartered Wealth Manager(CWM)
286 Natanael Tulus Parhorasan Chartered Wealth Manager(CWM)
287 Akhmad Bakhtiar Master Project Manager (MPM)
288 Nugroho Adi Master Project Manager (MPM)
289 Rohmat Abadi Master Project Manager (MPM)
290 Muhamad Hary Prabowo Master Project Manager (MPM)
291 Sandi Krisna Wiliandi Master Project Manager (MPM)
292 Monica Anggraeni Certified Human Resource Analyst (CHRA)
293 Lisman Miranda Certified Human Resource Analyst (CHRA)
294 Andi Deby Grecia Certified Human Resource Analyst (CHRA)
295 Evy Susanti Master Project Manager (MPM) Chartered Wealth Manager (CWM)
296 Hary Febriansyah Chartered and Certified Human Resource Analyst (CHRA)
297 Wiria Amarini Chartered and Certified Human Resource Analyst (CHRA)
298 Danang Mulyadipa Suratno Certified International Project Manager (CIPM)
299 Endang Kurniawan Certified International Project Manager (CIPM)
300 Mohammad Faruq Afif Certified International Project Manager (CIPM)
301 Digdoyo Oktapriandi Certified International Project Manager (CIPM)
302 Fauziah Amalia Devi Certified International Project Manager (CIPM)
303 Rahmad Hidayat Certified International Project Manager (CIPM)
304 Affan Rifa'I Master Project Manager (MPM)
305 Atik Febriani Master Project Manager (MPM) 306 Edi Iskandar Certified International Information System Auditor (CIISA) 307 Elvie Maria Chartered and Certified Human Resource Analyst (CHRA)
308 Hendri Sembiring Chartered and Certified Human Resource Analyst (CHRA)
309 Maretta Ginting Chartered and Certified Human Resource Analyst (CHRA)
310 Kiki Farida Ferine Chartered and Certified Human Resource Analyst (CHRA)
311 Lusiah Certified Marketing Analyst (CMA)
312 Djoni Wongso Certified International Tax Analyst (CITA)
313 Tintin Maria Certified International Tax Analyst (CITA)
314 Petrus Gani Accredited Management Accountant (AMA)
315 Agung Ramadhansyah Master Project Manager (MPM)

316 Muhamad Akhyar Mahyudin Master Project Manager (MPM)
317 Kresensia Prihastuti Master Data Center Professional (MDCP)
318 Dhanu Hadi Sanjaya Master Data Center Professional (MDCP)
319 Dian Endianingsih Master Project Manager (MPM)
320 Edi Iskandar Certified International Project Manager (CIPM)
321 B. Andreas Mada WK Chartered Wealth Manager (CWM)
322 Endi Roswendi Certified Financial Risk Manager (CFRM)
323 Suksmo Satriyo Pangarso Master Project Manager (MPM)
324 B. Andreas Mada WK Master Project Manager (MPM)
325 Ilhamd Fabillo Accreditted Supply Chain Analyst
326 Badar Murifal Certied Financial Risk Manager (CFRM)
327 Nelwan Zulkarnaeni Accredited Supply Chain Analyst (ASCA)
328 Ida Hindarsah Magister Finance Professional (MFP)
329 Marwan Tangahu Certified International Project Manager ( CIPM)
330 Aswan Munang Certified International Project Manager ( CIPM)
331 Ridho Bastian Certified International Project Manager ( CIPM)
332 Vembri Noor Helia Certified International Project Manager ( CIPM)
333 Suci Miranda Certified International Project Manager ( CIPM)
334 Novenda Kartika Putrianto Certified International Project Manager ( CIPM)
335 Qurtubi Certified International Project Manager ( CIPM)
336 Fety Ilma Rahmillah Certified International Project Manager ( CIPM)
337 Ahmad Zakiyuddin Certified International Project Manager ( CIPM)
338 Bambang Setyajidi Certified International Project Manager ( CIPM)
339 Yanuardi Sutantio Master Project Manager (MPM
340 Dwi Nugroho Adi Master Project Manager (MPM
341 Yosaphat Pandu Suryoputranto Master Quality Manager (MQM)
342 Roni Hartawan Ariyanto Master Quality Manager (MQM)
343 Yosaphat Pandu Suryoputranto Certified Facility Manager (CFM)
344 Roni Hartawan Ariyanto Master Project Manager (MPM)
345 Dinda Andrayana Certified Information Technologi Service Management Professional (CITMP)
346 Hairudin DJ Certified Information Technologi Service Management Professional (CITMP)
347 Hairudin DJ Master Project Manager (MPM
348 Dinda Andrayana Certified International Information System Auditor (CIISA)
349 Eko Supriyanto Master Data Center Professional (MDCP)
350 Jumfadhli Master Data Center Professional (MDCP)
351 Eko Supriyatno Master Data Center Professional (MDCP)
352 Leli Halili Master Data Center Professional (MDCP) 353 Hery Certified Financial Risk Manager (CFRM)-AAFM
354 Aulia Akbar Ramadhan Certified Business Analytic Professional (CBAP)-AAPM
355 Pangeran Hery Fransiskus Marpaung Certified International Project Manager (CIPM)
356 George Ibrahim Certified Marketing Analyst (CMA)-AAPM
357 Rafika Novantara Certified Marketing Analyst (CMA)-AAPM
358 Muhamad Resa Certified Marketing Analyst (CMA)-AAPM
359 Ade Kurnia Ayu Muhadir Certified Marketing Analyst (CMA)-AAPM
360 Wenny Ruth Yosephin Manurung Certified Marketing Analyst (CMA)-AAPM
361 R. Wisnu Prio Pamungkas Master Project Manager (MPM)-AAPM
362 Ross Giuffrida Master Project Manager (MPM)-AAPM
363 Aliza Ardana Certified International Project Manager (CIPM)-AAPM
364 Abdullah 'Azzam Certified International Project Manager (CIPM)-AAPM
365 Muchammad Sugarindra Certified International Project Manager (CIPM)-AAPM
366 Dian Janari Certified International Project Manager (CIPM)-AAPM
367 Jaja Suteja Designated Business Analys (DBA)-AAFM
368 Syamsu Alam Certified International Project Manager (CIPM)-AAPM
369 Musran Munizu Certified International Project Manager (CIPM)-AAPM
370 Abdul Rahman Kadir Certified International Project Manager (CIPM)-AAPM
371 Tendy Wato Certified International Information System Auditor (CIISA)-AAPM
372 Tommy Tan Certified International Information System Auditor (CIISA)-AAPM
373 Hery Certified International Information System Auditor (CIISA)-AAPM
374 Agus Mansur Certified Human Resource Analyst (CHRA)-AAPM
375 Nashrullah Setiawan Certified Human Resource Analyst (CHRA)-AAPM
376 Qurtubi Certified Human Resource Analyst (CHRA)-AAPM
377 Tendy Wato Certified Management Accountant (CMA)-AAFM
378 Tommy Tan Certified Management Accountant (CMA)-AAFM
379 July Certified Management Accountant (CMA)-AAFM
380 July Certified International Information System Auditor (CIISA)-AAPM 381 Reni Rianti Certified Business Analytic Professional (CBAP)-AAPM
382 Muhammad Zulkifli Certified Business Analytic Professional (CBAP)-AAPM
384 Dodik Ichrom Roesanto Certified Business Analytic Professional (CBAP)-AAPM
385 Agus Supriatna Certified Business Analytic Professional (CBAP)-AAPM
386 Jenny Oetomo Certified Business Analytic Professional (CBAP)-AAPM
387 Tiberius Leo Agung Certified Business Analytic Professional (CBAP)-AAPM
388 Muhammad Rismanda Certified Business Analytic Professional (CBAP)-AAPM
389 Asep Gunawan Certified Business Analytic Professional (CBAP)-AAPM
390 Abdul Bari Rahmat Certified Business Analytic Professional (CBAP)-AAPM
391 Dina Kusuma Wahyuni Certified Business Analytic Professional (CBAP)-AAPM
392 Hery Certified Finacial Risk Manager (CFRM)-AAFM 393 T. Subarsyah Sumadikara Certified International Law Analyst-CILA
394 Doddy Hertanto Ceritified Business Analytic Professional (CBAP)-AAPM
395 Muhammad Masyhudi Ceritified Business Analytic Professional( CBAP)-AAPM
396 Rizki Satya Utami Ceritified Business Analytic Professional (CBAP)-AAPM
397 Agus Soleh Ceritified Business Analytic Professional (CBAP)-AAPM
398 Wim Mudjiono Ceritified Business Analytic Professional (CBAP)-AAPM
399 Lasmisanti Ceritified Business Analytic Professional (CBAP)-AAPM
400 Faizal Aidul Fitri Ceritified Business Analyticd Professional (CBAP)-AAPM
401 Heru Wijaya Ceritified Business Analytic Professional (CBAP)-AAPM
402 Ciput Gatot Agus Saksomo Ceritified Business Analytic Professional (CBAP)-AAPM
403 Davy Eldy Ceritified Business Analytic Professional (CBAP)-AAPM
404 Syarmad Haning Ceritified Business Analytic Professional (CBAP)-AAPM
405 Deden Ramdan Designated Business Analyst (DBA)-AAPM
406 Ratno Purnomo Certified Human Resources Analyst (CHRA)-AAPM
407 M. Ayodya Satrya Certified Business Analytic Professional-(CBAP)-AAPM
408 Ruli Satya Dharma Certified Business Analytic Professional-(CBAP)-AAPM
409 Harry Susatyo Certified Business Analytic Professional-(CBAP)-AAPM
410 Eko Agus Brahmantyo Certified Business Analytic Professional-(CBAP)-AAPM
411 Apri Fajar Kurniawan Certified Business Analytic Professional-(CBAP)-AAPM
412 Deda Budianto Certified Business Analytic Professional-(CBAP)-AAPM
413 Rusmita Lelyanawati Certified Business Analytic Professional-(CBAP)-AAPM
414 Niken Pratiwi Certified Business Analytic Professional-(CBAP)-AAPM
415 Raden Ary Relyman Certified Business Analytic Professional-(CBAP)-AAPM
416 Dini Nuzulia Rahmah Certified Business Analytic Professional-(CBAP)-AAPM
417 Eni Riawati Sebayang Certified Business Analytic Professional-(CBAP)-AAPM
418 Dora Primura Certified Marketing Analyst (CMA)-AAPM
419 Utami Surya Putri Certified Marketing Analyst (CMA)-AAPM
420 Detriana Margita Sari Certified Marketing Analyst (CMA)-AAPM
421 Risant Rizqi Dzulauzan Certified Marketing Analyst (CMA)-AAPM
422 Ilham Muhammad Certified Marketing Analyst (CMA)-AAPM
423 Zein Nofiandi Certified Marketing Analyst (CMA)-AAPM
424 Indra Pramono Master Data Center Professional (MDCP)-AAPM
425 Muhammad Qurthuby Certified International Project Manager (CIPM)-AAPM
426 Angga Haripurna Certified International Project Manager (CIPM)-AAPM
427 Adi Patriyadi Master Data Center Professional (MDCP)-AAPM
428 Supono Daruyuwono Mater Project Manager (MPM)-AAPM
429 Arief Marzuki Certfied Planning Engineer- (CPE)-AAPM
430 Supono Daruyuwono Certfied Planning Engineer-AAPM
431 Iyan Irdiyansyah Certified Human Resource Analyst (CHRA)-AAPM
432 Win Sukardi Master Quality Manager (MQM)-AAPM
433 Yulnofrins Napilus Master Quality Manager (MQM)-AAPM
434 Muhammad Yunus Master Quality Manager (MQM)-AAPM
435 Natanel Tulus Master Financial Professional (MFP)-AAFM
436 M. Rudy Sachridi Certified Business Process Mapping Professional (CBPMP)-AAPM
437 Ahmad Andhika Putra Certified Business Process Mapping Professional (CBPMP)-AAPM
438 M. Rudy Sachridi Master Project Manager (MPM)- AAPM
439 Ahmad Andhika Putra Master Project Manager (MPM)- AAPM
440 Era Yuwono Certified Management Accountant (CMA)- AAFM
441 Arum Angesti Certified Property Manager Professional (CPMP)-AAPM
442 Anang Priyono Certified Property Manager Professional (CPMP)-AAPM
443 I Wayan Suarma Certified Asset Manager Professional- (CAMP)-AAPM
444 Ahmad Sholikhun R. Certified Asset Manager Professional- CAMP
445 Revi Agustian Certified Asset Manager Professional- (CAMP)-AAPM
446 Eka Rosina Korelia Certified Asset Manager Professional- (CAMP)-AAPM 467 Ari Wijaya, Accredited Supply Chain Analyst – (ASCA)-AAPM
468 Pudji Setyawan Subyantoro, Accredited Supply Chain Analyst – (ASCA)-AAPM
469 Tutug Sri Jatmiko, Accredited Supply Chain Analyst – (ASCA)-AAPM
470 Win Sukardi, Accredited Supply Chain Analyst – (ASCA)- AAPM
471 Mohammad Helmi Novriansyah, Certified Business Analytic Professional-(CBAP)-AAPM
472 Husninatul Ghassani, Certified Human Resource Analyst (CHRA)-AAPM
473 Auditya Warta Kusuma , Certified Human Resource Analyst (CHRA)-AAPM
474 Rinto Saiful, Certified Human Resource Analyst (CHRA)-AAPM
475 Ana Mariana, Certified Human Resource Analyst (CHRA)-AAPM
476 RR Rieka Febriyanti Hutami, Certified International Project Manager (CIPM)-AAPM
477 Herry Irawan, Certified International Project Manager (CIPM)-AAPM
478 Mokhamad zaim Nurhidayat, Certified International Project Manager (CIPM)-AAPM
479 Dodik Priyanto, Certified International Project Manager (CIPM)-AAPM
480 Ahmad Hery Sultoni, Certified International Project Manager (CIPM)-AAPM
481 Ahmad Hery Sultoni, Master Quality Manager (MQM)- AAPM
482 Indramawan, Accredited Supply Chain Analyst – (ASCA)-AAPM
483 Tobias Kusnawan, Accredited Supply Chain Analyst – (ASCA)-AAPM
484 Parama Kartika Dewa SP, Accredited Supply Chain Analyst – (ASCA)-AAPM
485 Faidil Hadi, Certified in Information Technology Service Management (CITSM)-AAPM
486 Rien Nisa, Certified in Information Technology Service Management (CITSM)-AAPM
487 Ceria Ganinda Hapsari, Certified in Information Technology Service Management (CITSM)-AAPM
488 Krshna Sulanjana, Certified in Information Technology Service Management (CITSM)-AAPM
489 Muhammad Mahrus Syamsurrijal, Certified in Information Technology Service Management (CITSM)-AAPM
490 Giri Agung Prastawa, Certified in Information Technology Service Management (CITSM)-AAPM
491 Adhi Prasetio, Certified in Information Technology Service Management (CITSM)-AAPM
492 Ramadhan Wijayanto, Certified in Information Technology Service Management (CITSM)-AAPM
493 Hary Mahendra Eka Wibawa, Certified in Information Technology Service Management (CITSM)-AAPM
494 Haposan Turnip, Certified in Information Technology Service Management (CITSM)-AAPM
495 Fadjar Ramadhan, Certified in Information Technology Service Management (CITSM)-AAPM
496 Haposan Turnip, Certified in Information Technology Service Management (CITSM)-AAPM
497 Fadjar Ramadhan, Certified in Information Technology Service Management (CITSM)-AAPM
498 Puti Harifia Amanah, Certified in Information Technology Service Management (CITSM)-AAPM
499 Riski Pratama, Certified in Information Technology Service Management (CITSM)-AAPM
500 Muhammad Fatoni, Certified in Information Technology Service Management (CITSM)-AAPM
501 Dinur Rahmani Sadat, Certified in Information Technology Service Management (CITSM)-AAPM
502 Terry Safiria Ramadhani, Certified in Information Technology Service Management (CITSM)-AAPM
503 Prima Arti Hastuti, Certified in Information Technology Service Management (CITSM)-AAPM
504 Muhammad Rachmad, Certified in Information Technology Service Management (CITSM)-AAPM
505 Rahadiany Rachmawati, Certified in Information Technology Service Management (CITSM)-AAPM 506 BRIGITA DIANZA ALVYNTIA, CITSM Certified in Information Technology Service Management
507 MOHAMMAD RIZKY ADRIAN , CITSM Certified in Information Technology Service Management
508 TRIHARTOTO WIDIJARTO , CITSM Certified in Information Technology Service Management
509 MUHAMMAD RAKHMADANI MY , CITSM Certified in Information Technology Service Management
510 DEDI JUNIARDI DAMSIK , CITSM Certified in Information Technology Service Management
511 MAYANGSEKAR.A , CITSM Certified in Information Technology Service Management
512 ERNY MURNIASIH, CITSM Certified in Information Technology Service Management
513 BAYU DHIAN SASONGKO, CITSM Certified in Information Technology Service Management
514 DEDY RISTANTO , CITSM Certified in Information Technology Service Management
515 DODIK ICHROM RESANTO, CITSM Certified in Information Technology Service Management
516 RENI RIANTI, CITSM Certified in Information Technology Service Management
517 ERIKA CHRISTINA SIRAIT, CITSM Certified in Information Technology Service Management
518 RIZKI SATYA UTAMI, CITSM Certified in Information Technology Service Management
519 CIPUT GATOT AGUS SAKSOMO, CITSM Certified in Information Technology Service Management 520 Gede Ngurah Jayanti Nanda Laksana Master Project Manager (MPM)
521 Andri Yana Rinwardi Master Data Center Professional (MDCP)
522 Arif Gunanto Master Data Center Professional (MDCP)
523 Dzikrilla Qalbi Certified Business Analytic Professional-(CBAP)
524 Nindya Kusuma Wardhani Certified Business Analytic Professional-(CBAP)
525 Arvian Pandu Wirawan Certified Business Analytic Professional-(CBAP)
526 Radita Ali Putra Certified Business Analytic Professional-(CBAP)
527 Aditya Herlambang Certified Business Analytic Professional-(CBAP)
528 Muhammad Raessal Danang Sukoraharjo Certified Business Analytic Professional-(CBAP)
529 Melani Muchlis Moechtar Certified Business Analytic Professional-(CBAP)
530 Indah Yofanni Certified Business Analytic Professional-(CBAP)
531 Akung Wilis Joko Purboyo Certified Business Analytic Professional-(CBAP)
532 Muhammad Zeid Tsabit Certified Business Analytic Professional-(CBAP)
533 Nina Wiyana Certified in Information Technology Service Management (CITSM)- ITIL Intermediate Level
534 Rita Hartati Hafni Certified in Information Technology Service Management (CITSM)- ITIL Intermediate Level
535 Kurniawan Certified in Information Technology Service Management (CITSM)- ITIL Intermediate Level
536 Hadary Mallafi Certified in Information Technology Service Management (CITSM)- ITIL Intermediate Level
537 Dedy Suryawan Certified in Information Technology Service Management (CITSM)- ITIL Intermediate Level
538 Brahmandi Andria Sastra Certified in Information Technology Service Management (CITSM)- ITIL Intermediate Level
539 Toni Parlagutan Harahap Certified in Information Technology Service Management (CITSM)- ITIL Intermediate Level
540 Muhammad Yusron Nur Shodiq Certified in Information Technology Service Management (CITSM)- ITIL Intermediate Level
541 Uyan Setiawan Askam Certified in Information Technology Service Management (CITSM)- ITIL Intermediate Level
542 Urip Dwisahsono Certified in Information Technology Service Management (CITSM)- ITIL Intermediate Level
543 Arief Wibowo Certified Business Analytic Professional-(CBAP)
544 Muhammad Ilham Syarif Certified Business Analytic Professional-(CBAP)
545 Mohamad Firman Subarkah Certified Business Analytic Professional-(CBAP)
546 Edi Iskandar Certified in Information Technology Service Management (CITSM)- ITIL Foudation Level V3.0
547 Ary Sunantiyo Certified International Project Manager (CIPM)
548 Deri Irawan Certified International Project Manager (CIPM)
549 Aryan Agus Pratama Certified International Project Manager (CIPM)
550 Dwi Yunanto Hermawan Certified International Project Manager (CIPM)
551 Lany Harijanti Certified International Project Manager (CIPM)
552 Dahlia Nur Certified International Project Manager (CIPM)
553 Puput Susanto Certified International Project Manager (CIPM)
554 Regina Locita Pratiwi Certified International Project Manager (CIPM)
555 Luh Putu Wulandari Artha Certified International Project Manager (CIPM)
556 Fita Rizki Utami Certified International Project Manager (CIPM)
557 Novie Juanita Certified International Project Manager (CIPM)
558 Indah Yusari Certified International Project Manager (CIPM)
559 Siska Dewi Noya Certified International Project Manager (CIPM)
560 Henny Irawati Certified International Project Manager (CIPM)
561 IGAA Jackie Viemilawati Certified International Project Manager (CIPM)
562 Suharti Certified International Project Manager (CIPM)
563 Singgih Prayitno Certified International Project Manager (CIPM)
564 Natalia Nugroho Certified International Project Manager (CIPM)
565 Betalevi Utama Certified International Project Manager (CIPM)
566 Pramudio Bastian Kesai Certified International Project Manager (CIPM)
567 Agus Setyo Anto Wibowo Master Quality Manager (MQM)
568 Ersalina Renatra Certified Accredited Project Manager (CAPM)
569 Amer Fadillah Certified Accredited Project Manager (CAPM)
570 Raden Ary Relyman Certified Accredited Project Manager (CAPM)
571 Rahmat Rasyid,ST. Certified Accredited Project Manager (CAPM)
572 Bonny Spencer Certified Accredited Project Manager (CAPM)
573 Andi.F Lapatau Certified Accredited Project Manager (CAPM)
574 Rizal Biruni Certified Accredited Project Manager (CAPM)
575 Bambang Suprayitno Certified Accredited Project Manager (CAPM)
576 Martius Certified Accredited Project Manager (CAPM)
577 Dian Kurnia Rizki Certified Accredited Project Manager (CAPM)
578 Rhesa Nanda Wardhana Certified Accredited Project Manager (CAPM)
579 Ratih Aida Mayangsari Certified Accredited Project Manager (CAPM)
580 Ahmad Wildan Syarwani Certified Accredited Project Manager (CAPM)
581 Yayat Dimyati Certified Accredited Project Manager (CAPM)
582 Teuku Ibnu Sina Certified Accredited Project Manager (CAPM)
583 Ibnu Rokhman Certified International Project Manager (CIPM)
584 Joko Purwoko Master Project Manager (MPM)
585 Handry Mardam Sirulimin Master Project Manager (MPM)
586 Gunadi Sumantri Chartered Risk Manager Professional (CRMP)
587 Danu Sindoro Chartered Risk Manager Professional (CRMP)
588 Rahman Ramadan Chartered Risk Manager Professional (CRMP)
589 Dadang Rusmana Iriadi Chartered Risk Manager Professional (CRMP)
590 Achmad Hidayat Chartered Risk Manager Professional (CRMP)
591 Anton Timur Chartered Risk Manager Professional (CRMP)
592 Anugerah Edo Malikul Alam Chartered Risk Manager Professional (CRMP)
593 Asyraf Thirafi Ramdhani Chartered Risk Manager Professional (CRMP)
594 Julius Robinhood Simanjorang Chartered Risk Manager Professional (CRMP)
595 Aji Sigit Wicaksono Chartered Risk Manager Professional (CRMP)
596 Mike Hernawati Chartered Risk Manager Professional (CRMP)
597 Firman Gunawan Chartered Risk Manager Professional (CRMP)
598 Budi Widjajanto Chartered Risk Manager Professional (CRMP)
599 Dhenny Prasetyo Chartered Risk Manager Professional (CRMP)
600 Yadi Slamet Riyadi Chartered Risk Manager Professional (CRMP)
601 Dedi Suhaedi Chartered Risk Manager Professional (CRMP)
602 Agus Setiyono Chartered Risk Manager Professional (CRMP)
603 Rahmat Sigit Muliana Chartered Risk Manager Professional (CRMP)
604 Nurul Intan Permanasari Certified International Project Manager (CIPM)
605 Hotlan Siagian Accredited Supply Chain Analyst (ASCA)
606 Anggi Sugih Certified in Information Technology Service Management (CITSM)- ITIL Foudation Level V3.0
607 Dody Novriadi Certified in Information Technology Service Management (CITSM)- ITIL Foudation Level V3.0
608 Shinta Wulansari Chartered Strategic Account Manager (CSAM)
609 Gusti Ayu Meliati Chartered Strategic Account Manager (CSAM)
610 Siti Aisyah Nursyamsiyah Chartered Strategic Account Manager (CSAM)
611 Randy Pradana Chartered Strategic Account Manager (CSAM)
612 Tsana Hasti Nabila Chartered Strategic Account Manager (CSAM)
613 Amy Roosita Maryana Chartered Strategic Account Manager (CSAM)
614 Lucky Ismail Lubis Chartered Strategic Account Manager (CSAM)
615 Ninendya Meistarusti Chartered Strategic Account Manager (CSAM)
616 Meivita Adriani Chartered Strategic Account Manager (CSAM)
617 Lucky Fathma Trisnanti Chartered Strategic Account Manager (CSAM)
618 Dwi Wulandari Chartered Strategic Account Manager (CSAM)
619 Thian Juardi Kenny Chartered Strategic Account Manager (CSAM)
620 Andi Andreas Chartered Strategic Account Manager (CSAM)
621 Rosika Kusharfinna Chartered Strategic Account Manager (CSAM)
622 Djoko Setyo Widodo Certified Human Resource Analyst (CHRA)
623 P. Eddy Sanusi Silitonga Certified Human Resource Analyst (CHRA)
624 Dwi Malvino Master Project Manager (MPM)
625 Zerik Patriya Sembada Master Project Manager (MPM)
626 Hernawan Guntoro Master Project Manager (MPM)
627 Randy Arifia Master Project Manager (MPM)
628 Muhamad Nasir Accredited Supply Chain Analyst (ASCA)
629 I Gede Agus Suryadinata Accredited Supply Chain Analyst (ASCA) 630 Muhammad Yunus Amar Certified International Project Manager (CIPM)
631 Wijaya Santosa Certified International Project Manager (CIPM)
632 Rahayu Master Financial Planer (MFP)
633 Wahyu Eko Sunarto Certified Marketing Analyst (CMA)
634 Krisdiastoro Fx,St Certified Business Analytic Professional (CBAP)
635 Abdul Ghony Certified Business Analytic Professional (CBAP)
636 Jati Setiawan D Certified Business Analytic Professional (CBAP)
637 Puspita Sulistyaningrum Certified Business Analytic Professional (CBAP)
638 I Wayan Sukadana Certified Business Analytic Professional (CBAP)
639 Yadi Abdullah Certified Business Analytic Professional (CBAP)
640 Muhammad Hary Zulfahri Certified Business Analytic Professional (CBAP)
641 Muhammad Hary Zulfahri Certified Business Analytic Professional (CBAP)
642 Intan Yusantina Calvianty Certified Business Analytic Professional (CBAP)
643 Utami Nazmi Puspahati Certified Business Analytic Professional (CBAP)
644 Faris Arif Rahman Certified Business Analytic Professional (CBAP)
645 Akhmad Ghozali Certified Business Analytic Professional (CBAP)
646 Sugeng Prayetno Certified Human Resource Analyst (CHRA)
647 Luh Ismayanti Rai Certified Human Resource Analyst (CHRA)
648 Eko Martina Sriwulaningsih Certified Human Resource Analyst (CHRA)
649 Sri Hendawati Certified Human Resource Analyst (CHRA)
650 Cahyo Adi Permana Certified International Project Manager (CIPM)
651 Inka Duzhinka Certified International Project Manager (CIPM)
652 Abdul Ghofar Accredited Supply Chain Analyst-AAPM
653 Erwin Saraswati Accredited Supply Chain Analyst-AAPM
654 Kristin Rosalina Accredited Supply Chain Analyst-AAPM
655 Achmad Zaky Accredited Supply Chain Analyst-AAPM
656 Akie Rusaktiva Rustam Accredited Supply Chain Analyst-AAPM
657 Anita Wijayanti Accredited Supply Chain Analyst-AAPM
658 Yudie Irawan Chartered Strategic Acoount Manager (CSAM)
659 Fajar Ramadhan Chartered Strategic Acoount Manager (CSAM)
660 Dade Early Chartered Strategic Acoount Manager (CSAM)
661 Yuliawan Chartered Strategic Acoount Manager (CSAM)
662 Lizdalia Fatima Da Costa Noronha Chartered Strategic Acoount Manager (CSAM)
663 Rendy Radofara Pratama Chartered Strategic Acoount Manager (CSAM)
664 Nana Sutisna Chartered Strategic Acoount Manager (CSAM)
665 Andrian Haro Certified International Project Manager (CIPM)
666 Ignatius Halim Sugiarto Master Project Manager (MPM)
667 Rendiansyah Master Project Manager (MPM)
668 Dhanu Christianto Master Project Manager (MPM)
669 Atyanti Dyah Prabaswari Accredited Supply Chain Analyst-AAPM
670 Vembri Noor Helia Accredited Supply Chain Analyst-AAPM
671 Suci Miranda Accredited Supply Chain Analyst-AAPM
672 Yuli Agusti Rochman Accredited Supply Chain Analyst-AAPM
673 Joko Sulistio Accredited Supply Chain Analyst-AAPM
674 Andrie Pasca Hendradewa Accredited Supply Chain Analyst-AAPM
675 Kurnia Aria Bima Accredited Supply Chain Analyst-AAPM
676 Kurnia Aria Bima Certified International Project Manager (CIPM)
677 Gimbal Doloksaribu Certified Human Resource Analyst (CHRA)
678 Irwan Widiarso Master Project Manager (MPM)
679 Fariz Cyrus Segovia Master Project Manager (MPM)
680 Yudhi Master Project Manager (MPM)
681 Nico Rudolf Master Project Manager (MPM)
682 Desak Gede Harum Diyatmika Certified Business Process Management Professional (CBPMP) 683 Lenny Christina Nawangsari Accredited Supply Chain Analyst (ASCA)-AAPM
684 Achmad Hidayat Sutawidjaya Accredited Supply Chain Analyst (ASCA)-AAPM
685 Bayu Prihantoko Chartered Asset Manager (CAM)-AAPM
686 Muhammad Sholeh Chartered Asset Manager (CAM)-AAPM
687 Satitihening Juang Annisak Chartered Asset Manager (CAM)-AAPM
688 Muhammad Afham Azri Chartered Asset Manager (CAM)-AAPM
689 Robert Albert Kdise Chartered Asset Manager (CAM)-AAPM
690 Khusnul Khotimah Chartered Asset Manager (CAM)-AAPM
691 Prasetya Ardhana Sarwono Chartered Asset Manager (CAM)-AAPM
692 Azhar Rasyid Firdausi Chartered Asset Manager (CAM)-AAPM
693 Adhi Ksatria Theogapa Chartered Asset Manager (CAM)-AAPM
694 Suwaril Dzahab Nurwan Chartered Asset Manager (CAM)-AAPM
695 Amril Azhar Chartered Asset Manager (CAM)-AAPM
696 Muhammad Hanif Oktavianto Chartered Asset Manager (CAM)-AAPM
697 Machfud Zainudin Chartered Asset Manager (CAM)-AAPM
698 Dede Abdul Rahman Chartered Asset Manager (CAM)-AAPM
699 Ariffin Hanif Certified International project Manager (CIPM)-AAPM
700 Deddy Daryono Certified Human Resource Analyst (CHRA)-AAPM
701 Fernandes Parulian Sinaga Certified in IT Service Management Based on ITIL Foundation V3 (CITSM)-AAPM
702 Muhammad Abdul Ja'far Sidiq Certified in IT Service Management Based on ITIL Foundation V3 (CITSM)-AAPM
703 Carolus Borromeus Widyatmoko Certified in IT Service Management Based on ITIL Foundation V3 (CITSM)-AAPM
704 Dafry Reksavagita Certified in IT Service Management Based on ITIL Foundation V3 (CITSM)-AAPM
705 I Dewa Made Agus Pramana Certified in IT Service Management Based on ITIL Foundation V3 (CITSM)-AAPM
706 Rahadian Farizi Certified in IT Service Management Based on ITIL Foundation V3 (CITSM)-AAPM
707 Bestama Abhi P Certified in IT Service Management Based on ITIL Foundation V3 (CITSM)-AAPM
708 Ika Monica Certified in IT Service Management Based on ITIL Foundation V3 (CITSM)-AAPM
709 Haryo Pradipta Certified in IT Service Management Based on ITIL Foundation V3 (CITSM)-AAPM
710 Muhammad Rizal Certified in IT Service Management Based on ITIL Foundation V3 (CITSM)-AAPM
711 Susanty Judohartono Certified Transfer Pricing Specialist (CTPS)-AAFM
712 Nico Rudolf Certified Project Risk Manager (CPRM)-AAPM
713 Ria Anggraeni Certified Business Analytic Professional (CBAP)-AAPM
714 Githa Kharismawati Certified Business Analytic Professional (CBAP)-AAPM
715 Marietje Manduapessy Certified Business Analytic Professional (CBAP)-AAPM
716 Lunel Candra Certified Business Analytic Professional (CBAP)-AAPM
717 I Ketut Suwetja Darsana Certified Business Analytic Professional (CBAP)-AAPM
718 Rian Handono Certified Business Analytic Professional (CBAP)-AAPM
719 Brahmandi A S Certified Business Analytic Professional (CBAP)-AAPM
720 Dedy Ristanto Certified Business Analytic Professional (CBAP)-AAPM
721 Lely Melia Kaniawati Certified Business Analytic Professional (CBAP)-AAPM
722 Hendy Irawan Certified Business Analytic Professional (CBAP)-AAPM
723 Riska Nurmindha Certified Business Analytic Professional (CBAP)-AAPM
724 Murdianto Certified Business Analytic Professional (CBAP)-AAPM
725 Indra Putera Accredited Supply Chain Analyst (ASCA)-AAPM
726 Ario Fajariawan Accredited Supply Chain Analyst (ASCA)-AAPM
727 Budiarto Soeharjo Accredited Supply Chain Analyst (ASCA)-AAPM
728 Tekun Abdulkarim Accredited Supply Chain Analyst (ASCA)-AAPM
729 Nofrianto Accredited Supply Chain Analyst (ASCA)-AAPM
730 Andika Aditya Accredited Supply Chain Analyst (ASCA)-AAPM
731 Miftakhul Khanif Accredited Supply Chain Analyst (ASCA)-AAPM
732 Surakhmat Accredited Supply Chain Analyst (ASCA)-AAPM
733 Luqman Hilmy M Accredited Supply Chain Analyst (ASCA)-AAPM
734 Koestijono Accredited Supply Chain Analyst (ASCA)-AAPM
735 Ferriza Zainury Accredited Supply Chain Analyst (ASCA)-AAPM
736 Indra Yuda Darnata Accredited Supply Chain Analyst (ASCA)-AAPM
737 Yunivan Kristanto Accredited Supply Chain Analyst (ASCA)-AAPM
738 Tino Prasetyo Accredited Supply Chain Analyst (ASCA)-AAPM
739 Steven Romario T Tarigan Accredited Supply Chain Analyst (ASCA)-AAPM
740 Melly Christian Accredited Supply Chain Analyst (ASCA)-AAPM
741 Mochammad Lutfi Saepudin Master Project Manager (MPM)-AAPM
742 Tanti Nusatti Master Project Manager (MPM)-AAPM
743 Clara Sabrina Master Project Manager (MPM)-AAPM
744 Derwin Master Project Manager (MPM)-AAPM
745 Arissetyanto Nugroho Certified Marketing Analyst (CMA)-AAPM
746 Mochamad Mukti Ali Certified Marketing Analyst (CMA)-AAPM
747 Sri Hartono Certified Marketing Analyst (CMA)-AAPM
748 Ignatius Jeffrey Certified Marketing Analyst (CMA)-AAPM
749 Ignatius Jeffrey Certified in Financial Risk Management (CFRM)-AAFM
750 Suhendi Certified Human Resource Analyst (CHRA)-Analyst
751 Kiki Septella Sari Certified Business Analytic Professional (CBAP)-AAPM
752 Pratomo Edhi Tjahjono Certified Business Analytic Professional (CBAP)-AAPM
753 Nurul Hikmah Certified Business Analytic Professional (CBAP)-AAPM
754 Mochamad Mukti Ali Certified in Financial Risk Management (CFRM)-AAFM
755 Hakiman Certified in Financial Risk Management (CFRM)-AAFM
756 Aty Herawati Certified in Financial Risk Management (CFRM)-AAFM
757 Ignatius Jeffrey Certfied Human Resource Analyst (CHRA)-AAPM
758 Eddy Nugroho Certified in Financial Risk Management (CFRM)-AAFM
759 Deden Komar Priatna Certfied Human Resource Analyst (CHRA)-AAPM
760 Nandang Djunaedi Certfied Human Resource Analyst (CHRA)-AAPM
761 Emed Taryaman Certfied Human Resource Analyst (CHRA)-AAPM
762 Daniel Kisahwan Certfied Human Resource Analyst (CHRA)-AAPM
763 Winna Roswina Certified Portfolio Manager (CPM)-AAFM
764 Heru Budiono Certified Marketing Analyst (CMA)-AAPM
765 Suryaman Certified Portfolio Manager (CPM)-AAFM
766 Adhi Prasetio Certified in Information Technology Service Management (CITSM)- ITIL V 3.0 Intermediate Level-AAPM.
767 Indra Kurniawan Bekti Certified in Information Technology Service Management (CITSM)- ITIL V 3.0 Intermediate Level-AAPM.
768 Arif Wijonarko Certified in Information Technology Service Management (CITSM)- ITIL V 3.0 Intermediate Level-AAPM.
769 Faidil Hadi Certified in Information Technology Service Management (CITSM)- ITIL V 3.0 Intermediate Level-AAPM.
770 Putri Kusumapratiwi Certified in Information Technology Service Management (CITSM)- ITIL V 3.0 Intermediate Level-AAPM.
771 Reni Rianti Certified in Information Technology Service Management (CITSM)- ITIL V 3.0 Intermediate Level-AAPM.
772 Hafiz Fauzan Alanuri Certified in Information Technology Service Management (CITSM)- ITIL V 3.0 Intermediate Level-AAPM.
773 Dedi Juniardi Damsik Certified in Information Technology Service Management (CITSM)- ITIL V 3.0 Intermediate Level-AAPM.
774 RR. Ceria Ganinda Hapsari Certified in Information Technology Service Management (CITSM)- ITIL V 3.0 Intermediate Level-AAPM.
775 Fernandes Parulian Sinaga Certified in Information Technology Service Management (CITSM)- ITIL V 3.0 Intermediate Level-AAPM.
776 Carolus Borromeus Widiyatmoko Certified in Information Technology Service Management (CITSM)- ITIL V 3.0 Intermediate Level-AAPM.
777 Fadjar Ramadhan Certified in Information Technology Service Management (CITSM)- ITIL V 3.0 Intermediate Level-AAPM.
778 Muhammad Fatoni Certified in Information Technology Service Management (CITSM)- ITIL V 3.0 Intermediate Level-AAPM.
779 Krshna Sulanjana Certified in Information Technology Service Management (CITSM)- ITIL V 3.0 Intermediate Level-AAPM.
780 Muhammad Abdul Ja'far Sidiq Certified in Information Technology Service Management (CITSM)- ITIL V 3.0 Intermediate Level-AAPM.
781 Dr. Lenny Christina Nawangsari, MM Certified Human Resource Analyst (CHRA)-AAPM
782 Dr. Mochamad Mukti Ali, MM Certified Human Resource Analyst (CHRA)-AAPM
783 Prof. Dr. Ir. H. Akhmad Fauzi, MMT Certified Human Resource Analyst (CHRA)-AAPM
784 Dr. Drs. Ec. Gendut Sukarno, MS Certified Human Resource Analyst (CHRA)-AAPM
785 Dra. Ec. Kustini, M.Si Certified Human Resource Analyst (CHRA)-AAPM
786 Dr.Safrida, SE, M.Si Certified Human Resource Analyst (CHRA)-AAPM
787 Usman, SE, M.Si Certified Human Resource Analyst (CHRA)-AAPM
788 Enny Trisna, SE,MM Certified Human Resource Analyst (CHRA)-AAPM
789 Supriadi, SE,MM Certified Human Resource Analyst (CHRA)-AAPM
790 Dahlia Indah Chrisanty Certified Human Resource Analyst (CHRA)-AAPM
791 Monica Wanda Alissa Certified Human Resource Analyst (CHRA)-AAPM
792 Elly Warlina Certified Marketing Analyst (CMA)-AAPM
793 Andiono Setiawan Certified Marketing Analyst (CMA)-AAPM
794 Fajar Rahadian Certified Human Resource Analyst (CHRA)-AAPM
795 Hartadi Alamsyah Master Project Manager (MPM)-AAPM
796 Samuel Santosa Manager (MPM)-AAPM
797 Fardian Abidin Certified International Project Manager (CIPM)-AAPM
798 Rosalendro Eddy Nugroho Accredited Supply Chain Analyst (ASCA)-AAPM
799 Moechamad Mukti Ali Accredited Supply Chain Analyst (ASCA)-AAPM
800 Dodik Priyanto Accredited Supply Chain Analyst (ASCA)-AAPM
801 Moechamad Mukti Ali Certified International Project Manager (CIPM)
802 Rosalendro Eddy Nugroho Certified International Project Manager (CIPM)
803 Ahmad Hidayat Sutawijaya Certified International Project Manager (CIPM)
804 Lenny Christina Nawangsari Certified International Project Manager (CIPM)
805 Aty Herawati Certified International Project Manager (CIPM)
806 Ary Sunantiyo Certified Asset Management Professional 807 Andrian Haro Accredited Supply Chain Analyst (ASCA)-AAPM
808 Sonny Hersona Certified Human Resource Analyst (CHRA)-AAPM
809 Rachmat Hasbullah Certified Human Resource Analyst (CHRA)-AAPM
810 Udin Ahidin Certified Marketing Analyst (CMA)-AAPM
811 Budi Rismayadi Certified Human Resource Analyst (CHRA)-AAPM
812 Subagiyo Certified Marketing Analyst (CMA)-AAPM
813 M. Fardian Certified Marketing Analyst (CMA)-AAPM
814 Achmad Mulyana Certified Marketing Analyst (CMA)-AAPM
815 Vandryawan Dwiutama Putra G Certified Marketing Analyst (CMA)-AAPM
816 Andy Herdanarto Certified Facility Management Professional (CFMP)-AAPM
817 Andy Herdanarto Master Management Consultant (MMC)-AAPM
818 Prayonne Adi Certified International Project Manager (CIPM)-AAPM
819 Sediyanto P. Manan Certified International Project Manager (CIPM)-AAPM
820 Achmad Budi Setiawan Certified International Project Manager (CIPM)-AAPM
821 Wayan Saklit Certified International Project Manager (CIPM)-AAPM
822 Ridwan Widyana Certified International Project Manager (CIPM)-
823 Suhendi Certified Marketing Analyst (CMA)-AAPM
824 Winner Yousman Certified Construction Project Consultant (CCPC)-AAPM
825 Bambang Suryanto Master Project Manager (MPM)-AAPM
826 Bambang Suryanto Certified International Information System Auditor (CIISA)-AAFM
827 Agustinus Hariadi DP Certified Marketing Analyst (CMA)-AAPM
828 Sufrin Hannan Certified Marketing Analyst (CMA)-AAPM
829 Sri Hartono Certified Human Resource Analyst (CHRA)-AAPM
830 Khilyatin Dyah Ayu Noor Ikhsani Certified Marketing Analyst (CMA)-AAPM
831 Farida Elmi Certified Human Resource Analyst (CHRA)-AAPM
832 Awaluddin Sanusi Chartered Certified Public Finance Management Accountant (CCFMA)-AAFM
833 Budi Mahmudi Certified Marketing Analyst (CMA)-AAPM
834 Unang Toto Handiman Certified Marketing Analyst (CMA)-AAPM
835 M. Septian Rangga Putra Certified Marketing Analyst (CMA)-AAPM
836 Almi Budiman Certified Marketing Analyst (CMA)-AAPM
837 Rudy Tanjung Herlambang Certified Marketing Analyst (CMA)-AAPM
838 Hendrik Dharma S. Certified Marketing Analyst (CMA)-AAPM
839 Ahmad Badawi Saluy Certified Human Resource Analyst (CHRA)-AAPM
840 Nia Rizqi Fauziah Certified Marketing Analyst (CMA)-AAPM
841 Hening Handayani Master Project Manager (MPM)-AAPM
842 Hening Handayani Management Consultant Professional (MCP)-AAPM 843 Wahyu Hari Haji Master Project Manager (MPM)-AAPM
844 Nur Cholis Dwi Saputro Master Project Manager (MPM)-AAPM
845 Sultan Saade Certified International Project Manager (CIPM)-AAPM
846 Christopfer Surjadi Certified International Project Manager (CIPM)-AAPM
847 Triana Rosma Fikriyati Dina Certified International Project Manager (CIPM)-AAPM
848 Andi Lukman Sukardi Certified Marketing Analyst (CMA)-AAPM
849 Andi Lukman Sukardi Certified Human Resource Analyst (CHRA)-AAPM
850 Agus Budi Prasetya Certified Human Resource Analyst (CHRA)-AAPM
851 Elly Ginandjar Kartasuwignya Certified Human Resource Analyst (CHRA)-AAPM
852 Cipto Subroto Certified Human Resource Analyst (CHRA)-AAPM
853 Andy Herdanarto Certified International OHS Professional-AAPM
854 Andy Herdanarto Master Project Manager-AAPM
855 Shinta Ariestika Certified Accredited Project Manager (CAPM)-AAPM
856 Fadhilla Rahma Friska Certified Accredited Project Manager (CAPM)-AAPM
857 Ariel Gorby Putra Certified Accredited Project Manager (CAPM)-AAPM
858 M Ikromil Amrillah Certified Accredited Project Manager (CAPM)-AAPM
859 Iman Setiadi Certified Accredited Project Manager (CAPM)-AAPM
860 Ninda Frisky Rahmawati Certified Accredited Project Manager (CAPM)-AAPM
861 Khadziqoh Eko Putri Certified Accredited Project Manager (CAPM)-AAPM
862 Irawan Certified Accredited Project Manager (CAPM)-AAPM
863 Melkianus Darius Laning Certified Accredited Project Manager (CAPM)-AAPM
864 Debbie Certified Accredited Project Manager (CAPM)-AAPM
865 Dhanaya Aditiyo Certified Accredited Project Manager (CAPM)-AAPM
866 Adhi Ksatria Theogapa Certified Accredited Project Manager (CAPM)-AAPM
867 Lulu Luthfia Certified Accredited Project Manager (CAPM)-AAPM
868 Diva Terry Anona Certified Accredited Project Manager (CAPM)-AAPM
869 Samsul Arifin Certified Marketing Analyst (CMA)-AAPM
870 Krisdiana Wijaya Certified Marketing Analyst (CMA)-AAPM
871 Indra Suyitno Certified Accredited Project Manager (CAPM)-AAPM
872 Budi Istanto Certified Accredited Project Manager (CAPM)-AAPM
873 Ghulam Tafrihi Certified Accredited Project Manager (CAPM)-AAPM
874 Roland Daniel Parulian Sidabutar Certified Accredited Project Manager (CAPM)-AAPM
875 Muh. Zulkifli Certified Accredited Project Manager (CAPM)-AAPM
876 Muhammad Arief Ma'ruf Nasution Certified Accredited Project Manager (CAPM)-AAPM
877 Rasko Certified Accredited Project Manager (CAPM)-AAPM
878 Firman Selowidagdo Certified Accredited Project Manager (CAPM)-AAPM
879 Angga Risnando Certified Accredited Project Manager (CAPM)-AAPM
880 Fahimah Rahmadian Certified Accredited Project Manager (CAPM)-AAPM
881 Aquila Yoma Eradipa Certified Accredited Project Manager (CAPM)-AAPM
882 Tekun Abdulkarim Certified Human Resource Analyst (CHRA)-AAPM
883 Eka Prianda Certified International Project Manager (CIPM)
884 Bayu Adam Certified Marketing Analyst (CMA)-AAPM
885 Mawardi Janitra Certified Marketing Analyst (CMA)-AAPM
886 Lebiner Sinaga Certified Marketing Analyst (CMA)-AAPM
887 Hermiyanti Holiza Pakpahan Certified Marketing Analyst (CMA)-AAPM
888 Nanang Sukmana Certified Marketing Analyst (CMA)-AAPM
889 Kadita Ayuverda Certified Marketing Analyst (CMA)-AAPM
890 Erry Rizal Rahman Certified Human Resource Analyst (CHRA)-AAPM
891 Paulina Kus Ariningsih Accredited Supply Chain Analyst (ASCA)-AAPM
892 Amie Kusumawardhani Accredited Supply Chain Analyst (ASCA)-AAPM
893 Yun Yun Accredited Supply Chain Analyst (ASCA)-AAPM
894 Asep Kurniawan Accredited Supply Chain Analyst (ASCA)-AAPM
895 Susi Kardina Ria Accredited Supply Chain Analyst (ASCA)-AAPM
896 Febby Kusumawardani Accredited Supply Chain Analyst (ASCA)-AAPM
897 Meylianti Sulungbudi Accredited Supply Chain Analyst (ASCA)-AAPM
898 Iza Monica Albionita Bakri Certified Human Resource Analyst (CHRA)-AAPM
899 Risna Akhriyanti Rachmat Master Data Center Professional (MDCP)-AAPM
900 Ismail Sholeh Master Data Center Professional (MDCP)-AAPM
901 Rezka Endarto Master Data Center Professional (MDCP)-AAPM
902 Teuku Ibnu Sina Master Data Center Professional (MDCP)-AAPM
903 Wenty Febrianti Certified Human Resource Analyst (CHRA)-AAPM
904 Dr. Ignatius Jeffrey, MPM Master Project Manager (MPM)
905 Sonny Rustiadi Certified Business Analytic Professional (CBAP)-AAPM
906 Salfitrie Roos Maryunani Certified Business Analytic Professional (CBAP)-AAPM
907 Isti Raafaldini Mirzanti Certified Business Analytic Professional (CBAP)-AAPM
908 Dina Dellyana Certified Business Analytic Professional (CBAP)-AAPM
909 Yulianto Suharto Certified Business Analytic Professional (CBAP)-AAPM
910 Benny Nugroho Master Project Manager (MPM)-AAPM
911 Niknik Ahmad Munawar Certified Marketing Analyst (CMA)-AAPM
912 Shinta Winasis Certified Human Resource Analyst (CHRA)-AAPM
913 Uli Wildan N Certified Human Resource Analyst (CHRA)-AAPM
914 Hendro Budiyanto Certified Human Resource Analyst (CHRA)-AAPM
915 Asep Saifudin Certified Human Resource Analyst (CHRA)-AAPM
916 Sri Witjaksono Widiabrata Certified Human Resource Analyst (CHRA)-AAPM
917 Christofer Surjadi Certified International Project Manager (CIPM)-AAPM
918 Irwin Dwinanto Certified Business Analytic Professional (CBAP)-AAPM
919 Adinda Fani Rushan Fikrina Hafidzah Certified Business Analytic Professional (CBAP)-AAPM
920 Nurul Amanda Certified Business Analytic Professional (CBAP)-AAPM
921 Regen Sinaga Certified in Financial Risk Management (CFRM)-AAFM
922 Regen Sinaga Master Financial Planner (MFP)-AAFM
923 Siti Maryam Certified Human Resource Analyst (CHRA)-AAPM
924 Ruby Tirzana Certified Human Resource Analyst (CHRA)-AAPM
925 Giri Agung Prastawa Certified Risk Management Officer (CRMO)-AAPM
926 Yadi Abdullah Certified Risk Management Officer (CRMO)-AAPM
927 Ferdi Ganda Kurnia Certified Risk Management Offveredicer (CRMO)-AAPM
928 Riza Fauzi Rahman Harahap Certified Risk Management Officer (CRMO)-AAPM
929 Bekti Suprayitno Certified Risk Management Officer (CRMO)-AAPM
930 Ratna Indah Murdianto Certified Risk Management Officer (CRMO)-AAPM
931 Budi Istanto Certified Risk Management Officer (CRMO)-AAPM
932 Deddy Kurniawan Certified Risk Management Officer (CRMO)-AAPM
933 Dedy Ristanto Certified Risk Management Officer (CRMO)-AAPM
934 Brahmandi Andria Sastra Certified Risk Management Officer (CRMO)-AAPM
935 Lunel Candra Certified Risk Management Officer (CRMO)-AAPM
936 Lely Melia Kaniawati Certified Risk Management Officer (CRMO)-AAPM
937 Mochamad Vrans Romi Certified Human Resource Analyst (CHRA)-AAPM
938 Iendy Zelvien Adhari Master Management Consultant MMC (AAPM)
939 Willy Faizal Certified Asset Management Professional-CAMP (AAPM)
940 Hanafyah Kaisar Certified Asset Management Professional-CAMP (AAPM)
941 Saimin Sugito Accredited Supply Chain Analyst (ASCA)-AAPM
942 Aditya Luqmana Hutama Accredited Supply Chain Analyst (ASCA)-AAPM
943 Kemal Zulfianta Accredited Supply Chain Analyst (ASCA)-AAPM
944 Darfito Accredited Supply Chain Analyst (ASCA)-AAPM
945 Eddy Accredited Supply Chain Analyst (ASCA)-AAPM
946 Tubagus Agus Khoironi Certified Marketing Analyst (CMA)-AAPM
947 H. Hidayat Syah Certified Marketing Analyst (CMA)-AAPM
948 Mudji Sabar Certified Marketing Analyst (CMA)-AAPM
949 Ugeng Budi Haryoko Certified Marketing Analyst (CMA)-AAPM
950 R. Bobby Renaldi Certified Human Resource Analyst (CHRA)-AAPM
951 Aditya Certified Human Resource Analyst (CHRA)-AAPM
952 Darmin Certified Human Resource Analyst (CHRA)-AAPM
953 Sri Suartini Accredited Management Accountant-AAFM
954 Edi Suswardji Certified Portfolio Manager (CPM)-AAFM
955 Ayi Wahid Certified Portfolio Manager (CPM)-AAFM
956 M. Shoffa Saifillah AF Certified Human Resource Analyst (CHRA)-AAPM
957 Mashudi Accredited Supply Chain Analyst (ASCA)-AAPM
958 Fellin Fidi Kinanti Certified Business Analytic Professional (CBAP)-AAPM
959 Bambang Totok M Certified Business Analytic Professional (CBAP)-AAPM
960 Ahmad Wildan Syarwani Certified Data Center Profesional (MDCP)-AAPM
961 Ade Dwi Anggoro Certified Data Center Profesional (MDCP)-AAPM
962 Indra Prasetio Certified Data Center Profesional (MDCP)-AAPM
963 Dery Partoni Certified Data Center Profesional (MDCP)-AAPM
964 Arief sukmawan Certified Data Center Profesional (MDCP)-AAPM 964 Avien Aryanti Certified Human Resource Analyst (CHRA)-AAPM
965 Pahoot Master Project Manager (MPM)-AAPM
966 Zhang Renxu Larry Certified International Project Manager (CIPM)-AAPM
967 C. Jarot Priyo Gutomo Certified Digital Marketing Professional (CDMP)-AAPM
968 Nadia Nila Sari Certified Digital Marketing Professional (CDMP)-AAPM
969 Elisabet Dita Septiari Certified Digital Marketing Professional (CDMP)-AAPM
970 Sugeng Riyadi Certified Digital Marketing Professional (CDMP)-AAPM
971 Rey Ramsha Pandita Certified Digital Marketing Professional (CDMP)-AAPM
972 Fajar Adriansyah Certified Digital Marketing Professional (CDMP)-AAPM
973 Andini Nurul Fadilah Certified Digital Marketing Professional (CDMP)-AAPM
974 Dhyah Ayu Retno Certified Digital Marketing Professional (CDMP)-AAPM
975 Tedi Herianto Hamiprodjo Certified Digital Marketing Professional (CDMP)-AAPM
976 Guntur Sulaeman Certified Digital Marketing Professional (CDMP)-AAPM
977 Lala Irviana Certified Human Resource Analyst (CHRA)-AAPM
978 Nurul Wuryaningsih Certified Human Resource Analyst (CHRA)-AAPM
979 Suhartini Certified Human Resource Analyst (CHRA)-AAPM
980 Trias Setiawati Certified Human Resource Analyst (CHRA)-AAPM
981 Fereshti Nurdiana Dihan Certified Human Resource Analyst (CHRA)-AAPM
982 Novawiguna Kemalasari Certified Risk Analyst (CRA)-AAFM
983 Bambang Mulyana Registered Financial Specialist (RFS)-AAFM
984 Temi Delizar Hudoyo Certified Associate Project Manager (CAPM)-AAPM
985 Karim Hasan Certified Associate Project Manager (CAPM)-AAPM
986 Harry Ramdan Certified Associate Project Manager (CAPM)-AAPM
987 I Made Raditya Dwipayana Certified Associate Project Manager (CAPM)-AAPM
988 Hermansyah Certified Associate Project Manager (CAPM)-AAPM
989 Steafen Kristian Soegiono Certified International Project Manager (CIPM)-AAPM
990 R.Totok Mukarto Ongkowidjojo Certified in Corporate Business Law (CCBL)-AAFM
991 Sunaryo Certified Marketing Analyst (CMA)-AAPM
992 Agung Yuniarinto Certified Marketing Analyst (CMA)-AAPM
993 Mugiono Certified Marketing Analyst (CMA)-AAPM
994 Astrid Puspaningrum Certified Marketing Analyst (CMA)-AAPM
995 Ananto Basuki Certified Marketing Analyst (CMA)-AAPM
996 Fatchur Rohman Certified Marketing Analyst (CMA)-AAPM
997 Ananda Sabil Hussein Certified Marketing Analyst (CMA)-AAPM
998 Dimas Hendrawan Certified Marketing Analyst (CMA)-AAPM
999 Risca Fitri Ayuni Certified Marketing Analyst (CMA)-AAPM
1000 Nadiyah Hirfiyana Rosita Certified Marketing Analyst (CMA)-AAPM
1001 Dian Ari Nugroho Certified Marketing Analyst (CMA)-AAPM
1002 Sigit Pramono Certified Marketing Analyst (CMA)-AAPM
1003 Bayu Ilham Pradana Certified Marketing Analyst (CMA)-AAPM
1004 Alim Suciana Accredited Supply Chain Analyst (ASCA)-AAPM
1005 Wahyu Alfarobbi Accredited Supply Chain Analyst (ASCA)-AAPM
1006 Mochammad Mukti Ali Chartered Wealth Manager (CWM)-AAFM
1007 Widodo Dumadi Accredited Supply Chain Analyst (ASCA)-AAPM
1008 Ria Rahmawati Certified Marketing Analyst (CMA)-AAPM
1009 Rizal Diansyah Certified Marketing Analyst (CMA)-AAPM
1010 Ashari Arinto Certified International Information System Auditor (CIISA)-AAFM
1011 Katlea Fitriani Certified International Project Manager
1012 Mahlia Muis Certified International Project Manager (CIPM)-AAPM
1013 Yani Herawati Certified International Project Manager (CIPM)-AAPM
1014 A.Rahman. H I Certified International Communication Specialist (CICS)-AAPM
1015 Ponco Budi Sulistyo Certified International Communication Specialist (CICS)-AAPM
1016 Ahmad Mulyana Certified International Communication Specialist (CICS)-AAPM
1017 Henni Gusfa Certified International Communication Specialist (CICS)-AAPM
1018 Mochammad Mukti Ali Certified International Communication Specialist (CICS)-AAPM
1019 Irmulansati Tomohardjo Certified International Communication Specialist (CICS)-AAPM
1020 Doni Purnomo Master Project Manager (MPM)-AAPM
1021 Imam Indra Gunawan Master Project Manager (MPM)-AAPM
1022 Nugroho Kristianto Master Project Manager (MPM)-AAPM
1023 Muchlisin Master Project Manager (MPM)-AAPM
1024 Siti Munjarofah Master Project Manager (MPM)-AAPM
1025 Lufty Abdillah Master Project Manager (MPM)-AAPM
1026 Ruchimat Master Project Manager (MPM)-AAPM
1027 R. Wisnu Prio Pamungkas Certified International Information System Auditor (CIISA)-AAFM
1028 Inge Hutagalung Certified International Communication Specialist (CICS)-AAPM
1029 Syaifuddin Certified International Communication Specialist (CICS)-AAPM
1030 Rosmawaty Hilderiah Pandjaitan Certified International Communication Specialist (CICS)-AAPM
1031 Leila Mona Certified International Communication Specialist (CICS)-AAPM
1032 Pigar Certified Marketing Analyst (CMA)-AAPM
1033 Maulidina Ramadhani Certified Marketing Analyst (CMA)-AAPM
1034 Zarwin Certified Marketing Analyst (CMA)-AAPM
1035 Ela Ratna Yuwita Certified Marketing Analyst (CMA)-AAPM
1036 Fitria Ichsani Certified Marketing Analyst (CMA)-AAPM
1037 Dyah Ruth Wulandari Certified Marketing Analyst (CMA)-AAPM
1038 Alim Suciana Certified Marketing Analyst (CMA)-AAPM
1039 Arya Pratama Certified Marketing Analyst (CMA)-AAPM
1040 Muhamad Afif Fauzan Certified Marketing Analyst (CMA)-AAPM
1041 Bondan Adriya Certified Marketing Analyst (CMA)-AAPM
1042 Meylianti Sulung Budi Certified International Project Manager (CIPM)-AAPM
1043 Insan Ahmad Soleh Certified International Project Manager (CIPM)-AAPM
1044 I Wayan Budi Artha Certified in Financial Risk Management (CFRM)-AAFM
1045 Andri Pipit Utoyo Accredited Supply Chain Analyst (ASCA)-AAPM
1046 Moch Amin Nurdin Certified Human Resource Analyst (CHRA)-AAPM
1047 Prof. Dr. Hapzi Ali Master Project Manager (MPM)-AAPM
1048 M. Rizky Mahaputra Certified Marketing Analyst (CMA)-AAPM
1049 Amalina Maharani Accredited Management Accountant (AMA)-AAFM
1050 M.Havidz Aima Certified in Financial Risk Management (CFRM)-AAFM
1051 Muhammad Rajab Certified Human Resource Analyst (CHRA)-AAPM
1052 Abdullah Zuhud Certified Business Analytic Professional (CBAP)-AAPM
1053 Roy Gamma Certified Business Analytic Professional (CBAP)-AAPM
1054 Prof. Dr. Hj. Ai Komariah, Ir., MS Certified Human Resource Analyst (CHRA)-AAPM
1055 Dr. H. Dodi Sukmayana, SE., MM Accredited Financial Analyst (AFA)-AAFM
1056 Andreas Ferry Hariyadi Certified Marketing Analyst (CMA)-AAPM
1057 Dr. Zaini Abdillah Certified Human Resource Analyst (CHRA)-AAPM
1058 Vera Dwi Astuti, S.ST.RMIK Certified Human Resource Analyst (CHRA)-AAPM
1059 Budhi Ganda Permana Accredited Financial Analyst (AFA)-AAFM
1060 Henra Hasibuan, SH Certified Human Resource Analyst (CHRA)-AAPM
1061 Aries Riyanto, S.Sos Certified Human Resource Analyst (CHRA)-AAPM
1062 Asep Pujiyono Certified Human Resource Analyst (CHRA)-AAPM
1063 Erlinawati Pasaribu Certified Human Resource Analyst (CHRA)-AAPM
1064 Bubun Badruzaman Certified Human Resource Analyst (CHRA)-AAPM
1065 Asep Sutanto, ST., MM Certified Human Resource Analyst (CHRA)-AAPM
1066 Dicky Safari Zen Certified Marketing Analyst (CMA)-AAPM
1067 Ellys Geugeu Abana, SE., MM Certified Human Resource Analyst (CHRA)-AAPM
1068 Iwan Somantri Certified Marketing Analyst (CMA)-AAPM
1069 Budhi Ganda Permana Master Quality Manager (MQM)-AAPM
1070 Zaini Abdillah Master Quality Manager (MQM)-AAPM
1071 Irman Nurrahman Firdaus Master Quality Manager (MQM)-AAPM
1072 Dwi Budi Utami Certified International Information System Auditor (CIISA)-AAFM
1073 Irwan Ahmad Sugiharto Certified International Information System Auditor (CIISA)-AAFM
1074 Nico Rudolf Certified Business Analytic Professional (CBAP)-AAPM 1175 Yulia Arisnani Widyaningsih Certified Digital Marketing Professional (CDMP)-AAPM
1176 Bayu Aji Aritejo Certified Digital Marketing Professional (CDMP)-AAPM
1177 Ricky Yohannes Certified Digital Marketing Professional (CDMP)-AAPM
1178 Lia Nabila Tristi Certified Digital Marketing Professional (CDMP)-AAPM
1179 Haryajid Ramelan Certified Digital Marketing Professional (CDMP)-AAPM
1180 Aria Samata Santoso Certified Digital Marketing Professional (CDMP)-AAPM
1181 Enriqo Moreno Certified Digital Marketing Professional (CDMP)-AAPM
1182 Ary Bastari Certified Marketing Analyst (CMA)-AAPM
1183 Rudi Syahrinsyah Certified Marketing Analyst (CMA)-AAPM
1184 IGK. Prasetya Certified Marketing Analyst (CMA)-AAPM
1185 M. Rahman Hakim Certified Marketing Analyst (CMA)-AAPM
1186 Fachrudin Certified Marketing Analyst (CMA)-AAPM
1187 Ahmad Fatrya Putra Certified Marketing Analyst (CMA)-AAPM
1188 Nordin Certified Marketing Analyst (CMA)-AAPM
1189 Suriadi Certified Marketing Analyst (CMA)-AAPM
1190 Izhar Certified Marketing Analyst (CMA)-AAPM
1191 Deddy Setiawan Certified Marketing Analyst (CMA)-AAPM
1192 Syahrituah Siregar Certified in Financial Risk Management (CFRM)-AAFM
1193 Hatmansyah Certified in Financial Risk Management (CFRM)-AAFM
1194 Zulfadli Gazali Certified in Financial Risk Management (CFRM)-AAFM
1195 Gusti Agus Permana Certified in Financial Risk Management (CFRM)-AAFM
1196 Rudi Ansyari Certified in Financial Risk Management (CFRM)-AAFM
1197 Iwan Certified in Financial Risk Management (CFRM)-AAFM
1198 Irwan Meidani Aham Certified in Financial Risk Management (CFRM)-AAFM
1199 Yuli Harmini Certified in Financial Risk Management (CFRM)-AAFM
1200 Noor Fitriah Certified in Financial Risk Management (CFRM)-AAFM
1201 M. Fajri Muhtadi Certified in Financial Risk Management (CFRM)-AAFM
1202 M. Ihya U. Basri Certified in Financial Risk Management (CFRM)-AAFM
1203 Ary Bastari Master Project Manager (MPM)-AAPM
1204 Evy Susanti Master Project Manager (MPM)-AAPM
1205 Evy Susanti Chartered Wealth Manager (CWM)-AAFM
1206 Asep Zulfikar Master Project Manager (MPM)-AAPM
1207 Nandang Sutisna Master Project Manager (MPM)-AAPM
1208 Jaya Addin Linando Certified Human Resource Analyst (CHRA)-AAPM
1209 Handrio Adhi Pradana Certified Human Resource Analyst (CHRA)-AAPM
1210 Dodik Priyanto Certified Human Resource Analyst (CHRA)-AAPM
1211 Intan Budhi Utoyo Certified Asset Management Professional (CAMP)-AAPM
1212 Basrizal Certified Human Resource Analyst (CHRA)-AAPM
1213 Serafinus Octavia Puspitasari Certified Human Resource Analyst (CHRA)-AAPM
1214 Handy Suryadi Certified Human Resource Analyst (CHRA)-AAPM
1215 Lodian Sani S Certified International Mathematics Expert (CIME)-AAPM
1216 Supeni Certified Human Resource Analyst (CHRA)-AAPM
1217 Mochammad Mukti Ali Certified Product Management Professional (CPMP)-AAPM
1218 Mochammad Mukti Ali Certified Strategic Business Analyst (CSBA)-AAFM
1219 Ridwan Abadi Certified International Project Manager (CIPM)-AAPM
1220 Erwin Yudha Pratama Master Project Manager (MPM)-AAPM
1221 Hasta Ragil Saputra Master Project Manager (MPM)-AAPM
1222 Ahmad Zuhdi Master Project Manager (MPM)-AAPM
1223 Tsabit Ghazwan Master of Quality Manager (MQM)-AAPM
1224 Wahyu Purbo Santoso Certified in Financial Risk Management (CFRM)-AAFM
1225 Hermiyanti Holiza Pakpahan Certified International Project Manager (CIPM)-AAPM
1226 Wahyu Alfarobbi Certified International Project Manager (CIPM)-AAPM
1227 Henni Gusfa Certified International Project Manager (CIPM)-AAPM
1228 Febianto Halimin Putra Certified International Project Manager (CIPM)-AAPM
1229 Hendi Saptadi Certified International Project Manager (CIPM)-AAPM
1230 Arli Sokhiaro Gulo Certified International Project Manager (CIPM)-AAPM
1231 Angga Sumantri Certified International Project Manager (CIPM)-AAPM
1232 Unang Toto Handiman Certified International Project Manager (CIPM)-AAPM
1233 Rizal Sugih Firmansyah Certified International Project Manager (CIPM)-AAPM
1234 Alim Suciana Certified International Project Manager (CIPM)-AAPM
1235 Darfito Certified International Project Manager (CIPM)-AAPM
1236 Yenni Tan Certified Marketing Analyst (CMA)
1237 Sugiyanto Certified Marketing Analyst (CMA)
1238 Arif Siaha Widodo Certified Marketing Analyst (CMA)-AAPM
1239 Budhi Prabowo Certified Human Resource Analyst (CHRA)-AAPM
1240 Ibram Pinondang Dalimunthe Certified in Financial Risk Management (CFRM)-AAFM
1241 Veritia Certified Human Resource Analyst (CHRA)-AAPM
1242 Lucia Maduningtias Certified Human Resource Analyst (CHRA)-AAPM
1243 Mochammad Mukti Ali Certified Digital Marketing Professional (CDMP)-AAPM
1244 Rahmi Hermawati Certified Human Resource Analyst (CHRA)-AAPM
1245 Aditya Permana Putra Registered Financial Specialist (RFS)-AAFM
1246 Agung Fuad Pahlevi Registered Financial Specialist (RFS)-AAFM
1247 Aip Wiyana Registered Financial Specialist (RFS)-AAFM
1248 Aisyah Fera Kurnia Registered Financial Specialist (RFS)-AAFM
1249 Andro Pradona Sukoco Registered Financial Specialist (RFS)-AAFM
1250 Angga Wiratama Registered Financial Specialist (RFS)-AAFM
1251 Anita Fauzi Registered Financial Specialist (RFS)-AAFM
1252 Anita Prasetya Kusuma Registered Financial Specialist (RFS)-AAFM
1253 Arina Pramudita Trisuwito Registered Financial Specialist (RFS)-AAFM
1254 Ariz Fazli Putra Registered Financial Specialist (RFS)-AAFM
1255 Pawenary Master Project Manager (MPM)-AAPM
1256 Barita Johanes Sihotang Registered Financial Specialist (RFS)-AAFM
1257 Bayu Yudhasmara Registered Financial Specialist (RFS)-AAFM
1258 Brory Wahyudi Registered Financial Specialist (RFS)-AAFM
1259 Fakhrur Rijal Nasution Registered Financial Specialist (RFS)-AAFM
1260 Fransiska Endang Kinasih Registered Financial Specialist (RFS)-AAFM
1261 Fruverina Agnes Tia Juliana Registered Financial Specialist (RFS)-AAFM
1262 Hariyana Registered Financial Specialist (RFS)-AAFM
1263 I Dewa Ayu Made Istri Wulandari Registered Financial Specialist (RFS)-AAFM
1264 Intan Permata Sari Registered Financial Specialist (RFS)-AAFM
1265 Januar Rizqi Registered Financial Specialist (RFS)-AAFM
1266 Listya Esa Sasmita Registered Financial Specialist (RFS)-AAFM
1267 Muhamad Taufik Registered Financial Specialist (RFS)-AAFM
1268 Primanita Registered Financial Specialist (RFS)-AAFM
1269 Rihayaty Registered Financial Specialist (RFS)-AAFM
1270 Rima Handayani Certified Human Resource Analyst (CHRA)-AAPM
1271 Dian Taurisa Widiaty Certified Human Resource Analyst (CHRA)-AAPM
1272 Ersa Inayah Certified Human Resource Analyst (CHRA)-AAPM
1273 Eva Musyrifah Certified Human Resource Analyst (CHRA)-AAPM
1274 Gabelas Makmur Simamora Certified Marketing Analyst (CMA)-AAPM
1275 Risky Rahmawati Pinardi Certified Marketing Analyst (CMA)-AAPM
1276 Muhammad Afham Azri Master Project Manager (MPM)-AAPM
1277 M. Ayodya Satrya Master Project Manager (MPM)-AAPM
1278 Suseno Wahyu Purnomo Master Project Manager (MPM)-AAPM
1279 Agustinus Yulianto Master Project Manager (MPM)-AAPM
1280 Rudi Albert Master Project Manager (MPM)-AAPM
1281 Mochamad Iqbal Hermawan Master Project Manager (MPM)-AAPM
1282 Supriyanto Master Project Manager (MPM)-AAPM
1283 Muhammad Irhas Master Project Manager (MPM)-AAPM
1284 Rahmat Santoso Master Project Manager (MPM)-AAPM
1285 Bambang Suprayitno Master Project Manager (MPM)-AAPM
1286 Susatya Tri Setiawan Certified Risk Management Officer (CRMO)-AAPM
1287 Ediyanus Pabendon Certified Risk Management Officer (CRMO)-AAPM
1288 M.Jaka Hadi Santosa Certified Risk Management Officer (CRMO)-AAPM
1289 Naka Prihastya Putra Certified Risk Management Officer (CRMO)-AAPM
1290 Faizal Aidul Fitri Certified Risk Management Officer (CRMO)-AAPM
1291 Rahadian Farizi Certified Risk Management Officer (CRMO)-AAPM
1292 Khrisna Dini Yunita Sari Certified Risk Management Officer (CRMO)-AAPM
1293 Muhamad Zaki Mubarok Rahman Certified Risk Management Officer (CRMO)-AAPM
1294 Utami Nazmi Puspahati Certified Risk Management Officer (CRMO)-AAPM
1295 Syaiful Bachri Certified Risk Management Officer (CRMO)-AAPM
1296 Rifqi Abdul Aziz Certified Risk Management Officer (CRMO)-AAPM
1297 Ida Farida Certified Risk Management Officer (CRMO)-AAPM
1298 Marietje Manduapessy Certified Risk Management Officer (CRMO)-AAPM
1299 Githa Kharismawati Certified Risk Management Officer (CRMO)-AAPM
1300 Ahmad Sidik Certified Risk Management Officer (CRMO)-AAPM
1301 Rian Handono Certified Risk Management Officer (CRMO)-AAPM
1302 Abdul Ghony Certified Risk Management Officer (CRMO)-AAPM
1303 Aquila Yoma Eradipa Certified Risk Management Officer (CRMO)-AAPM
1304 Nur Idris Fahmi Certified Risk Management Officer (CRMO)-AAPM
1305 Reni Rianti Certified Risk Management Officer (CRMO)-AAPM
1306 Intan Budhi Utoyo Certified Asset Management Professional (CAMP)-AAPM
1307 Mochammad Mukti Ali Master Project Manager (MPM)-AAPM
1308 Rini Alfatiyah Certified Marketing Analyst (CMA)
1309 Ferdiansyah Certified Marketing Analyst (CMA)
1310 Ali Mubarok Certified Marketing Analyst (CMA)
1311 Laily Maknin Zubaedah Certified Marketing Analyst (CMA)
1312 Sunanto Certified Marketing Analyst (CMA)
1313 Sutiman Master Financial Planner (MFP)-AAFM
1314 M. Elfan Kaukab Master Financial Planner (MFP)-AAFM
1315 Agus Putranto Master Financial Planner (MFP)-AAFM
1316 Romandhon Master Financial Planner (MFP)-AAFM
1317 Bambang Nurcahyo Ariadhi Certified International Project Manager (CIPM)-AAPM
1318 Aditya Luqmana Hutama Certified International Project Manager (CIPM)-AAPM
1319 Mashudi Certified International Project Manager (CIPM)-AAPM
1320 Hasan Certified International Project Manager (CIPM)-AAPM
1321 Saimin Sugito Certified International Project Manager (CIPM)-AAPM
1322 M. Elfan Kaukab Certified Marketing Analyst (CMA)
1323 Heri Purwanto Certified Marketing Analyst (CMA)
1324 M. Trihudiyatmanto Certified Marketing Analyst (CMA)
1325 Bahtiar Efendi Certified Marketing Analyst (CMA)
1326 Ferdina Watiningsih Certified in Financial Risk Management (CFRM)-AAFM
1327 Farid Wajdi Certified in Financial Risk Management (CFRM)-AAFM
1328 Edi Iskandar Certified Data Center Audit Professional (CDCAP)-AAPM
1329 Syamsul Hidayat Certified Data Center Audit Professional (CDCAP)-AAPM
1330 Farid Wajdi Certified in Financial Accounting (CFA)--AAFM
1331 Ignatius Jeffrey Certified in Financial Accounting (CFA)--AAFM
1332 Trie Rundi Hartono Certified in Financial Accounting (CFA)--AAFM
1333 Ramses Pakpahan Certified in Financial Accounting (CFA)--AAFM
1334 Trie Rundi Hartono Certified in Financial Risk Management (CFRM)-AAFM
1335 Ramses Pakpahan Certified in Financial Risk Management (CFRM)-AAFM
1336 Mochammad Mukti Ali Certified Data Center Audit Professional (CDCAP)-AAPM
1337 Dyah Sugandini Certified Digital Marketing Professional (CDMP)-AAPM
1338 Surpiko Hapsoro Darpito Certified Digital Marketing Professional (CDMP)-AAPM
1339 Wisnalmawati Certified Digital Marketing Professional (CDMP)-AAPM
1340 Danang Yudhiantoro Certified Digital Marketing Professional (CDMP)-AAPM
1341 Ign. Agus Suryono Certified Digital Marketing Professional (CDMP)-AAPM
1342 Novriandini Ermaningrum Certified Digital Marketing Professional (CDMP)-AAPM
1343 Herminawaty Abubakar Certified Strategic Business Analyst (CSBA)-AAFM
1344 Mochammad Bagus Suaeb Certified Strategic Business Analyst (CSBA)-AAFM
1345 Ery Sugito Accredited Supply Chain Analyst (ASCA)-AAPM
1346 Ferrys Berlian Wardoso Diantoro Accredited Supply Chain Analyst (ASCA)-AAPM
1347 Ginanjar Wiro Sasmito Accredited Supply Chain Analyst (ASCA)-AAPM
1348 Rizki Prakasa Hasibuan Accredited Supply Chain Analyst (ASCA)-AAPM
1349 Ardi. S Certified in Financial Accounting (CFA)--AAFM
1350 Agus Bandiyono Certified in Financial Accounting (CFA)--AAFM
1351 Triana Meinarsih Certified in Financial Accounting (CFA)--AAFM
1352 Iin Rosini Certified in Financial Accounting (CFA)--AAFM
1353 Diah Nurdiana Certified in Financial Accounting (CFA)--AAFM
1354 Ardi. S Certified in Financial Risk Management (CFRM)-AAFM
1355 Agus Bandiyono Certified in Financial Risk Management (CFRM)-AAFM
1356 Iin Rosini Certified in Financial Risk Management (CFRM)-AAFM
1357 Diah Nurdiana Certified in Financial Risk Management (CFRM)-AAFM
1358 Triana Meinarsih Certified in Financial Risk Management (CFRM)-AAFM
1359 Sugiyanto Certified in Financial Risk Management (CFRM)-AAFM
1360 M. Elfan Kaukab Certified Human Resource Analyst (CHRA)-AAPM
1361 Ramses Pakpahan Certified Human Resource Analyst (CHRA)-AAPM
1362 Ramses Pakpahan Certified Marketing Analyst (CMA)-AAPM
1363 Ramses Pakpahan Certified Risk Analyst-AAFM
1364 Melinda Malau Certified in Financial Risk Management (CFRM)-AAFM
1365 Arif Siaha Widodo Certified Human Resource Analyst (CHRA)-AAPM 1366 Ignatius Jeffrey Certified in Financial Accounting (CFA)--AAFM
1367 Trie Rundi Hartono Certified in Financial Accounting (CFA)--AAFM
1369 Ramses Pakpahan Certified in Financial Accounting (CFA)--AAFM
1370 Ardi. S Certified in Financial Accounting (CFA)--AAFM
1371 Agus Bandiyono Certified in Financial Accounting (CFA)--AAFM
1372 Triana Meinarsih Certified in Financial Accounting (CFA)--AAFM
1373 Iin Rosini Certified in Financial Accounting (CFA)--AAFM
1374 Diah Nurdiana Certified in Financial Accounting (CFA)--AAFM
1375 Melinda Malau Certified in Financial Accounting (CFA)--AAFM
1366 Certified Digital Marketing Professional (CDMP)-AAPM
1376 Dyah Sugandini
1377 Surpiko Hapsoro Darpito
1378 Wisnalmawati
1366 Certified Digital Marketing Professional (CDMP)-AAPM
1379 Danang Yudhiantoro
1380 Ign. Agus Suryono Certified Digital Marketing Professional (CDMP)-AAPM
1381 Novriandini Ermaningrum
1382 Herminawaty Abubakar Certified Strategic Business Analyst (CSBA)-AAFM
1383 Mochammad Bagus Suaeb Certified Strategic Business Analyst (CSBA)-AAFM
1384 Ery Sugito Accredited Supply Chain Analyst (ASCA)-AAPM
1386 Ferrys Berlian Wardoso Diantoro Accredited Supply Chain Analyst (ASCA)-AAPM
1387 Ginanjar Wiro Sasmito Accredited Supply Chain Analyst (ASCA)-AAPM
1388 Rizki Prakasa Hasibuan Accredited Supply Chain Analyst (ASCA)-AAPM
1389 Mochammad Mukti Ali Certified Data Center Audit Professional (CDCAP)-AAPM
1390 Mochammad Mukti Ali Certified in Financial Accounting (CFA)--AAFM
1391 Ary Sunantiyo Certified International Project Manager (CIPM)
1392 Erni Giartatik Certified Human Resource Analyst (CHRA)-AAPM
1393 Leonard Andy Riyanto Certified Human Resource Analyst (CHRA)-AAPM
1394 Dian Rahayu Aprilianingsih Certified Human Resource Analyst (CHRA)-AAPM
1395 Mahendwi Dinarani Certified Human Resource Analyst (CHRA)-AAPM
1396 Giri Ayu Wardhani Certified Human Resource Analyst (CHRA)-AAPM
1397 Kinkin Yuliaty Subarsa Putri Certified International Communication Specialist (CICS)-AAPM
1398 Betty Tresnawaty Certified International Communication Specialist (CICS)-AAPM
1399 Irma Kusumawati Certified International Communication Specialist (CICS)-AAPM
1400 Mikke Setiawati Certified International Communication Specialist (CICS)-AAPM
1401 Maria Martina Widyastuti Certified International Communication Specialist (CICS)-AAPM
1402 Willy Dreeskandar Certified International Communication Specialist (CICS)-AAPM
1403 Ratri Mustika Dewi Certified International Communication Specialist (CICS)-AAPM
1404 Ria Rahmawati Certified Marketing Analyst (CMA)-AAPM
1405 Ria Rahmawati Certified Strategic Business Analyst (CSBA)-AAFM
1406 Suriantama Nasution Certified Management Consultant Professional (CMCP)
1407 Selamat W.Hia Accredited Supply Chain Analyst (ASCA)-AAPM
1408 Erlina Puspitaloka Mahadewi Certified Marketing Analyst (CMA)-AAPM
1409 Desy Dharmawati Certified Marketing Analyst (CMA)-AAPM
1410 Ratih Dewi Sumantri Certified Digital Marketing Professional (CDMP)
1411 Defky Permata Sastri Certified Digital Marketing Professional (CDMP)
1412 Mawardi Janitra Certified Digital Marketing Professional (CDMP)
1413 Dyah Ruth Wulandari Certified Digital Marketing Professional (CDMP)
1414 Arfin Jaya Saputra Certified Digital Marketing Professional (CDMP)
1415 Vera Agustina Rotua Sinurat Certified Digital Marketing Professional (CDMP)
1416 Maulidina Ramadhani Certified Digital Marketing Professional (CDMP)
1417 Dhanang Suryo Kusumo Certified Digital Marketing Professional (CDMP)
1418 Gerry Eleazar Certified Digital Marketing Professional (CDMP)
1419 Fitria Ichsani Certified Digital Marketing Professional (CDMP)
1420 Ela Ratna Yuwita Certified Digital Marketing Professional (CDMP)
1421 Zarwin Certified Digital Marketing Professional (CDMP)
1422 Muhammad Millah Irsyadin Certified International Media Specialist
1423 Mitra Kartika Certified Human Resource Analyst (CHRA)-AAPM
1424 Laura Valentine Certified Human Resource Analyst (CHRA)-AAPM
1425 Iqbal Nazili Certified Human Resource Analyst (CHRA)-AAPM
1426 Patricia Darma Bulan Certified Human Resource Analyst (CHRA)-AAPMD
1427 Ryaneka Darmawan Certified Human Resource Analyst (CHRA)-AAPM
1428 Muchamad Aang Sopian Certified Human Resource Analyst (CHRA)-AAPM
1429 Wasis Winardi Master Financial Planner (MFP)-AAFM
1430 Agung Budiman Master Financial Planner (MFP)-AAFM
1431
1432 Harry Susatyo Certified Business Analytic Professional-(CBAP)
1433 Raden Branata Asikin Certified Marketing Analyst (CMA)-AAPM
1434 Rizal Diansyah Certified Marketing Analyst (CMA)-AAPM
1435 Andrian Haro Certified Marketing Analyst (CMA)-AAPM 1436 Erna Ningsih Certified Risk Analyst (CRA)-AAFM
1437 Ferdhy Firdausy Certified Risk Analyst (CRA)-AAFM
1438 Amir Hasan Certified Risk Analyst (CRA)-AAFM
1439 Andri Moch Ardianto Certified Risk Analyst (CRA)-AAFM
1440 Sareviandi Eka Hasta Certified Risk Analyst (CRA)-AAFM
1441 Puspa Indah Ramadhani Certified Risk Analyst (CRA)-AAFM
1442 Maskuri Certified Risk Analyst (CRA)-AAFM
1443 Marten Avero Certified Risk Analyst (CRA)-AAFM
1444 Maisyal Fazar Alamsyah, Certified International Project Manager (CIPM)-AAPM
1445 Panji Dewa Jayeng Raga, Certified International Project Manager (CIPM)-AAPM
1446 Koko Prayitno,Certified International Project Manager (CIPM)-AAPM
1447 Dulani,Certified International Project Manager (CIPM)-AAPM
1448 Galih Aprianto,Certified International Project Manager (CIPM)-AAPM
1449 Margono, Certified International Project Manager (CIPM)-AAPM
1450 Djoko Purwanto, Certified International Project Manager (CIPM)-AAPM
1451 Ufo Mahendra Putranto, Certified International Project Manager (CIPM)-AAPM
1452 Wahyu Binuko, Certified International Project Manager (CIPM)-AAPM
1453 Prihatini Ratna Dewi, Certified International Project Manager (CIPM)-AAPM
1454 Heri Susanto, Certified International Project Manager (CIPM)-AAPM
1455 Mochammad Suwito, Certified International Project Manager (CIPM)-AAPM
1456 Dicky Andrean, Certified International Project Manager (CIPM)-AAPM1457 Dixco Suwarno Certified Human Resource Analyst (CHRA)-AAPM
1458 Sofie Agustini Certified Human Resource Analyst (CHRA)-AAPM
1459 Kapler A. Marpaung Registered Financial Analyst (RFS)-AAFM
1460 Bahari Parinduri Master Quality Manager (MQM)-AAPM
1461 Cahya Perdana Nurmawan Certified International Information System Auditor (CIISA)-AAFM
1462 Cahya Perdana Nurmawan Certified in Financial Risk Management (CFRM)-AAFM
1463 Raden Branata Asikin Certified Strategic Business Analyst (CSBA)-AAFM
1464 Rizal Diansyah Certified Strategic Business Analyst (CSBA)-AAFM
1465 Ira Abilia Agustina Salim Certified Strategic Business Analyst (CSBA)-AAFM
1466 Sandy Martsanto Master Project Manager (MPM)-AAPM
1467 Chandra Basuki Master Project Manager (MPM)-AAPM
1468 Yohan Effenddy Sunyoto Master Project Manager (MPM)-AAPM
1469 Gusak Tilas Wangi Master Project Manager (MPM)-AAPM
1470 Rangga Aji Juang Sukmadiningrat Master Project Manager (MPM)-AAPM
1471 Farid Ma'ruf Certified Digital Marketing Professional (CDMP)-AAPM
1472 Syifa Fitriani Certified Digital Marketing Professional (CDMP)-AAPM
1473 Zukhruf Nur Wakhid Certified Digital Marketing Professional (CDMP)-AAPM
1474 Haikal Akbari Setiawan Certified Human Resource Analyst (CHRA)-AAPM
1475 Hery Certified in International Financial Reporting Standards (CIFRS)-GAFM
1476 Banu Mahatdir Certified Accredited Project Manager (CAPM)-AAPM
1477 Adi Nurdiansyah Certified Accredited Project Manager (CAPM)-AAPM
1478 Dwi Waluyo Certified Accredited Project Manager (CAPM)-AAPM
1479 Yudha Adi Putra Certified Accredited Project Manager (CAPM)-AAPM
1480 Yandika Putra Certified Accredited Project Manager (CAPM)-AAPM
1481 Intan Zaleha Mutisari Certified Human Resource Analyst (CHRA)-AAPM
1482 Resty Sapitri Liyan Sari Certified Human Resource Analyst (CHRA)-AAPM
1483 Cita Devi Virgianti Certified Human Resource Analyst (CHRA)-AAPM
1484 Atika Amarwaty Certified Human Resource Analyst (CHRA)-AAPM
1485 Sumarjaya Certified Human Resource Analyst (CHRA)-AAPM
1486 Agung Budiman Certified Human Resource Analyst (CHRA)-AAPM
1487 Hery Gunardi Master Wealth Manager (MWM)
1488 Eduardus Tandelilin Master Wealth Manager (MWM)
1489 Kapler A. Marpaung Master Wealth Manager (MWM)
1490 Mr. Sulad Sri Hardanto Master Wealth Manager (MWM)
1491 Dewi Wiranti Master Wealth Manager (MWM)
1492 Trinurcahyo Sucipto, Certified Human Resource Analyst (CHRA)-AAPM
1493 Vileny Ariaty Certified Human Resource Analyst (CHRA)-AAPM
1494 Ihda Arifin Faiz Certified Human Resource Analyst (CHRA)-AAPM
1495 Akhdiyat Setya Purnama Certified Human Resource Analyst (CHRA)-AAPM
1496 Ahmad Arkan Nugraha Certified Human Resource Analyst (CHRA)-AAPM
1497 Aryo Wahyudi Kusuma Certified Human Resource Analyst (CHRA)-AAPM
1498 Mochammad Fauzi Zamzam Certified Human Resource Analyst (CHRA)-AAPM
1499 . Agus Ristono Accredited Supply Chain Analyst (ASCA)-AAPM
1500 Panji Dewa Jayeng Raga Accredited Supply Chain Analyst (ASCA)-AAPM
1501 Dicky Andrean Accredited Supply Chain Analyst (ASCA)-AAPM
1502 Edi Putra Accredited Supply Chain Analyst (ASCA)-AAPM
1503 William Johanes Saputra Accredited Supply Chain Analyst (ASCA)-AAPM
1504 Apriliana Cendraleka Accredited Supply Chain Analyst (ASCA)-AAPM
1505 Sitti Rizki Mulyani Certified Human Resource Analyst (CHRA)-AAPM
1506 Muhammad Ridwan Certified Human Resource Analyst
1507 Erlina Accredited Supply Chain Analyst (ASCA)-AAPM
1508 Fatma Hermining Astuti Accredited Supply Chain Analyst (ASCA)-AAPM
1509 Wandhansari Sekar Jatiningrum Accredited Supply Chain Analyst (ASCA)-AAPM
1510 R. Hendro Budi Saputro Accredited Supply Chain Analyst (ASCA)-AAPM
1511 Titis Shinta Dhewi Certified Digital Marketing Professional (CDMP)
1512 Wilyan Adiasari Certified Digital Marketing Professional (CDMP)
1513 Noval Tajudin Master Project Manager (MPM)-AAPM
1514 Noval Tajudin Certified Marketing Analyst (CMA)-AAPM
1515 Noval Tajudin Certified Management Consultant Professional (CMCP)-AAPM
1516 Noval Tajudin Accredited Supply Chain Analyst (ASCA)-AAPM
1517 Deby Jannati Gustiwi Certified International Pharmacist Professional (CIPP)
1518 Eddy Jusuf Certified Digital Marketing Professional (CDMP)-AAPM
1519 Dewi Indriani Certified Digital Marketing Professional (CDMP)-AAPM
1520 Undang Juju Certified Digital Marketing Professional (CDMP)-AAPM
1521 Juanim Certified Digital Marketing Professional (CDMP)-AAPM
1522 Popo Suryana Certified Digital Marketing Professional (CDMP)-AAPM
1523 Yudhi koesworodjati Certified Digital Marketing Professional (CDMP)-AAPM
1524 Danang Tunjung Ari Purnomo Certified International Project Manager (CIPM)-AAPM
1525 Ilham Pratama Certified International Project Manager (CIPM)-AAPM
1526 Syukran Certified International Project Manager (CIPM)-AAPM
1527 Tommy Tri Utomo Certified International Project Manager
1528 Imam Fachrurrozi Certified International Project Manager (CIPM)-AAPM
1529 Irkham Huda Certified International Project Manager (CIPM)-AAPM
1530 Trinurcahyo Sucipto Certified International Project Manager (CIPM)-AAPM
1531 Akhmad Ittang Anwarsyah Certified International Project Manager (CIPM)-AAPM
1532 Akhmad Frandicahya Certified International Project Manager (CIPM)-AAPM
1533 Khoirul Umam Certified Digital Marketing Professional (CDMP)-AAPM
1534 Heri Subana Certified in Information Technology Service Management (CITSM)-AAPM
1535 Ivan Setiawan Certified in Information Technology Service Management (CITSM)-AAPM
1536 Marlina Certified in Contract Management Professional (CCMP)
1537 Enishaputri Endriastari Certified in Contract Management Professional (CCMP)
1538 Qoliqina Zolla Sabrina Certified in Contract Management Professional (CCMP)
1539 Tantri Mawarsih Certified in Contract Management Professional (CCMP)
1540 Muhamad Alfat Fauzie Certified in Contract Management Professional (CCMP)
1541 Wardhani Prihartiwi Certified in Contract Management Professional (CCMP)
1542 Marsha Arsiana Certified in Contract Management Professional (CCMP)
1543 Wita Risanti Certified in Contract Management Professional (CCMP)
1544 Graynie Syahni Fratami Certified in Contract Management Professional (CCMP)
1545 Yunita Capriati Certified in Contract Management Professional (CCMP)
1546 Alifia Cahya Mareta Certified in Contract Management Professional (CCMP)
1547 Abidzar Al Ghifari Certified Human Resource Analyst (CHRA)-AAPM
1548 Amal Nadzirah Binti Rosallan Master Project Manager (MPM)-AAPM
1549 Saimin Sugito Certified International OSHA Professional (CIOP)-AAPM
1550 Aditya Luqmana Hutama Certified International OSHA Professional (CIOP) )-AAPM
1551 Mashudi Certified International OSHA Professional (CIOP) )-AAPM
1552 Hasan Certified International OSHA Professional (CIOP) )-AAPM
1553 Suwito Certified International OSHA Professional (CIOP) )-AAPM
1554 Abdurrohman Afif Amrullah Certified International OSHA Professional (CIOP) )-AAPM
1555 Muhammad Habibie Certified International OSHA Professional (CIOP) )-AAPM
1556 Hendhi Pirmansyah Certified International OSHA Professional (CIOP) )-AAPM
1557 Rudik Siswanto Certified International OSHA Professional (CIOP) )-AAPM
1558 Nurul Komalasari Certified Marketing Analyst (CMA) )-AAPM
1559 Deni Ramdani Master Project Manager (MPM)-AAPM
1560 Fahmy Rezqi Pramudhito Certified Data Center Infrastructure Practitioner (CDCIP)-AAPM
1561 M. Bagus Rahmatullah Certified Business Analytic Professional (CBAP)-AAPM
1562 Nurnidya Btari Khadijah Certified International Purchasing Professional (CIPP)-AAPM
1563 Adriyana leparissa Certified International Purchasing Professional (CIPP)-AAPM
1564 Wishnu Rukmadan Certified International Purchasing Professional (CIPP)-AAPM
1565 Tri Arief Prasetyo Certified International Purchasing Professional (CIPP)-AAPM
1566 Muhammad Harris Certified International Purchasing Professional (CIPP)-AAPM
1567 Titis Shinta Dhewi Certified Marketing Analyst (CMA) )-AAPM
1568 Tiladela Luhita Certified Marketing Analyst (CMA) )-AAPM
1569 Deddy Kurniawan Certified Marketing Analyst (CMA) )-AAPM
1570 Harry Firmansyah Siregar Certified International Project Manager (CIPM)-AAPM
1571 Reza Ramakhresna Certified International Project Manager (CIPM)-AAPM
1572 Mohamad Firman Subarkah Certified International Project Manager (CIPM)-AAPM
1573 Johnnedy Gumanti Certified International Project Manager (CIPM)-AAPM
1574 Andri Irawan Certified Human Resource Analyst (CHRA)-AAPM
1575 Asep Kurniawan Certified Human Resource Analyst (CHRA)-AAPM
1576 Rahardianto Certified Human Resource Analyst (CHRA)-AAPm
1577 Yun Yun Certified Human Resource Analyst (CHRA)-AAPM
1578 Ayu Nugiantari Accredited Supply Chain Professional (ASCP)-AAPM
1579 Welva Lienita Accredited Supply Chain Professional (ASCP)-AAPM
1580 Yati Delvia Accredited Supply Chain Professional (ASCP)-AAPM
1581 Dieter Fretloh Sinaga Accredited Supply Chain Professional (ASCP)-AAPM
1582 Desie Asrilliani Certified Human Resource Analyst (CHRA)-AAPM
1583 Adhitya Dasha Syafrizaliad Certified in Financial Risk Management (CFRM)
1584 Listya Sugiyarti Certified in Financial Accounting (C.F.A)
1585 Raden Branata Asikin Master Project Manager (MPM)-AAPM
1586 Ira Abilia Agustina Salim Certified International Communication Specialist (CICS)-AAPM
1587 Irmayani Noer Accredited Supply Chain Professional (ASCP)-AAPM
1588 Fitriani Accredited Supply Chain Professional (ASCP)-AAPM
1589 Latief Anggar Kurniawan Certified Marketing Analyst (CMA) )-AAPM
1590 Fero Firman Satya Utama Certified Marketing Analyst (CMA) )-AAPM
1591 Setyo Ferry Wibowo Certified Marketing Analyst (CMA) )-AAPM
1592 Gladis Dwiyanty Ependi Certified Marketing Analyst (CMA) )-AAPM
1593 Taufan Anggara Nugraha Certified in Financial Risk Management (CFRM)-AAFM
1594 Agus Ghozali Certified in Financial Risk Mnagement (CFRM)-AAFM
1595 Suriantama Nasution Certified in Financial Risk Management (CFRM)-AAFM
1596 Suriantama Nasution Certified in Contracting Management Professional (CCMP)-AAPM
1597 Harry Firmansyah Siregar Certified International Leadership Professional (CILP)-AAPM
1598 Yoyom Romya Certified International Leadership Professional (CILP)-AAPM
1599 Alan Dela Febry Sy Certified International Leadership Professional (CILP)-AAPM
1600 Yunita Dinni Setiawati Accredited Supply Chain Professional (ASCP)-AAPM
1601 Agustinus Firdianto Accredited Supply Chain Professional (ASCP)-AAPM
1602 Alexius Sugeng Accredited Supply Chain Professional (ASCP)-AAPM
1603 Mohammad Bilghifari Astian Accredited Supply Chain Professional (ASCP)-AAPM
1604 Wendy Fathony Setiawan Accredited Supply Chain Professional (ASCP)-AAPM
1605 Niko Grataridarga Certified International Communication Specialist (CICS)-AAPM
1606 Nur Fadilah Dewi Certified International Communication Specialist (CICS)-AAPM
1607 Hermawan Saputra Certified International Communication Specialist (CICS)-AAPM
1608 Ngurah Rangga Wiwesa Certified International Communication Specialist (CICS)-AAPM
1609 Muhammad Usman Noor Certified International Communication Specialist (CICS)-AAPM
1610 Wiwiet Mardiati Certified International Communication Specialist (CICS)-AAPM
1611 Pijar Suciati Certified International Communication Specialist (CICS)-AAPM
1612 Mohammad Ridha Certified International Communication Specialist (CICS)-AAPM
1613 Priyanto Certified International Communication Specialist (CICS)-AAPM
1614 Hardika Widi Satria Certified International Communication Specialist (CICS)-AAPM
1615 Istiadi Certified International Communication Specialist (CICS)-AAPM
1616 Kuncoro Haryo Pribadi Certified International Communication Specialist (CICS)-AAPM
1617 Sri Rahayu Certified International Communication Specialist (CICS)-AAPM
1618 Budiman Mahmud Musthofa Certified International Communication Specialist (CICS)-AAPM
1619 Endang Setiowati Certified International Communication Specialist (CICS)-AAPM
1620 Sandra Aulia Certified International Communication Specialist (CICS)-AAPM
1621 Rahmi Setiawati Certified International Communication Specialist (CICS)-AAPM
1622 Mareta Maulidiyanti Certified International Communication Specialist (CICS)-AAPM
1623 Deni Danial Kesa Certified International Communication Specialist (CICS)-AAPM
1624 Amelita Lusia Certified International Communication Specialist (CICS)-AAPM
1625 Devie Rahmawati Certified International Communication Specialist (CICS)-AAPM
1626 Diaz Pranita Certified International Communication Specialist (CICS)-AAPM
1627 Arius Krypton Certified International Communication Specialist (CICS)-AAPM
1628 Radityo Kusumo Santoso Certified International Communication Specialist (CICS)-AAPM
1629 Naldo Certified International Communication Specialist (CICS)-AAPM
1630 Nelly Oktavia Adiwijaya Certified E-Commerce Consultant (CEC)-American Academy
1631 Diah Ayu Retnani Wulandari Certified E-Commerce Consultant (CEC)-American Academy
1632 Almaison Haikal Awal Certified International Leadership Professional (CILP)-AAPM
1633 Aslam Mei Nur Widigdo Accredited Supply Chain Professional (ASCP)-AAPM
1634 Witjaksono Certified Leadership Consultant (CLC)-AMERICAN ACADEMY
1635 Wisnu Sucahyo Certified International Project Manager (CIPM)-AAPM
1636 Endro Tri Pancoro Certified International Project Manager (CIPM)-AAPM
1637 Endang Widiastuti B Certified International Project Manager (CIPM)-AAPM
1638 Gustampera Certified International Project Manager (CIPM)-AAPM
1639 Bernardus Harjo Tetuko Certified International Project Manager (CIPM)-AAPM
1640 Fadjar Agung Hudiarto Certified International Project Manager (CIPM)-AAPM
1641 Munajat Certified International Project Manager (CIPM)-AAPM
1642 Suistiyono Certified International Project Manager (CIPM)-AAPM
1643 Ines Soepinarko Certified International Project Manager (CIPM)-AAPM
1644 Lady Alvina Azzahra Certified International Project Manager (CIPM)-AAPM
1645 Aditya Wardhana Certified International Project Manager (CIPM)-AAPM
1646 Tiara Permana Certified International Project Manager (CIPM)-AAPM
1647 Lana Adi Irmawan Certified International Project Manager (CIPM)-AAPM
1648 Aditya Darmawan Certified International Project Manager (CIPM)-AAPM
1649 Imalia Nurrachma A Certified International Project Manager (CIPM)-AAPM
1650 Yuni M. Panjaitan Certified International Project Manager (CIPM)-AAPM
1651 Novialdi Certified International Project Manager (CIPM)-AAPM
1652 Fajar Mujadid Certified International Project Manager (CIPM)-AAPM
1653 Tera Dria Kispa Certified International Project Manager (CIPM)-AAPM
1654 Mirta Wisdama Solikh Accredited Management Accountant (AMA)-AAFM
1655 Klemensia Erna Christina Sinaga Accredited Management Accountant (AMA)-AAFM
1656 Marlina Widiyanti Accredited Management Accountant (AMA)-AAFM
1657 Kusdiantini Accredited Management Accountant (AMA)-AAFM
1658 M. Rizky Mahaputra Master Project Manager (MPM)-AAPM
1659 Mahbubah Master Project Manager (MPM)-AAPM
1660 Kristia Certified Digital Marketing Professional (CDMP)-AAPM
1661 Fransisca Desiana Pranatasari Certified Digital Marketing Professional (CDMP)-AAPM
1662 Ina Nur Ratriyana Certified Digital Marketing Professional (CDMP)-AAPM
1663 Agus Abdurrahman Certified Digital Marketing Professional (CDMP)-AAPM
1664 Rr. Siti Muslikhah Certified Digital Marketing Professional (CDMP)-AAPM
1665 Rr. Sita Dewi Kusumaningrum Certified Digital Marketing Professional (CDMP)-AAPM
1666 Sugiyo Certified International Leadership Professional (CILP)-AAPM
1667 NIKO DWI SURYANTO Certified International Information Security Manager
1668 DWINA ANNE NAPITUPULU Certified International Information Security Manager
1669 PEIK SUGIARTO Certified International Information Security Manager
1670 Efri Ipda Siregar Certified International Project Manager (CIPM)
1671 Nola Vila Violita Accredited Supply Chain Professional (ASCP)-AAPM
1672 Alldila Nadhira Ayu Setyaning Certified International Leadership Professional (CILP)-AAPM
1673 Utik Bidayati Certified International Leadership Professional (CILP)-AAPM
1674 Virda Yaza Yulia Certified in Financial Accounting (C.F.A)-AAFM 1675 Virda Yaza Yulia Certified in Financial Accounting (C.F.A)-AAFM
1676 Thalita Syifa Fatimah Certified International Communication Specialist (CICS)-AAPM
1677 Andoko Setia Prabowo Accredited Supply Chain Professional (ASCP)- AAPM
1678 Fanuel Wahono Master Quality Manager (MQM)-AAPM
1679 Sanggar Amri P. Pasaribu Certified International Information System Auditor (CIISA)-AAFM
1680 Luh Ismayanti Rai Certified Human Resource Analyst (CHRA)-AAPM
1681 Fajar Hari Utomo Certified International Information System Auditor (CIISA)-AAFM
1682 Hasto Gesang Wicaksono Certified International Information System Auditor (CIISA)-AAFM
1683 Mohammad Yasin Abdulfatah Certified International Project Manager (CIPM)-AAPM
1684 Rifa'i Rahman Saputro Certified Digital Marketing Professional (CDMP)-AAPM
1685 Pugar Indriawan Certified Digital Marketing Professional (CDMP)-AAPM
1686 Titis Sosro Triraharjo Certified Digital Marketing Professional (CDMP)-AAPM
1687 Jeanne Ellyawati Certified Digital Marketing Professional (CDMP)-AAPM
1688 Stephanus Edi Pambudi Certified Digital Marketing Professional (CDMP)-AAPM
1689 Hafidz Hanafiah Certified Marketing Analyst (CMA)-AAPM
1690 Khaeruman Certified Human Resource Analyst (CHRA)-AAPM
1691 Mamay Komarudin Certified in Financial Accounting (C.F.A)-AAFM
1692 Lois Frederick Certified Marketing Analyst (CMA)-AAPM
1693 Benny Chandra Certified International Tax Analyst (CITA)-AAPM
1694 Mulyadi Tan Certified Human Resources Analyst (CHRA)-AAPM
1695 Bos Santos Certified Human Resources Analyst (CHRA)-AAPM
1696 Mohd Saleh H. Umar Certified Human Resources Analyst (CHRA) AAPM
1697 Arliza Putri Wardhani Accredited Supply Chain Analyst (ASCA)-AAPM
1698 Samuel Manurung Certified Accredited Project Manager (CAPM)-AAPM
1699 Fitra Andjaya Certified Accredited Project Manager (CAPM)-AAPM
1700 Febri Akbar Certified Accredited Project Manager (CAPM)-AAPM
1701 Nalendra Tri Kurnia Certified Accredited Project Manager (CAPM)-AAPM
1702 Fanadian Mahali Certified Accredited Project Manager (CAPM)-AAPM
1705 Erliana Banjarnahor Certified in Financial Accounting (C.F.A)-AAFM
1706 Hendra Darmawan Master Quality Manager (MQM)-AAPM
1707 Ellen Vande Nauli Master Quality Manager (MQM)-AAPM
1708 Vifki Leondo Master Quality Manager (MQM)-AAPM
1709 Joko Hardiyanto Master Quality Manager (MQM)-AAPM
1710 Zulkarnain Rosadi Master Quality Manager (MQM)-AAPM
1711 Stefan Adhie Nugroho Master Quality Manager (MQM)-AAPM
1712 Wildan Jazuli Master Project Manager (MPM)-AAPM
1713 Yuyus Yudistria Accredited Supply Chain Analyst (ASCA)-AAPM
1714 K. Prihartono AH Certified marketing Analyst (CMA)-AAPM
1715 K. Prihartono AH Master Project Manager (MPM)-AAPM
1716 Raden Branata Asikin Certified Sales Management Professional (CSMP)-AAPM
1717 Azhar Harris Chartered Risk Management Officer (Ch.RMO)-AAPM
1718 Agung Wahono Chartered Risk Management Officer (Ch.RMO)-AAPM
1719 Ixora Adisti Chartered Risk Management Officer (Ch.RMO)-AAPM
1720 Nur Achmad Subandi Chartered Risk Management Officer (Ch.RMO)-AAPM
1721 Kurniawan Widi Pramana Chartered Risk Management Officer (Ch.RMO)-AAPM
1722 Supriyono Chartered Risk Management Officer (Ch.RMO)-AAPM
1723 Fildza Novadiwanti Chartered Risk Management Officer (Ch.RMO)-AAPM
1724 Bekti Widiharso Chartered Risk Management Officer (Ch.RMO)-AAPM
1725 Arzinar Yoga Rusdyantoro Chartered Risk Management Officer (Ch.RMO)-AAPM
1726 Advendy JD Hasibuan Chartered Risk Management Officer (Ch.RMO)-AAPM
1727 Erwin Pieter Tarigan Chartered Risk Management Officer (Ch.RMO)-AAPM
1728 Bambang Sujatmoko Master Date Center Professional (MDCP)-AAPM
1729 Rifqy Master Date Center Professional (MDCP)-AAPM
1730 Taryono Certified Sales Management Professional-(CSMP)
1731 Afif Al Akbar Associate Supply Chain Analyst (ASCA)-AAPM
1732 Moch. Agung Perdana Associate Supply Chain Analyst (ASCA)-AAPM
1733 Tika Warisman Associate Supply Chain Analyst (ASCA)-AAPM
1734 Andi Teguh Hermawan Associate Supply Chain Analyst (ASCA)-AAPM
1735 Adhitya Ferdian Adha Associate Supply Chain Analyst (ASCA)-AAPM
1736 Rahma Alrosdi Wira Putri Associate Supply Chain Analyst (ASCA)-AAPM
1737 Raden Cahya Magistra Putra Associate Supply Chain Analyst (ASCA)-AAPM
1738 Dina Farhanah Associate Supply Chain Analyst (ASCA)-AAPM
1739 Mukhammad Ayyub Associate Supply Chain Analyst (ASCA)-AAPM
1740 Mahfuzh Zuhdi Associate Supply Chain Analyst (ASCA)-AAPM
1741 Muhammad Yudiarto Associate Supply Chain Analyst (ASCA)-AAPM
1742 Muhammad Thoriq Fattah Hadi Associate Supply Chain Analyst (ASCA)-AAPM
1743 Dean Tirkaamiana Associate Supply Chain Analyst (ASCA)-AAPM
1744 Rexy Darmawan Certified Business Analytic Professional (CBAP)-AAPM
1745 Muhammad Fajri Certified Business Analytic Professional (CBAP)-AAPM
1746 Hariyani Master Quality Manager (MQM)-AAPM
1746 Fatiha Wahyudi Certified in Financial Risk Management (CFRM)-AAFM
1747 Ira Abilia Agustina Salim Certified Sales Management Professional (CSMP)-AAPM
1748 Luis David Hermanto Certified International Project Manager (CIPM)-AAPM
1749 Sriyanto Certified Risk Analyst (CRA)-AAFM
1750 Dede Agung Nugroho Associate Supply Chain Professional (ASCP)-AAPM
1751 Ary Sunantiyo Chartered Asset Management Professional (CAMP)-AAPM
1752 Gunadi Sumantri Chartered Risk Manager Professional (CRMP)-AAPM
1753 Amirudin Master Financial Controller (MFC)
1754 Aceng Abdul Hamid Certified Marketing Analyst (CMA)
1755 Ardhian Bayu Firdauz Certified Business Analytic Professional (CBAP)-AAPM
1756 Teddy Fanani Certified Human Resource Analyst (CHRA)-AAPM
1757 Arzinar Yoga Rusdyantoro, Certified Business Analytic Professional (CBAP)-AAPM
1758 Ubay Muhammad Noor Certified Business Analytic Professional (CBAP)-AAPM
1759 Warno Certified Business Analytic Professional (CBAP)-AAPM
1760 Fahimah Rahmadian Certified Business Analytic Professional (CBAP)-AAPM
1761 Ahmad Sidik Certified Business Analytic Professional (CBAP)-AAPM
1762 Hendra Sutrisno Napitupulu Certified Business Analytic Professional (CBAP)-AAPM
1763 Irvan Supradana Certified Business Analytic Professional (CBAP)-AAPM
1764 Salvatus Susanto Certified Business Analytic Professional (CBAP)-AAPM
1765 Leonilla Vari Amrta Certified International Communication Specialist (CICS)-AAPM
1766 Arifianti Certified International Communication Specialist (CICS)-AAPM
1767 Wilda Cahya Ningrum Certified International Communication Specialist (CICS)-AAPM
1768 Debby Christyna Marina Certified International Communication Specialist (CICS)-AAPM
1769 HMS Ridwan Certified Human Resource Analyst (CHRA)-AAPM
1770 R Jusdijachlan Certified Human Resource Analyst (CHRA)-AAPM 1771 Teddy Fanani Certified Human Resource Analyst (CHRA)-AAPM
1772 Hendra Sumiarsa Certified International Project Manager (CIPM)-AAPM
1773 Hendra Sumiarsa Certified Marketing Analyst (CMA)-AAPM
1774 Syahidun Certified Human Resource Analyst (CHRA)-AAPM
1775 Toha Trimono Certified Human Resource Analyst (CHRA)-AAPM
1776 Fairuz Balqis Certified Human Resource Analyst (CHRA)-AAPM
1777 Agus Ghozali Master Project Manager (MPM)-AAPM
1778 Yoyom Romya Certified International Project Manager (CIPM)-AAPM
1779 Imam Fachrurrozi Certified International Project Manager (CIPM)-AAPM
1780 Akhmad Frandicahya Permadi Certified International Project Manager (CIPM)-AAPM
1781 Agus Setiawan Certified International Project Manager (CIPM)-AAPM
1782 Fullchis Nurtjahjani Certified Human Resource Analyst (CHRA)-AAPM
1783 Galih Wahyuningsih Certified Human Resource Analyst (CHRA)-AAPM
1784 Windy Saeful Malik Certified International Import Export Specialist (CIIES)
1785 Kunto Wijayandanu Certified International Import Export Specialist (CIIES)
1786 Lazuardi Zainy Certified International Import Export Specialist (CIIES)
1787 Muhammad Ershad Certified International Import Export Specialist (CIIES)
1788 Danu Krido Rimbiatmojo Certified International Import Export Specialist (CIIES)
1789 Fauji Muhamad Bardah Certified International Import Export Specialist (CIIES)
1790 Nandan Limakrisna Certified in Financial Risk Management
1791 Fanuel Wahono Certified Supply Chain Professional (CSCP)-AAPM
1792 Desfira Metlyn Tambunan Certified in Financial Risk Management (CFRM)-AAFM
1793 Abd Muhni Salam Certified in Financial Risk Management (CFRM)-AAFM
1794 Iwan Setiawan Certified in Information Technology Service Management (CITSM)-AAPM
1795 Annisa Fitri Anggraeni Certified International Information System Auditor (CIISA)-AAFM
1796 Siti Choiriyah Certified Human Resource Analyst (CHRA)-AAPM
1797 Edi Mulyono Certified Human Resource Analyst (CHRA)-AAPM
1798 Rahmat Setiono Certified Human Resource Analyst (CHRA)-AAPM
1799 Melda Nyatajaya Certified Human Resource Analyst (CHRA)-AAPM
1800 Shani Luhuri Putri Certified Human Resource Analyst (CHRA)-AAPM
1801 M. Yusuf Certified Accredited Project Manager (CAPM)-AAPM
1802 Yudhistira Angga Saputra Certified Accredited Project Manager (CAPM)-AAPM
1803 Muh Jalaluddin Hasmin Certified Accredited Project Manager (CAPM)-AAPM
1804 Wicky Aji Prabowo Certified Accredited Project Manager (CAPM)-AAPM
1805 Dodi Ruswandi Certified Accredited Project Manager (CAPM)-AAPM
1806 Tri Wahyu Sari Yuliastuti Certified in International Financial Reporting Standards (CIFRS) -AAFM
1807 Rian Handono Certified in International Financial Reporting Standards (CIFRS) -AAFM
1808 Radinal Moechtar Sirait Certified in International Financial Reporting Standards (CIFRS) )-AAFM
1809 Fidia Triani Certified in International Financial Reporting Standards (CIFRS) )-AAFM
1810 Syarmad Haning Certified in International Financial Reporting Standards (CIFRS) )-AAFM
1811 Widya Fitriana Accredited Supply Chain Analyst (ASCA)-AAPM
1812 Sriyanto Accredited Supply Chain Professional (ASCP)-AAPM
1813 Wiwit Hadi Suwito Accredited Supply Chain Professional (ASCP)-AAPM
1814 Nawa Respati Aji Accredited Supply Chain Professional (ASCP)-AAPM
1815 Djoli Hendra Setyawan Accredited Supply Chain Professional (ASCP)-AAPM
1816 Dimas Rah Utomo Accredited Supply Chain Professional (ASCP)-AAPM
1817 Arman Hakim Nasution Certified Professional Management Skill (CPMS)-AAPM
1818 Christianingrum Certified Digital Marketing Professional(CDMP)-AAPM
1819 Nanang Wahyudin Certified Digital Marketing Professional(CDMP)-AAPM
1820 Ariean Saputra Certified Digital Marketing Professional(CDMP)-AAPM
1821 Maria Angela Diva Vilaningrum Wadyatenti Certified Digital Marketing Professional(CDMP)-AAPM
1822 Lucia Kurniawati Certified Digital Marketing Professional(CDMP)-AAPM
1823 Patrick Vivid Adinata Certified Digital Marketing Professional(CDMP)-AAPM
1824 Albertus Yudi Yuniarto Certified Digital Marketing Professional(CDMP)-AAPM
1825 Nicko Kornelius Putra Certified Digital Marketing Professional(CDMP)-AAPM
1826 Ahmad Subagyo Certified Digital Marketing Professional(CDMP)-AAPM
1827 Terrylina Arvinta Monoarfa Certified Digital Marketing Professional(CDMP)-AAPM
1828 Rahmi Certified Digital Marketing Professional(CDMP)-AAPM
1829 Shandy Aditya Certified Digital Marketing Professional(CDMP)-AAPM
1830 Suwanda Certified Business Analytic Professional (CBAP)-AAPM
1831 Sugianto Certified Business Analytic Professional (CBAP)-AAPM
1832 Aldi Unanto Certified Business Analytic Professional (CBAP)-AAPM
1833 Heriyanto Certified Marketing Analyst (CMA)-AAPM
1834 Andrian Haro Certified Digital Marketing Professional (CDMP)-AAPM
1835 Mutia Rahma Certified Accredited Project Manager (CAPM)-AAPM
1836 Abikarami Anandadigda Certified Accredited Project Manager (CAPM)-AAPM
1837 Lucky Rachmadeni Certified Accredited Project Manager (CAPM)-AAPM
1838 Imam Kusworo Certified Accredited Project Manager (CAPM)-AAPM
1839 Budi Irian Certified Accredited Project Manager (CAPM)-AAPM
1840 Dwi Apri Mulyana Putri Certified Accredited Project Manager (CAPM)-AAPM
1841 Syamsu Rizal Certified Accredited Project Manager (CAPM)-AAPM
1842 Muhamad Nur Certified Accredited Project Manager (CAPM)-AAPM
1843 Febri Akbar Master Poject Manager (MPM)-AAPM
1844 Maria Mahdalena Master Poject Manager (MPM)-AAPM
1845 Andi Kurnia Master Poject Manager (MPM)-AAPM
1846 Arnold Dwi Novrianto Certified Human Resource Analyst (CHRA)-AAPM
1847 Muchtar Wahyudi Utomo Certified Human Resource Analyst (CHRA)-AAPM
1848 Fairus Zabadi Master Quality Manager (MQM)-AAPM
1849 Lambok Augustinus Sihaloho Master Quality Manager (MQM)-AAPM
1850 Susilo Dwi Atmoko Master Quality Manager (MQM)-AAPM
1851 Endang Suarsa Certified Human Resource Analyst (CHRA)-AAPM
1852 Atik Rachmawati Certified Human Resource Analyst (CHRA)-AAPM
1853 Dalanta Horas Sihombing Certified Human Resource Analyst (CHRA)-AAPM
1854 Samuel Manurung Master Poject Manager (MPM)-AAPM
1855 Heru Sudjatmiko Sudiharja Master Data Center Professional (MDCP)-AAPM
1856 Arnold Dwi Novrianto Certified International Leadership Professional (CILP)-AAPM
1857 Arumawan Mei Saputra Certified International Leadership Professional (CILP)-AAPM
1858 Roberthus Setyanto Certified International Leadership Professional (CILP)-AAPM
1859 Rohmawati Certified International Leadership Professional (CILP)-AAPM
1860 Sukamtono Certified International Leadership Professional (CILP)-AAPM
1861 Aldo Josseano Certified International Project Manager (CIPM)-AAPM
1862 Septian Sugestyo Putro Accredited Suppy Chain Analyst (ASCA)-AAPM
1863 Asep Ahmadi Master Project Manager (MPM)-AAPM
1864 Bayu Dewanto Certified in Financial Risk Management (CFRM)-AAFM
1865 Julyan Adhitama Certified in Financial Risk Management (CFRM)-AAFM
1866 Selamat Walmanto Hia Certified Supply Chain Manager (CSCM)-AAPM
1867 Ade Harsono Certified Leadership Consultant (CLC)-AAPM
1868 Aris Setiyani Master Quality Manager (MQM)-AAPM
1869 Farid Yuzma Wiarco Associate Accredited Supply Chain Analyst ( Associate ASCA)-AAPM
1870 Kresna Adji Setya Wardhana Associate Accredited Supply Chain Analyst ( Associate ASCA)-AAPM
1871 Ade Juliano Associate Accredited Supply Chain Analyst ( Associate ASCA)-AAPM
1872 Fahrul Asshiddiqi Associate Accredited Supply Chain Analyst ( Associate ASCA)-AAPM
1873 Krisna Mu'tashim Azhar Associate Accredited Supply Chain Analyst ( Associate ASCA)-AAPM
1874 Maeva Apriza P Associate Accredited Supply Chain Analyst ( Associate ASCA)-AAPM
1875 Muhammad Farhan Hidayat Associate Accredited Supply Chain Analyst ( Associate ASCA)-AAPM
1876 Naufal Ghaliya Salsabil Associate Accredited Supply Chain Analyst ( Associate ASCA)-AAPM
1877 Nurfitria Handayani Associate Accredited Supply Chain Analyst ( Associate ASCA)-AAPM
1878 Putri Amalia Associate Accredited Supply Chain Analyst ( Associate ASCA)-AAPM
1879 Ryan Gerhan Canndrika Associate Accredited Supply Chain Analyst ( Associate ASCA)-AAPM
1880 Syafiq Cahaya Putra Associate Accredited Supply Chain Analyst ( Associate ASCA)-AAPM
1881 Verrel Imansyah P Associate Accredited Supply Chain Analyst ( Associate ASCA)-AAPM
1882 Bambang Suryanto Master Business Analyst (MBA)-AAFM
1883 Andri Setiawan Imran Saputra Certified Digital Marketing Professional-(CDMP)-AAPM
1884 Christina Sudyasjayanti Certified Digital Marketing Professional-(CDMP)-AAPM
1885 Dewi Sophiyani Certified Digital Marketing Professional-(CDMP)-AAPM
1886 Ravi Octaviana Certified Digital Marketing Professional-(CDMP)-AAPM
1887 Christian Ricky David Silitonga Accredited Supply Chain Professional (ASCP)-AAPM
1888 Fahmi Tafwidli Certified Improvement Productivity Specialist (CPIS)-AAPM
1889 Rafikal Adha Certified Business Analytic Professional (CBAP)-AAPM
1890 D Iwan Riswandi Certified Business Analytic Professional (CBAP)-AAPM
1891 Julyan Adhitama Certified Human Resources Professional (CHRP)- AAPM
1892 Ondy Tulus Pangidoan Certified Human Resources Professional (CHRP)- AAPM
1893 Agus Dwi Praptana Certified Human Resources Professional (CHRP)- AAPM
1894 Nawa Respati Aji Certified International Project Manager (CIPM)-AAPM 1895 Fanuel Wahono Master Project Manager (MPM)-AAPM
1896 Hidayatullah Certified International Information System Auditor(CIISA)-AAFM
1897 Ricky Soesanto Certified Marketing Analyst (CMA)-AAPM
1898 Ari Wijayanti Certified Telecommunication Network Planner (CTNP)-Based on LoRa Network Technology- (AAPM)
1899 Mohamad Ridwan Certified Telecommunication Network Planner (CTNP)-Based on LoRa Network Technology- (AAPM)
1900 Pahoot Master Project Manager (MPM)-AAPM
1901 Sigit Trinarto Master Project Manager (MPM)-AAPM
1902 Ondy Tulus Pangidoan Master Financial Planner (MFP)-AAFM
1903 Julyan Adhitama Master Financial Planner (MFP)-AAFM
1904 Agus Dwi Praptana Master Financial Planner (MFP)-AAFM
1905 Angga Aulia Akbar Certified Business Analytic Professional (CBAP)-AAPM
1906 Jonni Hamonangan Silaen Certified Human Resource Analyst (CHRA)-AAPM
1907 Bernadetta Anita Jerry S Certified Human Resource Analyst (CHRA)-AAPM
1908 Andrie Cahyono Accredited Supply Chain Professional (ASCP)
1909 Sujud Budi Santoso Accredited Supply Chain Professional (ASCP)
1910 Luky Martono Certified Human Resource Analyst (CHRA)-AAPM
1911 Bahri Kamal Certified Marketing Analyst (CMA)-AAPM
1912 Moch. Zen Samsono Hadi Certified in Data Science (CDS)-AAPM
1913 Hani'ah Mahmudah Certified in Data Science (CDS)-AAPM
1914 Agus Yudianto Certified Marketing Analyst (CMA)-AAPM
1915 Andria Permata Veithzal Certified International Project Portfolio Manager (CIPPM)-AAPM
1916 Doddi Rahayu Nugroho Certified International Project Portfolio Manager (CIPPM)-AAPM
1917 Wiweka Reksa Whuana Certified International Project Portfolio Manager (CIPPM)-AAPM
1918 Yudi Nandar Certified International Project Portfolio Manager (CIPPM)-AAPM
1919 Terrylina Arvinta Monoarfa Certified International Communication Specialist (CICS)-AAPM
1920 Ondy Tulus Pangidoan Accredited Supply Chain Analyst (ASCA)-AAPM
1921 Julyan Adhitama Accredited Supply Chain Analyst (ASCA)-AAPM
1922 Agus Dwi Praptana Accredited Supply Chain Analyst (ASCA)-AAPM
1923 Krshna Sulanjana Chartered Risk Management Officer (Ch.RMO)-AAPM
1924 Fahimah Rahmadian Chartered Risk Management Officer (Ch.RMO)-AAPM
1925 Muhammad Arief Ma'ruf Nasution Chartered Risk Management Officer (Ch.RMO)-AAPM
1926 Siti Nurjamillah Chartered Risk Management Officer (Ch.RMO)-AAPM
1927 D Iwan Riswandi Certified Marketing Analyst (CMA)-AAPM
1928 Hermansyah Master Management Consultant
1929 Hermansyah Certified Strategic Business Analyst (CSBA)-AAFM
1930 Taufik Azali Accredited Supply Chain Professional (ASCP)-AAPM
1931 Anang Siswanto Accredited Supply Chain Professional (ASCP)-AAPM
1932 Kustiawan Certified Human Resource Analyst (CHRA)-AAPM
1933 Mike Yuliana Certified Artificial Intelligence Professional (CAIP)-AAP
1934 I Gede Puja Astawa Certified Artificial Intelligence Professional (CAIP)-AAPM
1935 Ratih Wiweka Certified Digital Marketing Professional(CDMP)-AAPM
1936 Trimaryanti A.S. Certified Digital Marketing Professional(CDMP)-AAPM
1937 Ricky Soesanto L Certified Digital Marketing Professional(CDMP)-AAPM
1938 Henny W Napitupulu Certified Digital Marketing Professional(CDMP)-AAPM
1939 Setyo Ferry Wibowo Certified Digital Marketing Professional(CDMP)-AAPM
1940 Winda Clarisa Certified Digital Marketing Professional(CDMP)-AAPM
1941 Bayu Dewanto Certified Marketing Analyst (CMA)-AAPM
1942 Julyan Adhitama Certified Marketing Analyst (CMA)-AAPM
1943 Aries Pratiarso Certified in the Fundamentals IoT and Implementation (CFII)-AAPM
1944 Arifin Certified in the Fundamentals IoT and Implementation (CFII)-AAPM
1945 Ika Diyah Candra Arifah Certified Marketing Analyst (CMA)-AAPM
1946 Rahardhita Widyatra Sudibyo Certified in the Advanced IoT Implementation (CAII)-AAPM
1947 Ida Anisah Certified in the Advanced IoT Implementation (CAII)-AAPM
1948 Ahmad Badawi Saluy Certified Quality Control (CQC)-AAPM
1949 RR. Yulianti Prihatiningrum Certified Marketing Analyst (CMA)-AAPM
1950 Ali Syafiq Certified in International Financial Reporting Standards (CIFRS) -AAFM
1951 Novita Elfiani Certified in International Financial Reporting Standards (CIFRS) -AAFM
1952 Intan Alfitasari Certified in International Financial Reporting Standards (CIFRS) -AAFM
1953 Bagas Ardhianto Certified in International Financial Reporting Standards (CIFRS) -AAFM
1954 Risma Yulianthi Certified in International Financial Reporting Standards (CIFRS) -AAFM
1955 Afriyanti Certified International Leadership Professional (CILP)-AAPM
1956 Bimo Prasetyo Certified Quality Control (CQC)- AAPM
1957 Tamjianto Certified Quality Control (CQC)- AAPM
1958 Vida Hanimastuti Certified Quality Control (CQC)- AAPM
1959 Ainul Yakin Certified Quality Control (CQC)- AAPM
1960 Luthfi Himawan Certified Quality Control (CQC)- AAPM
1961 Ansori Certified Quality Control (CQC)- AAPM
1962 Agus Arief Setiawan Certified Quality Control (CQC)- AAPM
1963 Muhammad Fatomi Hilmi Certified Quality Control (CQC)- AAPM
1964 Denny Eka Budhiarto Certified Quality Control (CQC)- AAPM
1965 Fajar Ariyanto Certified Quality Control (CQC)- AAPM
1966 Tumbur Butarbutar Certified Quality Control (CQC)- AAPM
1967 Arif Aji Mukti Certified Quality Control (CQC)- AAPM
1968 M Ikhsan Sabri Certified Quality Control (CQC)- AAPM
1969 Aden Sukanda Certified Quality Control (CQC)- AAPM
1970 Vally Pulungan Certified Quality Control (CQC)- AAPM
1971 Lukman Rahmadi Certified Quality Control (CQC)- AAPM
1972 Awnor Rofik Certified Quality Control (CQC)- AAPM
1973 Hendry Fermadi Certified Quality Control (CQC)- AAPM
1974 Yogi Sirodz Gaos Master Project Manager (MPM)-AAPM
1975 Irvan Wiradinata Master Project Manager (MPM)-AAPM
1976 Rachmat Master Project Manager (MPM)-AAPM
1977 Salman Widodo Master Project Manager (MPM)-AAPM
1978 Ade Dahyana Master Project Manager (MPM)-AAPM
1979 Iis Rodiah Master Project Manager (MPM)-AAPM
1980 Iwan D Riswandi Master Project Manager (MPM)-AAPM
1981 Afriyanti Certified Human Resource Analyst (CHRA)-AAPM
1982 Harmidasman Rustam Master Quality Manager (MQM)-AAPM
1983 Citra Bonita Permatasari Master Quality Manager (MQM)-AAPM
1984 Adelina Master Quality Manager (MQM)-AAPM
1985 Muhammad Buhari Muslim Master Quality Manager (MQM)-AAPM
1986 Angga Aulia Akbar Chartered Asset Manager (CAM)-AAPM
1987 Prasetyono Hendriarto Certified in Financial Accounting (C. F. A)-AAFM
1988 May Mulyaningsih Certified in Financial Accounting (C. F. A)-AAFM
1989 Agung Fajar Ilmiyono Certified in Financial Accounting (C. F. A)-AAFM
1990 Fanuel Wahono Accredited Supply Chain Analyst (ASCA)-AAPM
1991 Feny Susana Eky Master Hotel Manager (MHM)-AAPM
1992 Elsa Dian Taimenas Master Hotel Manager (MHM)-AAPM
1993 Agustino Lukas Fischer Conterius Master Hotel Manager (MHM)-AAPM
1994 Asbi Nasar Master Hotel Manager (MHM)-AAPM
1995 Yudha Eka Nugraha Master Hotel Manager (MHM)-AAPM
1996 Laurensius Sandro Rero Master Hotel Manager (MHM)-AAPM
1997 Rulli Saragi Master Hotel Manager (MHM)-AAPM
1998 Sari Bandaso Tandilino Master Hotel Manager (MHM)-AAPM
1999 Fahri Reva Adiputra Welly Master Hotel Manager (MHM)-AAPM
2000 Friend Zakharia Master Hotel Manager (MHM)-AAPM
2001 Dian Siti Nurjanah Master Psychological Consultant (MPC)-IBS
2002 Dindin Jamaluddin Certified in Education Planning Professional (CEPP)-IBS
2003 Aden Rosadi Certified Legal Analytics (CLA)-IBS
2004 Betty Tresnawaty Certified International Corporate Strategy Specialist (CICSS)-AAFM
2005 Dadan Rusmana Certified in Humanistic Studies (CHS)-IBS
2006 Nani Nuranisah Djamal Master Psychological Consultant (MPC)-IBS
2007 Arief Fatchul Huda Certified in Data Science (CDS)-AAPM
2008 Asep Abdul Sahid Certified Political Scientist (CPS)-IBS
2009 Ija Suntana Certified Legal Analytics (CLA)-IBS 2010 Sonny Rustiadi Certified Business Analytic Professional (CBAP)-AAPM
2011 Salfitri Roos Maryunani Certified Business Analytic Professional (CBAP)-AAPM
2012 Isti Raafaldini Mirzanti Certified Business Analytic Professional (CBAP)-AAPM
2013 Dina Dellyana Certified Business Analytic Professional (CBAP)-AAPM
2014 Yulianto Suharto Certified Business Analytic Professional (CBAP)-AAPM
2015 Mas Wahyu Wibowo Certified Marketing Analyst (CMA)-AAPM
2016 Didi Hartono Certified Human Resource Analyst (CHRA)-AAPM
2017 Pradnya Paramita Master Project Manager (MPM)-AAPM
2018 Rahmad Budiono Master Management Consultant (MMC)-AAPM
2019 Afrita Master Management Consultant (MMC)-AAPM
2020 Hermansyah Master Project Manager (MPM)-AAPM
2021 Hermansyah Certified Fraud Professional (CFP)-GAFM
2022 Maris Agung Triandewo Certified Marketing Analyst (CMA)-AAPM
2023 Nuno Sutrisno Certified Marketing Analyst (CMA)-AAPM
2024 Wibisono Soediono Certified Marketing Analyst (CMA)-AAPM
2025 Denta Felli Ananda Certified Human Resource Analyst (CHRA)-AAPM
2026 Nurti Widayat Certified Human Resource Analyst (CHRA)-AAPM
2027 Rr. Niken Purbasari Certified Human Resource Analyst (CHRA)-AAPM
2028 Yupiter Gulo Certified Human Resource Analyst (CHRA)-AAPM
2029 Andri Sembiring Certified Business Analytic Professional (CBAP)-AAPM
2030 Yuline Rena Chrisanti Certified Business Analytic Professional (CBAP)-AAPM
2031 Novarani Putri Saraswati Certified Business Analytic Professional (CBAP)-AAPM
2032 Juwita Elizabeth Certified Business Analytic Professional (CBAP)-AAPM
2033 Dinur Rahmani Sadat Certified Business Analytic Professional (CBAP)-AAPM
2034 Sri Yuliyanti Certified Business Analytic Professional (CBAP)-AAPM
2035 Putranto Certified Business Analytic Professional (CBAP)-AAPM
2036 Fredy Pasabuan Pasau Certified Business Analytic Professional (CBAP)-AAPM
2037 Lutce Rasiana Certified Business Analytic Professional (CBAP)-AAPM
2038 Taufiq Syobri Certified Business Analytic Professional (CBAP)-AAPM
2039 Ghali Adyo Putra Certified Business Analytic Professional (CBAP)-AAPM
2040 Ika Monica Certified Business Analytic Professional (CBAP)-AAPM
2041 Dhamir Raniah Kiasati Desrul Certified Business Analytic Professional (CBAP)-AAPM
2042 Ahmad Rodik Wijaya Certified Business Analytic Professional (CBAP)-AAPM
2043 Fadjar Ramadhan Certified Business Analytic Professional (CBAP)-AAPM
2044 Ahmad Arya Sawraja Certified Business Analytic Professional (CBAP)-AAPM
2045 Muhammad Fatoni Certified Business Analytic Professional (CBAP)-AAPM
2046 Dyah Mardiasih Certified in Financial Risk Management (CFRM)-AAFM
2047 Gilar Perdana Putra Master Project Manager (MPM)-AAPM
2048 Gilar Perdana Putra Certified International Project Manager (CIPM)-AAPM
2049 Muhaimin Hasbi Certified International Project Manager (CIPM)-AAPM
2050 Ujang Rahmat Certified Supply Chain Manager (CSCM)-AAPM
2051 Endra Wahyu Widodo Certified Master of Business Communication (CMBC)-AAPM
2052 Anang Siswanto Certified International Operation Management Professional (CIOMP)-AAPM
2053 Ach. Nasif Andrianto Certified International Operation Management Professional (CIOMP)-AAPM
2054 Dzanil Hikam Rofiqi Certified International OSHA Professional (CIOP)
2055 Fendi Oktafiandri Certified International OSHA Professional (CIOP)
2056 Hafiz Darmawan Certified International OSHA Professional (CIOP)
2057 Sigih Sigit Hendro Budiman Certified International OSHA Professional (CIOP)
2058 Agus Iskandar Certified International OSHA Professional (CIOP)
2059 Alfina Hapsari Certified International OSHA Professional (CIOP)
2060 Andri Herminda Certified International OSHA Professional (CIOP)
2061 Febry Eka Saputra Certified International OSHA Professional (CIOP)
2062 Hendra Arya Pratama Certified International OSHA Professional (CIOP)
2063 Sabam Oraendo Ajakima Certified International OSHA Professional (CIOP)
2064 Zonelvy Certified International OSHA Professional (CIOP)
2065 Zulham Syahputra Surbakti Certified International OSHA Professional (CIOP)
2066 Ainul Yakin Certified International OSHA Professional (CIOP)
2067 Angga Syafrianto Certified International OSHA Professional (CIOP)
2068 Firmansyah Certified International OSHA Professional (CIOP)
2069 Rizki Dwi Baskara Certified International OSHA Professional (CIOP)
2070 Rizky Sanjaya Certified International OSHA Professional (CIOP)
2071 Umar Patoni Certified International OSHA Professional (CIOP)
2072 Chrystian Alexander Gampur Certified International OSHA Professional (CIOP)
2073 Ferry Setiawan Bangun Certified International OSHA Professional (CIOP)
2074 Bimo Prasetyo Certified International OSHA Professional (CIOP)
2075 Mohammad Rifki Rosady Certified International OSHA Professional (CIOP)
2076 Willem Luturmas Certified International OSHA Professional (CIOP)
2077 Indra Jonsi Certified International OSHA Professional (CIOP)
2078 Rismawan Muzaky Certified International OSHA Professional (CIOP)
2079 Deny Prasetya Amir Certified International OSHA Professional (CIOP)
2080 Yudha Bagus Persada Certified International OSHA Professional (CIOP)
2081 Dewanto Certified International OSHA Professional (CIOP)
2082 Rahmad Budiono Certified International OSHA Professional (CIOP)
2083 Eric Hermawan Master Project Manager (MPM)-AAPM
2084 Eric Hermawan Certified Human Resource Analyst (CHRA)-AAPM
2085 Erwin Ramali Master Management Consultant (MMC)-AAPM
2086 Erwin Ramali Master Project Manager (MPM)-AAPM
2087 Hendri Master Financial Planner (MFP)-AAFM
2088 Horasman Nainggolan Master Financial Planner (MFP)-AAFM
2089 Agus Ghozali Certified Business Analytic Professional (CBAP)-AAPM
2090 Wandy Zulkarnaen Certified Human Resource Analyst (CHRA)-AAPM
2091 Mohammad Hasan Certified Relations Manager (CRM)-AAPM
2092 Ganden A. Hendratmo Master Quality Manager (MQM)-AAPM
2093 Ade Harsono Certified Human Resource Analyst (CHRA)-AAPM
2094 Larasati Certified Human Resource Analyst (CHRA)-AAPM
2095 Mohammad Faradhy Master Project Manager (MPM)-AAPM
2096 Nila Apriani Certified Training and Development Professional (CTDP)
2097 Winda Widyanty Certified Human Resource Analyst (CHRA)-AAPM
2098 Johannes Adi Purnama Putra Certified International Corporate Strategy Specialist (CICSS)-AAFM
2099 Nathya Maharani Hyaciantha Certified International Corporate Strategy Specialist (CICSS)-AAFM
2100 KOL MAR Eddy H.H Panjaitan Certified Strategic Business Analyst (CSBA)-AAFM
2101 KOL(S) Dudy Hilmansyah Certified Strategic Business Analyst (CSBA)-AAFM
2102 LTK (T) Yusa Adi Hartanto Certified Strategic Business Analyst (CSBA)-AAFM
2103 KOL (S) Yohanis Bassang Certified Strategic Business Analyst (CSBA)-AAFM
2104 MARSMA TNI T.B.H Age Wiraksono Certified Strategic Business Analyst (CSBA)-AAFM
2105 KOL (S) H.A. Danang Rimbawa Certified Strategic Business Analyst (CSBA)-AAFM
2106 LTK (T) Achmad Zaky Certified Strategic Business Analyst (CSBA)-AAFM
2107 BRIGJEN TNI (MAR) Hermanto Certified Strategic Business Analyst (CSBA)-AAFM
2108 LTK (T) Dangan Waluyo Certified Strategic Business Analyst (CSBA)-AAFM
2108 LAKSMA TNI Samuel H.H. Kowaas Certified Strategic Business Analyst (CSBA)-AAFM
2109 LAKSMA TNI Taufik Arief Certified Strategic Business Analyst (CSBA)-AAFM
2110 LTK (S) Binandita Edi S Certified Strategic Business Analyst (CSBA)-AAFM
2111 KOL (KH) Amir Mahmud Certified Strategic Business Analyst (CSBA)-AAFM
2112 Mikhail Mahendra Bramantyo Certified Property Management Professional (CPMP)-AAPM
2113 Juni Harjoso Certified Property Management Professional (CPMP)-AAPM
2114 Suwarno Certified IPSAS Specialist (CIS)-GAFM
2115 TTK (PM) Muhammad Firdaus Certified Strategic Business Analyst (CSBA)-AAFM
2116 Wachyu Hari Haji Certified Human Resource Analyst (CHRA)-AAPM
2117 Tulus Suryanto Certified in Financial Accounting (C.F.A)-AAFM
2118 Chandra Kurniawan Certified International Project Manager (CIPM)-AAPM
2119 Rahmad Budiono Certified Quality Control (CQC)-AAPM
2120 Ehan Rohandi Certified Quality Control (CQC)-AAPM
2121 Muhammad Affan Certified Quality Control (CQC)-AAPM
2122 Umar Patoni Certified Quality Control (CQC)-AAPM
2123 Abdullah Abd. Rachman Certified Quality Control (CQC)-AAPM
2124 Aries Kurniawan Certified Quality Control (CQC)-AAPM
2125 Edi Irtanto Certified Quality Control (CQC)-AAPM
2126 Fredy Dharmawan Certified Quality Control (CQC)-AAPM
2127 Hafizuddin Certified Quality Control (CQC)-AAPM
2128 Dwi Purwanto Certified Quality Control (CQC)-AAPM
2129 Antonius Kurnianto Certified Quality Control (CQC)-AAPM
2130 Bayu Hermawan Certified Quality Control (CQC)-AAPM
2131 Sutan Rizky Akbar Putra Certified Crisis Management Specialist (CCMS)-AAPM
2132 Perhatian Marpaung Certified Compliance Professional (CCP)-AAPM
2133 Danang Setiawan Certified Quality Control (CQC)-AAPM
2134 Didik Wardoyo Certified Quality Control (CQC)-AAPM
2135 Afrita Certified Quality Control (CQC)-AAPM
2136 Doddy Arief Wibowo Certified Quality Control (CQC)-AAPM
2137 Henky Adi Berliano Certified Quality Control (CQC)-AAPM
2138 Muh. Aqrobin Certified Quality Control (CQC)-AAPM
2139 Sija'dul Jamal Certified Quality Control (CQC)-AAPM
2140 Eko Luhur Susatyo Certified Quality Control (CQC)-AAPM
2141 Hermansyah Certified Quality Control (CQC)-AAPM
2142 Titik Lestari Master Management Consultant (MMC)-AAPM
2143 Ade Perdana Siregar Certified E-Commerce Consultant (CEC)-AAPM
2144 Singgih Budi Hendrawan Certified International Operation Management Professional (CIOMP)-AAPM
2145 Aryo Sutriadi Certified International Operation Management Professional (CIOMP)-AAPM
2146 Mochamad Muzaki Accredited Supply Chain Analyst (ASCA)-AAPM
2147 Moh. Hartono Accredited Supply Chain Analyst (ASCA)-AAPM
2148 Slamet Certified International Operation Management Professional (CIOMP)-AAPM
2149 Jacques Erasmus Certified Prince-2 Foundation Professional (CPFP)-AAPM
2150 Emyrwan Anwar Certified Risk Analyst (CRA)-AAFM
2151 Asep Siswandar Master Project Manager (MPM)-AAPM
2152 Wahyu Rahman Purnama Certified Strategic Business Analyst (CSBA)-AAFM
2153 Fendy Kusuma Wardhana Certified Business Analytic Professional (CBAP)-AAPM
2154 Lazarus Tharub Widijanto Certified Business Analytic Professional (CBAP)-AAPM
2155 Nanang Dwi Cahyono Certified Business Analytic Professional (CBAP)-AAPM
2156 Nurkholis Ari Sugiarto Certified Business Analytic Professional (CBAP)-AAPM
2157 Rachmat Robertto Certified Business Analytic Professional (CBAP)-AAPM
2158 Audy PF Umar Master Project Manager (MPM)-AAPM
2159 Afrizal Wijaya Master Project Manager (MPM)-AAPM
2160 Ihwani Maris Master Project Manager (MPM)-AAPM
2161 Dedek Apriyani Master Project Manager (MPM)-AAPM
2162 I Wayan Sugata Certified in Information Technology Service Management (CITSM)-AAPM
2163 Fernanto Certified Human Resource Analyst (CHRA)-AAPM
2164 Sonly Nendiarie Certified Human Resource Analyst (CHRA)-AAPM
2165 Dicky Anggi Pranata Certified Human Resource Analyst (CHRA)-AAPM
2166 Endi Isnarno Certified Marketing Analyst (CMA)-AAPM
2167 Andriyansah Certified Marketing Analyst (CMA)-AAPM
2168 Undang Syarif Hidayat Certified Human Resource Analyst (CHRA)-AAPM
2169 Siti Barkah Certified Human Resource Analyst (CHRA)-AAPM
2170 Bambang Sumitro Certified Human Resource Analyst (CHRA)-AAPM
2171 Erick Abraham Marlissa Chartered Wealth Manager (CWM)-AAFM
2172 Achmad Budi Setiawan Certified International Project Manager (CIPM)-AAPM
2173 Hisa Maria Certified Digital Marketing Professional (CDMP)
2174 Hamzah Certified Strategic Business Analyst (CSBA)-AAFM
2175 Hendra Poerwanto G Certified Digital Marketing Professional (CDMP)-AAPM
2176 Linda Certified Digital Marketing Professional (CDMP)-AAPM
2177 Osly Usman Certified Digital Marketing Professional (CDMP)-AAPM
2178 Rubiyatno Certified Digital Marketing Professional (CDMP)-AAPM
2179 Kasman Abas Certified Human Resource Analyst (CHRA)-AAPM
2180 Anang Siswanto Accredited Supply Chain Analyst (ASCA)-AAPM
2181 Agus Afandi Accredited Supply Chain Analyst (ASCA)-AAPM
2182 Haryanti Certified Human Resource Analyst (CHRA)-AAPM
2183 Rahmat Fajri Certified International Purchasing Professional (CIPP)-AAPM
2184 Zulfadli Certified International Purchasing Professional (CIPP)-AAPM
2185 Tafyani Kasim Certified Strategic Business Analyst (CSBA)-AAFM
2186 Anastasia Susty Ambarriani Accredited Management Accountant (AMA)-AAFM
2187 Wiwik Sunarni Accredited Management Accountant (AMA)-AAFM
2188 Agus Budi R Accredited Management Accountant (AMA)-AAFM
2189 Endang Raino Wirjono Accredited Management Accountant (AMA)-AAFM
2190 Sang Ayu Putu PG Accredited Management Accountant (AMA)-AAFM
2191 Achmad Husna Certified Marketing Analyst (CMA)-AAPM
2192 Dharmasetya Certified International Information System Security Professional (CIISSP)-AAPM
2193 Chandra Kasmawijaya Certified International Project Manager (CIPM)-AAPM
2194 Adrian Kusumanegara Master Quality Manager (MQM)-AAPM
2194 Asep Firman Nugraha Master Quality Manager (MQM)-AAPM
2195 Bardinia Susi E Master Quality Manager (MQM)-AAPM
2196 Consistania Demawati Master Quality Manager (MQM)-AAPM
2197 Eka Kurnia Master Quality Manager (MQM)-AAPM
2198 Fitri Wahyuningsih Certified International Professional Trainer (CIPT)-AAPM
2199 Fitri Wahyuningsih Certified Digital Marketing Professional (CDMP)-AAPM
2200 Satria Gunayoman Certified International Professional Trainer (CIPT)-AAPM
2201 Angguh Hartanto Certified Accredited Project Manager (CAPM)-AAPM
2202 Andi Junaedi Certified Accredited Project Manager (CAPM)-AAPM
2203 Dian Purnama Certified Accredited Project Manager (CAPM)-AAPM
2204 Dwinanto Susongko Certified Accredited Project Manager (CAPM)-AAPM
2205 Dwi Wikutomo Certified Accredited Project Manager (CAPM)-AAPM
2206 Heri Saeful Riana Certified Accredited Project Manager (CAPM)-AAPM
2207 Chairullah Certified Accredited Project Manager (CAPM)-AAPM
2208 Endah Tulus Priyanti Certified Accredited Project Manager (CAPM)-AAPM
2209 Abhi Caesar PP Certified in International Financial Reporting Standards (CIFRS)-AAFM
2210 Cesilia Krisan Certified in International Financial Reporting Standards (CIFRS)-AAFM
2211 Abdillah Rifqi Certified in International Financial Reporting Standards (CIFRS)-AAFM
2212 Shelvyana Certified in International Financial Reporting Standards (CIFRS)-AAFM
2213 Melisa Adryani Certified in International Financial Reporting Standards (CIFRS)-AAFM
2214 Aditya Liko Putra Certified in International Financial Reporting Standards (CIFRS)-AAFM
2215 Fadhila Nisya Tanjung Certified in International Financial Reporting Standards (CIFRS)-AAFM
2216 Hamdan Syakura Certified in International Financial Reporting Standards (CIFRS)-AAFM
2217 Selviea Certified in International Financial Reporting Standards (CIFRS)-AAFM
2218 Erna Christiningsih Certified in International Financial Reporting Standards (CIFRS)-AAFM
2219 Ariza Arba'atus Soliha Certified in International Financial Reporting Standards (CIFRS)-AAFM
2220 Mahnun Afandi Certified in International Financial Reporting Standards (CIFRS)-AAFM
2221 Burhan Juniarahman Certified in International Financial Reporting Standards (CIFRS)-AAFM
2222 Anggoro Prasetya Certified International Project Manager (CIPM)-AAPM
2223 Erick Abraham Marlissa Master Financial Planner (MFP)-AAFM
2224 Abin Suarsa Certified Expert in Sustainable Finance (CESF)-AAFM
2225 Daduk Merdika Mansur Certified Marketing Analyst (CMA)-AAPM
2226 Eric Hermawan Certified International Project Manager (CIPM)-AAPM
2227 Agus Rahman Alamsyah Certified Risk Management Professional (CRMP)-AAPM
2228 Agus Rahman Alamsyah Certified Human Resource Analyst (CHRA)-AAPM
2229 Khusnul Chotimah Certified Risk Management Professional (CRMP)-AAPM
2230 Khusnul Chotimah Certified Human Resource Analyst (CHRA)-AAPM
2231 Mahmud Certified in Science Education Expert (CSEE)-IBS
2232 Tedi Priatna Certified in Educational Administration and Management (CEAM)-IBS
2234 Hariman Surya Siregar Certified in Educational Administration and Management (CEAM)-IBS
2235 Teti Ratnasih Certified International Parenting Specialist (CIPS)-IBS
2236 Rosihon Anwar Certified in Humanistic Studies (CHS)-IBS
2237 Yuli Ahmad Hambali Certified in Philosophy and Ethics (CIPE)-IBS
2238 Izzah Faizah Siti Rusydati Khaerani Certified in Humanistic Studies(CHS)-IBS
2239 Iu Rusliana Certified Human Resource Analyst-AAPM
2240 Ah. Fathonih Certified International Economic Law Professional (CIELP)-IBS
2241 Syahrul Anwar Certified International Law Analyst (CILA)-IBS
2242 Ulfiah Certified Psychological Counselling Expert (CPCE)-IBS
2243 Irfan Fahmi Certified International Psychology Professional (CIPP)-IBS
2244 Dindin Solahudin Certified Human Resource Analyst (CHRA)-AAPM
2245 Andang Saehu Certified in Humanistic Studies-IBS
2246 Rohanda Master Quality Manage (MQM)r-AAPM
2247 Ana Widiana Certified Conservation Ecology Expert (CCEE)-IBS
2248 Ahmad Taofik Certified International Purchasing Professional-AAPM
2249 Mufid Ridlo Effendi Certified Computer Networking Expert (CCNE)-AAPM
2250 Bebeh Wahid Nuryadin Certified Nano Material Science and Engineering Expert (CNSEE)-IBS
2251 Agung Wahana Master Project Manager (MPM)-AAPM
2252 Tety Sudiarti Certified Polymer Technology Expert (CPTE)-IBS
2253 Moh. Dulkiah Certified in Sociology and Politics (CSP)-IBS
2254 Adon Nasurullah Jamaludin Certified in Sociology of Religion (CSR)-IBS
2255 Kustana Certified in Sociology and Politics (CSP)-IBS
2256 Fisher Zulkarnain Certified in Politics and International Studies (CPIS)-IBS
2257 Khaerul Umam Certified Human Resouce Analyst (CHRA)-AAPM
2258 Dadang Husen Sobana Certified Strategic Business Analyst-AAFM
2259 Hasniah Aliah Certified Materials Science and Engineering Expert-IBS
2260 Suparjiman Certified Human Resource Analyst (CHRA)-AAPM
2261 Roberto Setia Chartered Wealth Manager (CWM)-AAFM
2262 Joshua Marcius Chartered Wealth Manager (CWM)-AAFM
2263 Karlinah Chartered Wealth Manager (CWM)-AAFM
2264 Fatimah Hanna Dilla Chartered Wealth Manager (CWM)-AAFM
2265 Caroline Chartered Wealth Manager (CWM)-AAFM
2266 Hana Florencia Veronica Chartered Wealth Manager (CWM)-AAFM
2267 Muhammad Ardian Noviarsi Chartered Wealth Manager (CWM)-AAFM
2268 Dewi Tiodor Chartered Wealth Manager (CWM)-AAFM
2269 Rut Yesika Simak Chartered Wealth Manager (CWM)-AAFM
2270 Rahmat Fajri Certified International Information Security Manager (CIISM)-AAPM
2271 Abdul Latif Anshori Certified International Information Security Manager (CIISM)-AAPM
2272 Sugianto Certified International Project Manager (CIPM)-AAPM
2273 Agus Rahman Alamsyah Certified Financial Risk Management (CFRM)-AAFM
2274 Agus Rahman Alamsyah Certified Digital Marketing Professional (CDMP)-AAPM
2275 Riski Suparyanto Accredited Supply Chain Analyst (ASCA)-AAPM
2276 R Bobby Renaldi Master Hotel Manager (MHM)-AAPM
2277 Anang Siswanto Certified Strategic Business Analyst (CSBA)-AAFM
2278 Julian Harris Certified International Operation Management Professional (CIOMP)-AAPM 2279 Sutanto Certified Digital Marketing Professional (CDMP)-AAPM
2280 Noer Fajrieansyah Certified Digital Marketing Professional (CDMP)-AAPM
2281 Twedy Noviady Ginting Certified Digital Marketing Professional (CDMP)-AAPM
2282 Hidayatullah Certified Digital Marketing Professional (CDMP)-AAPM
2283 Olivia Cahyaningdhia Saputri Certified Human Resource Analyst (CHRA)-AAPM
2284 Aries Kurniawaan Widiyanto Certified Human Resource Analyst (CHRA)-AAPM
2285 Neng Supartini Certified Human Resource Analyst (CHRA)-AAPM
2286 Warjo Certified Human Resource Analyst (CHRA)-AAPM
2287 Iffan Maflahah Accredited Supply Chain Analyst (ASCA)-AAPM
2289 Dian Farida Asfan Accredited Supply Chain Analyst (ASCA)-AAPM
2290 Banun Diyah Probowati Accredited Supply Chain Analyst (ASCA)-AAPM
2291 Raden Faridz Certified Productivity Improvement Specialist (CPIS)-AAPM
2292 R. Arief Firmansyah Certified Productivity Improvement Specialist (CPIS)-AAPM
2293 Khoirul Hidayat Certified International Operation Management Professional (CIOMP)-AAPM
2294 Burhan Certified International Operation Management Professional (CIOMP)-AAPM
2295 Hamzah Fansuri Certified International Operation Management Professional (CIOMP)-AAPM
2296 Khoirul Hidayat Master Quality Manager (MQM)-AAPM
2297 Muhammad Fakhry Certified Industrial Technology and Management Professional (CITMP)-AAPM
2298 Mohammad Fuad Fauzul Mu'tamar Certified Industrial Technology and Management Professional (CITMP)-AAPM
2299 Abdul Aziz Jakfar Certified Human Resource Analyst (CHRA)-AAPM
2300 Agus Rahman Alamsyah Certified International Marketing Analyst (CIMA)-AAPM
2301 Sabarudin Akhmad Master Quality Manager (MQM)-AAPM
2302 Sabarudin Akhmad Certified Industrial Technology and Management Professional (CITMP)-AAPM
2303 Rachmad Hidayat Master Quality Manager (MQM)-AAPM
2304 Rachmad Hidayat Certified Industrial Technology and Management Professional (CITMP)-AAPM
2305 Kukuh Winarso Master Quality Manager (MQM)-AAPM
2306 Kukuh Winarso Certified Industrial Technology and Management Professional (CITMP)-AAPM
2307 Ari Basuki Accredited Supply Chain Professional (ASCP)-AAPM
2308 Ari Basuki Certified International Operation Management Professional (CIOMP)-AAPM
2309 Anis Arendra Certified International Ergonomics Professional (CIEP)-AAPM
2310 Anis Arendra Certified Ergonomic Assessment Professional (CEAP)-AAPM
2311 Retno Indriartiningtias Certified Productivity Improvement Specialist (CPIS)-AAPM
2312 Retno Indriartiningtias Certified International Project Management (CIPM)-AAPM
2313 Weny Findiastuti Certified Productivity Improvement Specialist (CPIS)-AAPM
2314 Weny Findiastuti Certified Ergonomic Assessment Professional (CEAP)-AAPM
2315 Rullie Annisa Certified International Ergonomics Professional (CIEP)-AAPM
2316 Rullie Annisa Certified International OSHA Professional (CIOP)-AAPM
2317 Heri Awalul Ilhamsah Certified International Operation Management Professional (CIOMP)-AAPM
2318 Indra Cahyadi Certified International Operation Management Professional (CIOMP)-AAPM
2319 Ika Deefi Anna Accredited Supply Chain Professional (ASCP)-AAPM
2320 Trisita Novianti Accredited Supply Chain Professional (ASCP)-AAPM
2321 Sugeng Purwoko Certified Professional in Logistic Management (CPLM)-AAPM
2322 Shofi Fitrotis Salimah Certified Professional in Logistic Management (CPLM)-AAPM
2323 Ahmad Mughni Certified International Project Management (CIPM)-AAPM
2324 Issa Dyah Utami Certified International Project Management (CIPM)-AAPM
2325 Ida Lumintu Certified Healthcare Ergnomics Professional (CHCEP)-AAPM
2326 Ernaning Widiaswanti Master Quality Manager (MQM)-AAPM
2327 Arie Wahyu Prananta Certified Human Resource Manager (CHRM)-AAPM
2328 Zainal Abidin Certified Human Resource Manager (CHRM)-AAPM
2329 Mochammad Mukti Ali Master Management Consultant (MMC)-GAFM
2330 Al Chamkham Certified International Business Coach (CIBC)-GAFM
2331 Anna Triwijayati Certified Marketing Analyst (CMA)-AAPM
2332 Khaerul Umam Certified Human Resource Analyst (CHRA)-AAPM
2333 Gancar Candra Premananto Certified Marketing Analyst (CMA)-AAPM
2334 Sri Hartini Certified Marketing Analyst (CMA)-AAPM
2335 Tanti Handriana Certified Marketing Analyst (CMA)-AAPM
2335 Dien Mardhiyah Certified Marketing Analyst (CMA)-AAPM
2336 Felik Sad Windu Wisnu Broto Certified Human Resource Analyst (CHRA)-AAPM
2337 Uki Yonda Asepta Certified Human Resource Analyst (CHRA)-AAPM
2338 Santi Widyaningrum Certified International Import Export Specialist (CIIES)-AAPM
2339 Uki Yonda Asepta Certified International Marketing Analyst (CIMA)-AAPM
2340 Santi Widyaningrum Certified International Operation Management Professional (CIOMP)-AAPM
2341 Catharina Aprilia Hellyani Certified Risk Management Officer (CRMO)-AAPM
2342 Rony Joyo Negoro Octavianus Certified Risk Management Officer (CRMO)-AAPM
2343 Catharina Aprilia Hellyani Certified Risk Management Professional (CRMP)-AAPM
2344 Rony Joyo Negoro Octavianus Master Financial Planner (MFP)-AAFM
2345 Felik Sad Windu Wisnu Broto Master Quality Manager (MQM)-AAPM
2346 Dewi Agustin Pratama Sari Certified Digital Marketing Professional (CDMP)-AAPM
2347 Usep Suhud Certified Digital Marketing Professional (CDMP)-AAPM
2348 Ade Julianto Darmawan Certified Supply Chain Manager (CSCM)-AAPM
2349 Gunadi Dwi Hantoro Certified Supply Chain Manager (CSCM)-AAPM
2350 Hamindar Ramadhani Nur Pambudi Certified Supply Chain Manager (CSCM)-AAPM
2351 Mangapul Sitanggang Certified Supply Chain Manager (CSCM)-AAPM
2352 Tantan Darmakusumah Certified Supply Chain Manager (CSCM)-AAPM
2353 Dianawati Suryaningtyas Certified Human Resource Analyst (CHRA)-AAPM
2354 Andi Nu Graha Certified Human Resource Analyst (CHRA)-AAPM
2355 Agus Joko Purwanto Certified Human Resource Analyst (CHRA)-AAPM
2356 Yun Iswanto Certified Human Resource Analyst (CHRA)-AAPM
2357 Andi Sylvana Certified Human Resource Analyst (CHRA)-AAPM
2358 Mailani Hamdani Certified Human Resource Analyst (CHRA)-AAPM
2359 Rojikinnor Certified Human Resource Analyst (CHRA)-AAPM
2360 Prasetyono Hendriarto Certified Human Resource Analyst (CHRA)-AAPM
2361 Eleutherius Krisisma Mamusung Certified Human Resource Analyst (CHRA)-AAPM
2362 Millatul Ulya Master Quality Manager (MQM)-AAPM
2363 Lilik Masruroh Certified Marketing Analyst (CMA)-AAPM
2364 Muhammad Harris Accredited Supply Chain Professional (ASCP)-AAPM
2365 Hamam Anwaruddin Al Ghifari Accredited Supply Chain Professional (ASCP)-AAPM
2366 Stefanus Yufra M. Taneo Certified International Operation Management Professional (CIOMP)-AAPM
2367 Renny Rahmadi Putra Certified Professional Management Skills (CPMS)-AAPM
2368 Swastika Utama Certified Professional Management Skills (CPMS)-AAPM
2369 Maesha Gusti Rianta Certified Professional Management Skills (CPMS)-AAPM
2370 Abdullah Maskur Certified Risk Management Professional (CRMP)-AAPM
2371 Hilda Octavana Siregar Certified Risk Management Professional (CRMP)-AAPM
2372 Doni Stiadi Certified Risk Management Professional (CRMP)-AAPM
2373 Firmansyah Raditya Yulian Oktavitri Certified Risk Management Professional (CRMP)-AAPM
2374 Grisvia Agustin Certified Risk Management Professional (CRMP)-AAPM
2375 Ian Satrian Certified Risk Management Professional (CRMP)-AAPM
2376 Inayati Nuraini Dwiputri Certified Risk Management Professional (CRMP)-AAPM
2377 La Ode Anto Certified Risk Management Professional (CRMP)-AAPM
2378 Muhammad Syam Kusufi Certified Risk Management Professional (CRMP)-AAPM
2379 Muhammad Ziyad Certified Risk Management Professional (CRMP)-AAPM
2380 Nugraeni Certified Risk Management Professional (CRMP)-AAPM
2381 Sufi Jikrillah Certified Risk Management Professional (CRMP)-AAPM
2382 Tomy Michael Certified Risk Management Professional (CRMP)-AAPM
2383 Untung Julianto Hadi Certified Risk Management Professional (CRMP)-AAPM
2384 Widi Suyudi Ashari Certified Risk Management Professional (CRMP)-AAPM
2385 Yuni Kusuma Arumsari Certified Risk Management Professional (CRMP)-AAPM
2386 Teguh Yanto Certified Risk Management Professional (CRMP)-AAPM
2387 Juniati Gunawan Certified Risk Management Professional (CRMP)-AAPM
2388 Prasetyono Hendriarto Certified Risk Management Professional (CRMP)-AAPM
2389 Arief Mulyadi Certified Risk Management Professional (CRMP)-AAPM
2390 Siti Maghfiroh Certified Risk Management Professional (CRMP)-AAPM
2391 R. Tri Priyono Budi Santoso Certified Human Resource Analyst (CHRA)-AAPM
2392 Yeyen Komalasari Certified Human Resource Analyst (CHRA)-AAPM
2393 Tjokorda Bagus Putra Marhaendra Certified Human Resource Analyst (CHRA)-AAPM
2394 Agustin Amborowati Certified Human Resource Analyst (CHRA)-AAPM 2395 I Made Darmayasa Certified in Financial Risk Management (CFRM)-AAFM
2396 Christimulia Purnama Trimurti Certified in Financial Risk Management (CFRM)-AAFM
2397 I Wayan Susrama Certified in Financial Risk Management (CFRM)-AAFM
2398 Yenni Merlin Djajalaksana Certified Digital Marketing Professional (CDMP)-AAPM
2399 Wulan Nurhidayah Certified Digital Marketing Professional (CDMP)-AAPM
2400 Munaji Rahmat Hidayat Certified Human Resource Analyst (CHRA)-AAPM
2401 Dedy Timbul Harmianto Siagian Master Project Manager (MPM)-AAPM
2402 Eka Kurnia Master Project Manager (MPM)-AAPM
2403 Gunadi Dwi Hantoro Master Project Manager (MPM)-AAPM
2404 Moh Kasbullah Master Project Manager (MPM)-AAPM
2405 Putu Chris Susanto Certified Marketing Analyst (CMA)-AAPM
2406 Ni Putu Dyah Krismawintari Certified Marketing Analyst (CMA)-AAPM
2407 I Wayan Ruspendi Junaedi Certified Marketing Analyst (CMA)-AAPM
2408 Agreianti Puspitasari Certified Marketing Analyst (CMA)-AAPM
2409 Gusti Ngurah Joko Adinegara Certified Marketing Analyst (CMA)-AAPM
2410 Agus Rahman Alamsyah Certified Human Resource Professional (CHRP)-AAPM
2411 Abdul Azis Jakfar Certified Human Resource Professional (CHRP)-AAPM
2412 Farikhin Azis Accredited Supply Chain Professional (ASCP)-AAPM
2413 Tiar Salman Accredited Supply Chain Professional (ASCP)-AAPM
2414 Randa Arviyandi Master Project Manager (MPM)-AAPM
2415 Naufal Wahika Putra Master Project Manager (MPM)-AAPM
2416 Arbitentur Fahmi Master Project Manager (MPM)-AAPM
2417 Ali Rizki Pratama Master Project Manager (MPM)-AAPM
2418 M Fiki Mahdiana Sjaefi Master Project Manager (MPM)-AAPM
2419 Wahyu Eko Putro Master Project Manager (MPM)-AAPM
2420 Beatrice Dina Master Project Manager (MPM)-AAPM
2421 Nicky Wendersteit Master Project Manager (MPM)-AAPM
2422 Pingkan Lingga Master Project Manager (MPM)-AAPM
2423 Julianti Kasih Certified E-Commerce Consultant (CEC)-AAPM
2424 Rianovel Chartered Portofolio Manager (CPM)-AAFM
2425 Dedi Setiadi Chartered Wealth Manager (CWM)-AAFM
2426 Muztahidin Al-Ayubi Certified Strategic Business Analyst (CSBA)-AAFM
2427 Moh. Yudi Mahadianto Master Project Manager (MPM)-AAPM
2428 Yono Maulana Master Project Manager (MPM)-AAPM
2429 I Komang Sumerta Certified Marketing Analyst (CMA)-AAPM
2430 Tjokorda Gde Agung Wijaya Kesuma Suryawan Certified Marketing Analyst (CMA)-AAPM
2431 I Gede Agus Mertayasa Certified Marketing Analyst (CMA)-AAPM
2431 I Gusti Putu Agung Widya Goca Certified Human Resource Analyst (CHRA)-AAPM
2432 Ade Maharini Adiandari Certified Human Resource Analyst (CHRA)-AAPM
2433 IWK Teja Sukmana Certified Human Resource Analyst (CHRA)-AAPM
2434 Gilbert Nainggolan Certified Human Resource Analyst (CHRA)-AAPM
2435 Weny Findiastuti Certified Ergonomic Assessment Professional (CEAP)-AAPM
2436 Atuty Ariady Master Quality Manager (MQM)-AAPM
2437 Freddy Wijaya Master Quality Manager (MQM)-AAPM
2438 Maya Maysarah Masida Master Quality Manager (MQM)-AAPM
2439 Gilar Perdana Putra Certified Human Resource Analyst (CHRA)-AAPM
2440 Gilar Perdana Putra Certified Strategic Business Analyst (CSBA)-AAFM
2441 Gilar Perdana Putra Certified in Data Science (CDS)-AAPM
2442 Kresno Priyantono Master Project Manager (MPM)-AAPM
2443 Yustinus Sudarwanto Master Project Manager (MPM)-AAPM
2444 Affan Debby Charisma Registered Financial Specialist (RFS)-AAFM
2445 Agustina Hartono Registered Financial Specialist (RFS)-AAFM
2446 Andra Miranthi Hendra Sutopo Registered Financial Specialist (RFS)-AAFM
2447 Arief Hadid Supriadi Registered Financial Specialist (RFS)-AAFM
2448 Arif Maulana A Registered Financial Specialist (RFS)-AAFM
2449 Cindy Dewi Wulandari Registered Financial Specialist (RFS)-AAFM
2450 Dandy Jalu Wicaksono Registered Financial Specialist (RFS)-AAFM
2451 Doni Bharaputra Suhendri Registered Financial Specialist (RFS)-AAFM
2452 Elang Prakosa Iriantoro Putra Registered Financial Specialist (RFS)-AAFM
2453 Endah Roezana Registered Financial Specialist (RFS)-AAFM
2454 Fulki Anwar Registered Financial Specialist (RFS)-AAFM
2455 Ida Ayu Sitaresmi Willystya Registered Financial Specialist (RFS)-AAFM
2456 Jung-jung Uli Martua Manurung Registered Financial Specialist (RFS)-AAFM
2457 Lidya Sri Rahayu Registered Financial Specialist (RFS)-AAFM
2458 Lintang Chika Registered Financial Specialist (RFS)-AAFM
2459 Martin Boy Ganda Silalahi Registered Financial Specialist (RFS)-AAFM
2460 Muhammad Antila Rinanda Registered Financial Specialist (RFS)-AAFM
2461 Nilla Ocktaviani Registered Financial Specialist (RFS)-AAFM
2462 Nuning Afriyanti Registered Financial Specialist (RFS)-AAFM
2463 Oktaviani Julius Registered Financial Specialist (RFS)-AAFM
2464 Raden Indra Maulana Mucharamsyah Registered Financial Specialist (RFS)-AAFM
2465 Raditya Purnama Jati Registered Financial Specialist (RFS)-AAFM
2466 Radityo Murti Hernawan Registered Financial Specialist (RFS)-AAFM
2467 Ressa Andari Registered Financial Specialist (RFS)-AAFM
2468 Rizky Agung Pramisto Registered Financial Specialist (RFS)-AAFM
2469 Ronald Registered Financial Specialist (RFS)-AAFM
2470 Suci Anjarwati Registered Financial Specialist (RFS)-AAFM
2471 Winston Socrates Rondonuwu Registered Financial Specialist (RFS)-AAFM
2472 Luh Putu Virra Indah Perdanawati Certified Tax Professional (CTP)-AAFM
2473 Raden Indra Maulana Mucharamsyah Registered Financial Specialist (RFS)-AAFM
2474 Raditya Purnama Jati Registered Financial Specialist (RFS)-AAFM
2475 Radityo Murti Hernawan Registered Financial Specialist (RFS)-AAFM
2476 Ressa Andari Registered Financial Specialist (RFS)-AAFM
2477 Rizky Agung Pramisto Registered Financial Specialist (RFS)-AAFM
2478 Ronald Registered Financial Specialist (RFS)-AAFM
2479 Weny Findiastuti Certified Industrial Technology and Management Professional (CITMP)-AAPM
2480 Rullie Annisa Certified Industrial Technology and Management Professional (CITMP)-AAPM
2481 Shofi Fitrotis Salimah Certified Industrial Technology and Management Professional (CITMP)-AAPM
2482 Rachmad Hidayat Master Project Management (MPM)-AAPM
2483 Kukuh Winarso Master Project Management (MPM)-AAPM
2484 Sabarudin Akhmad Master Project Management (MPM)-AAPM
2485 Rachmad Hidayat Certified International Operation Management Professional (CIOMP)-AAPM
2486 Kukuh Winarso Certified International Operation Management Professional (CIOMP)-AAPM
2487 Sabarudin Akhmad Certified International Operation Management Professional (CIOMP)-AAPM
2488 Arif Suryana Certified International Operation Management Professional (CIOMP)-AAPM
2489 Ari Guswandi Certified International Operation Management Professional (CIOMP)-AAPM
2490 Dudi Anandya Certified Marketing Analyst (CMA)-AAPM
2491 Hayuning Purnama Dewi Certified Marketing Analyst (CMA)-AAPM
2492 Indarini Certified Marketing Analyst (CMA)-AAPM
2493 Freddy Mutiara Certified Marketing Analyst (CMA)-AAPM
2494 Andhy Setyawan Certified Marketing Analyst (CMA)-AAPM
2495 Christina Rahardja Certified Marketing Analyst (CMA)-AAPM
2496 Grace Felicia Djayapranata Certified Marketing Analyst (CMA)-AAPM
2497 Candra Wahyu Hidayat Certified Marketing Analyst (CMA)-AAPM
2498 Rusno Certified Marketing Analyst (CMA)-AAPM
2499 Setiya Joko Santosa Certified International Marketing Analyst (CIMA)-AAPM
2500 Mohammad Hafi Certified International Marketing Analyst (CMA)-AAPM
2501 Yudi Haryanto Certified Marketing Analyst (CMA)-AAPM
2502 Anang Siswanto Certified in Production Planning and Inventory Management (CPPIM)-AAPM
2503 Ficky Vernandes Isman Certified Business Analytic Professional (CBAP)-AAPM
2504 I Made Adi Suwandana Certified Supply Chain Analyst (CSCA)
2505 I Made Kartika Certified Supply Chain Analyst (CSCA)
2506 Junil Adri Certified International Welding Engineer (CIWE)-AAPM
2507 Bulkia Rahim Certified International Welding Engineer (CIWE)-AAPM
2508 Sri Wilujeng Certified Human Resource Professional (CHRP)-AAPM
2509 Kristina Sedyastuti Certified Human Resource Professional (CHRP)-AAPM
2509 Teguh Yanto Certified Human Resource Professional (CHRP)-AAPM
2510 Veronica Tri Hartini Certified Human Resource Professional (CHRP)-AAPM
2511 Setiya Joko Santosa Certified Human Resource Professional (CHRP)-AAPM
2512 Mohammad Hafi Certified Human Resource Professional (CHRP)-AAPM
2513 Andrey Soeroso Certified International Project Manager (CIPM)-AAPM
2514 Nana Juhana Certified International Project Manager (CIPM)-AAPM
2516 M. Arief Abdillah Certified International Risk and Information System Control (CIRISC)-AAFM
2517 Drajat Wahyudi Certified International Risk and Information System Control (CIRISC)-AAFM
2518 Andri Yana Rinwardi Certified International Risk and Information System Control (CIRISC)-AAFM
2519 Viktorinus Romy Wiliam Certified International Risk and Information System Control (CIRISC)-AAFM
2509 Panca Yuniardi Certified International Risk and Information System Control (CIRISC)-AAFM
2520 Abdul Ahmad Certified Supply Chain Manager (CSCM)-AAPM
2521 Indra Syah Putra Certified Supply Chain Manager (CSCM)-AAPM
2522 Hamdalah Hazhar Certified Supply Chain Manager (CSCM)-AAPM
2523 Arief Rahmawan Master Project Manager (MPM)-AAPM
2524 Arti Yoesdiarti Master Project Manager (MPM)-AAPM
2525 Azmi Alvian Gabriel Master Project Manager (MPM)-AAPM
2526 Danu Indra Wardhana Master Project Manager (MPM)-AAPM
2527 Arman Amran Master Project Manager (MPM)-AAPM
2528 Elizabeth Kaya Master Project Manager (MPM)-AAPM
2529 Wenny Mamilianti Master Project Manager (MPM)-AAPM
2530 Ela Hasri Windari Master Project Manager (MPM)-AAPM
2531 Gunawan Syahrantau Master Project Manager (MPM)-AAPM
2532 Hasbiadi Master Project Manager (MPM)-AAPM
2533 Himmatul Miftah Master Project Manager (MPM)-AAPM
2534 Sulistiya Master Project Manager (MPM)-AAPM
2535 Zulfanita Master Project Manager (MPM)-AAPM
2536 Judo Laksono Master Project Manager (MPM)-AAPM
2537 Julio Eiffelt Rossaffelt Rumbiak Master Project Manager (MPM)-AAPM
2538 Mailina Harahap Master Project Manager (MPM)-AAPM
2539 Meilany Rosita Lengkong Master Project Manager (MPM)-AAPM
2540 Moh yusuf dawud Master Project Manager (MPM)-AAPM
2541 Mohamad Syahril Master Project Manager (MPM)-AAPM
2542 Muhammad Abdullah Master Project Manager (MPM)-AAPM
2543 Nasrudin Master Project Manager (MPM)-AAPM
2544 Nuni Gofar Master Project Manager (MPM)-AAPM
2545 Puryantoro Master Project Manager (MPM)-AAPM
2546 Rima Oktavia Kusuma Master Project Manager (MPM)-AAPM
2547 Sigit Normagiat Master Project Manager (MPM)-AAPM
2548 Sri Utami Master Project Manager (MPM)-AAPM
2549 Teuku Athaillah Master Project Manager (MPM)-AAPM
2550 Wahyu Adhi Saputro Master Project Manager (MPM)-AAPM
2551 Yosefina Mangera Master Project Manager (MPM)-AAPM
2552 Yusup Sopian Registered Financial Specialist (RFS)-AAFM
2553 Amanda Novika Nur Asyifa Registered Financial Specialist (RFS)-AAFM
2554 Andri Mahmudin Registered Financial Specialist (RFS)-AAFM
2555 Arie Wisanti Registered Financial Specialist (RFS)-AAFM
2556 Ayu Chandra Sutono Putri Registered Financial Specialist (RFS)-AAFM
2557 Bayu Ariwibowo Registered Financial Specialist (RFS)-AAFM
2558 Brigitta Nadia Astari Registered Financial Specialist (RFS)-AAFM
2559 Desty Hartati Registered Financial Specialist (RFS)-AAFM
2560 Dewi Tria Kurniasari Registered Financial Specialist (RFS)-AAFM
2561 Diana Fithri Yuliani Registered Financial Specialist (RFS)-AAFM
2562 Dita Noviana Registered Financial Specialist (RFS)-AAFM
2563 Faradina Zaharani Registered Financial Specialist (RFS)-AAFM
2564 Farisha Claudya Chaisar Algamar Registered Financial Specialist (RFS)-AAFM
2564 Fauziati Amalia Registered Financial Specialist (RFS)-AAFM
2565 Felisitas Marlanda Prima Bentarjani Registered Financial Specialist (RFS)-AAFM
2566 Gandhi Pranoto Registered Financial Specialist (RFS)-AAFM
2567 Giovani Anggasta Registered Financial Specialist (RFS)-AAFM
2568 Habibah Registered Financial Specialist (RFS)-AAFM
2569 Hetdina Stiffany Hutahaean Registered Financial Specialist (RFS)-AAFM
2570 Indrya Amritashanti Registered Financial Specialist (RFS)-AAFM
2571 Lexiana Registered Financial Specialist (RFS)-AAFM
2572 Nesyia Permata Suri Registered Financial Specialist (RFS)-AAFM
2573 Panganti Widi Astuti Registered Financial Specialist (RFS)-AAFM
2574 Parameta Dyah Ayu Kartika Registered Financial Specialist (RFS)-AAFM
2575 Rangga Maulid Mahardhika Registered Financial Specialist (RFS)-AAFM
2575 Regina Maretta Andhini Registered Financial Specialist (RFS)-AAFM
2576 Rizky Lesponda Registered Financial Specialist (RFS)-AAFM
2577 Wiwin Riyanto Registered Financial Specialist (RFS)-AAFM
2578 Yuniwati Lasroh Siallagan Registered Financial Specialist (RFS)-AAFM
2579 Bambang Ajie Siswanto Master Data Center Professional (MDCP)-AAPM
2580 Ridho Kurniawan Hadad Master Data Center Professional (MDCP)-AAPM
2581 Agus Joko Purwanto Certified Risk Management Professional (CRMP)-AAPM
2582 Yun Iswanto Certified Risk Management Professional (CRMP)-AAPM
2583 Ali Muktiyanto Certified Risk Management Professional (CRMP)-AAPM
2584 Agus Nurrodi Certified Risk Management Professional (CRMP)-AAPM
2585 Aria Mandala Putra Ginting Certified Risk Management Professional (CRMP)-AAPM
2586 Teddy Rahmanadi Certified Risk Management Professional (CRMP)-AAPM
2587 Budiyono Certified Risk Management Professional (CRMP)-AAPM
2588 Endi Sarwoko Certified Risk Management Professional (CRMP)-AAPM
2589 Faizal Rachman Certified Risk Management Professional (CRMP)-AAPM
2590 Neva Satyahadewi Certified Risk Management Professional (CRMP)-AAPM
2591 Siti Aisyah Certified Risk Management Professional (CRMP)-AAPM
2592 Veronica Tri Hartini Certified Risk Management Professional (CRMP)-AAPM
2593 I Putu Weda Kresna Witana Certified Risk Management Professional (CRMP)-AAPM
2594 Musnaini Certified Risk Management Professional (CRMP)-AAPM
2595 Tirza Oktovianti Lenggono Certified Risk Management Professional (CRMP)-AAPM
2596 Muhammad Ishlah Idrus Certified Risk Management Professional (CRMP)-AAPM
2597 Mohammad Hafi Certified Risk Management Professional (CRMP)-AAPM
2598 Intan Pusvitasari Certified Risk Management Professional (CRMP)-AAPM
2599 Intan Pusvitasari Master Project Manager (MPM)-AAPM
2600 Intan Pusvitasari Certified Strategic Business Analyst (CSBA)-AAFM
2601 Adipura Danang Maulana Certified Risk Management Professional (CRMP)-AAPM
2602 Bakti Widyaningrum Certified Risk Management Professional (CRMP)-AAPM
2603 Dwi Irawati Certified Risk Management Professional (CRMP)-AAPM
2604 Erly Ekayanti Rosyida Certified Risk Management Professional (CRMP)-AAPM
2605 Nikmatur Rohmah Certified Risk Management Professional (CRMP)-AAPM
2606 Nova Nevila Rodhi Certified Risk Management Professional (CRMP)-AAPM
2607 Endang Tri Astutiningsih Certified Risk Management Professional (CRMP)-AAPM
2608 Fajar Aribowo Certified Risk Management Professional (CRMP)-AAPM
2609 Iqbal Lhutfi Certified Risk Management Professional (CRMP)-AAPM
2610 Linda Hetri Suriyanti Certified Risk Management Professional (CRMP)-AAPM
2611 Rabin Ibnu Zainal Certified Risk Management Professional (CRMP)-AAPM
2612 Tyagita Dianingtyas Sudibyo Certified Risk Management Professional (CRMP)-AAPM
2613 Wahyu Setiawan Certified Risk Management Professional (CRMP)-AAPM
2614 Yuyun Anggraini Certified Risk Management Professional (CRMP)-AAPM
2615 Elfira Maya Adiba Certified Risk Management Professional (CRMP)-AAPM
2616 Muhammad Erman Triutomo Certified Risk Management Professional (CRMP)-AAPM
2617 Arniati Certified Risk Management Professional (CRMP)-AAPM
2618 Sugeng Riadi Certified Accredited Project Manager (CAPM)-AAPM
2619 Diah Amalia Certified Accredited Project Manager (CAPM)-AAPM
2620 Ardi Soma Certified International Project Manager (CIPM)-AAPM
2621 Nofriza Certified International Project Manager (CIPM)-AAPM
2622 Edrial Piliang Certified International Project Manager (CIPM)-AAPM
2623 Muhammad Reza Rahman Certified International Project Manager (CIPM)-AAPM
2624 Antoni Usman Certified International Project Manager (CIPM)-AAPM
2625 Syafrizal Certified International Project Manager (CIPM)-AAPM
2626 Bahar Certified International Project Manager (CIPM)-AAPM
2627 Endrizal Certified International Project Manager (CIPM)-AAPM
2628 Irvan Hendri Certified International Project Manager (CIPM)-AAPM
2628 Irwan Rinaldi Certified International Project Manager (CIPM)-AAPM
2629 Hanarditya Sih Priyantomo Certified International Project Manager (CIPM)-AAPM
2630 Dedy Johan Certified International Project Manager (CIPM)-AAPM
2631 Kustini Certified Human Resource Analyst (CHRA)-AAPM
2632 Danny Rachmam Pratama Certified Marketing Analyst (CMA)-AAPM
2633 Naoto Oda Certified Marketing Analyst (CMA)-AAPM
2634 Fajar Hari Utomo Certified International Information System Auditor (CIISA)-AAFM
2635 Hasto Gesang Wicaksono Certified International Information System Auditor (CIISA)-AAFM
2635 Joko Supriyanto Certified Strategic Business Analyst (CSBA)-AAFM
2636 Rike Tri Kumala Dewi Master Quality Manager (MQM)-AAPM
2637 Ardiansyah Master Quality Manager (MQM)-AAPM
2638 Andreas Romulo Master Quality Manager (MQM)-AAPM
2639 Muhamad Takhim Master Quality Manager (MQM)-AAPM
2640 Ema Komalasari Master Quality Manager (MQM)-AAPM
2641 Veriani Aprilia Master Quality Manager (MQM)-AAPM
2642 Evi Susanti Master Quality Manager (MQM)-AAPM
2643 Nanda Triandita Master Quality Manager (MQM)-AAPM
2644 Adrian Hilman Master Quality Manager (MQM)-AAPM
2645 Setiyo Budi Santoso Master Quality Manager (MQM)-AAPM
2646 Rika Diananing Master Quality Manager (MQM)-AAPM
2647 Nayla Kamilia Fithri Master Quality Manager (MQM)-AAPM
2648 Gema Iftitah Anugerah Yekti Master Quality Manager (MQM)-AAPM
2649 Fahmi Atmayuda Certified Accredited Project Manager (CAPM)-AAPM
2650 Ari Wibowo Wicaksono Certified Accredited Project Manager (CAPM)- AAPM
2651 Akhmad Susilo Certified Accredited Project Manager (CAPM)- AAPM
2652 Muhamad Muhaimin Certified Accredited Project Manager (CAPM)- AAPM
2653 Fariddzul Adzhar Certified Digital Marketing Professional (CDMP)-AAPM
2654 D. Iwan Riswandi Certified International Information System Auditor (CIISA)-AAFM
2655 D. Iwan Riswandi Accredited Financial Analyst (AFA)-AAFM
2656 D. Iwan Riswandi Certified E-Commerce Consultant (CEC)-AAPM
2657 D. Iwan Riswandi Certified Risk Management Professional (CRMP)-AAPM
2658 Muhammad Arief Bintoro Dibyoseputro Accredited Financial Analyst (AFA)-AAFM
2659 Leila Mona Certified International Communication Specialist (CICS)-AAPM
2660 Munaji Rahmat Hidayat Certified Marketing Analyst (CMA)-AAPM
2661 Hannie Certified E-Commerce Consultant (CEC)-AAPM
2662 Surya Sari Faradiba Certified E-Commerce Consultant (CEC)-AAPM
2663 Harmayani Certified E-Commerce Consultant (CEC)-AAPM
2664 Adrio Kusmareza Adim Certified E-Commerce Consultant (CEC)-AAPM
2665 Achmad Zuchriadi Certified E-Commerce Consultant (CEC)-AAPM
2666 Andree Emmanuel Widjaja Certified E-Commerce Consultant (CEC)-AAPM
2667 Muhammad Dominique Mendoza Certified E-Commerce Consultant (CEC)-AAPM
2668 Elisawati Certified E-Commerce Consultant (CEC)-AAPM
2669 Ade Dwi Putra Certified E-Commerce Consultant (CEC)-AAPM
2670 Ares Albirru Amsal Certified E-Commerce Consultant (CEC)-AAPM
2671 Ahmad Muhazir Certified E-Commerce Consultant (CEC)-AAPM
2672 Fahmi Yusuf Certified E-Commerce Consultant (CEC)-AAPM
2673 Ryan Ari Setyawan Certified E-Commerce Consultant (CEC)-AAPM
2674 Yunita Sartika Sari Certified E-Commerce Consultant (CEC)-AAPM
2675 Defia Ifsantin Maula Certified E-Commerce Consultant (CEC)-AAPM
2676 Andika Yoga Pradana Master Project Manager (MPM)-AAPM
2677 Docki Saraswati Certified International Operation Management Professional (CIOMP)-AAPM
2678 Iveline Anne Marie Certified International Operation Management Professional (CIOMP)-AAPM
2679 Sriyanto Certified International Operation Management Professional (CIOMP)-AAPM
2680 Andi Wiryawan Certified International Information System Security Professional (CIISSP)-AAPM
2681 Kurniawan Dwi Arinanto Certified IoT Professional (CITP)-AAPM
2682 Rikky Kurniawan Certified IoT Professional (CITP)-AAPM
2683 Bambang Abraham Hardiyanto Certified IoT Professional (CITP)-AAPM
2684 Mudzakkir Certified IoT Professional (CITP)-AAPM
2685 Moh. Mirza Kurniawan Certified International Project Manager (CIPM)-AAPM
2686 Titian Mulyawati Certified International OSHA Professional (CIOP)-AAPM
2687 Adam Ikhya' Alfarokhi Certified International OSHA Professional (CIOP)-AAPM
2688 Mochamad Noor Chamsyah Certified International OSHA Professional (CIOP)-AAPM
2689 Muhammad Faizal Certified International OSHA Professional (CIOP)-AAPM
2690 Ihsan Aulia Pamayo Certified International OSHA Professional (CIOP)-AAPM
2691 Riz Anindya Dewastuti Certified International OSHA Professional (CIOP)-AAPM
2692 Warto Certified International OSHA Professional (CIOP)-AAPM
2693 Muhammad Husen Habibi Certified International OSHA Professional (CIOP)-AAPM
2694 Akhmad Labiib Certified International OSHA Professional (CIOP)-AAPM
2695 Fendi Ilham Firmansyah Certified International OSHA Professional (CIOP)-AAPM
2696 Fajar Marandhika Certified International OSHA Professional (CIOP)-AAPM
2697 Bagaskara Kusuma Certified International OSHA Professional (CIOP)-AAPM
2698 Abdul Rachman Certified International OSHA Professional (CIOP)-AAPM
2699 Rahmawati Certified International OSHA Professional (CIOP)-AAPM
2700 Nia Dwi Handayani Certified International OSHA Professional (CIOP)-AAPM
2701 Arya Wirabhuana Certified International OSHA Professional (CIOP)-AAPM
2702 Zamakhsari Certified International OSHA Professional (CIOP)-AAPM
2703 Syaeful Arief Certified International OSHA Professional (CIOP)-AAPM
2704 Radiman Certified International Project Manager (CIPM)-AAPM
2705 Dien F. Awaliyah Certified International Project Manager (CIPM)-AAPM
2706 Nia Maharani Raharja Certified International Project Manager (CIPM)-AAPM
2707 Kartiansmara Lilih P. Certified International Project Manager (CIPM)-AAPM
2708 Dwi Otik Kurniawati Certified International Project Manager (CIPM)-AAPM
2709 Hindun Khairotun Nadlifah Certified International Project Manager (CIPM)-AAPM
2710 Eulis Yulianti Faridah Certified International Project Manager (CIPM)-AAPM
2711 Muhammad Zamhari Certified International Project Manager (CIPM)-AAPM
2712 Suharyati Certified International Project Manager (CIPM)-AAPM
2713 Gunawan Budi Susilo Certified International Project Manager (CIPM)-AAPM
2714 Aulia Faqih Rifa'i Certified International Project Manager (CIPM)-AAPM
2715 Zaim Shiddiq Certified International Project Manager (CIPM)-AAPM
2716 H. Didik Junaidi Certified International Project Manager (CIPM)-AAPM
2717 Ahmad Faizin Certified International Project Manager (CIPM)-AAPM
2718 Lusiana Certified International Project Manager (CIPM)-AAPM
2719 Izra Berakon, Certified International Project Manager (CIPM)-AAPM
2720 Rahmat Fahrudin Certified International Project Manager (CIPM)-AAPM
2721 Nurul Hidayatinnisa Certified Marketing Analyst (CMA)-AAPM
2722 Asminah Rachmi Certified Marketing Analyst (CMA)-AAPM
2723 Fauziah Certified Marketing Analyst (CMA)-AAPM
2724 Ayu Febriyanti P. Certified Marketing Analyst (CMA)-AAPM
2725 Abdul Waris Certified Marketing Analyst (CMA)-AAPM
2726 Fullchis Nurtjahjani Certified Marketing Analyst (CMA)-AAPM
2727 Tri Yulistyawati Evelina Certified Marketing Analyst (CMA)-AAPM
2728 Ridwan Daud Mahande Certified International Information System Auditor (CIISA)-AAFM
2729 Pradita Eko Prasetyo Utomo Certified International Information System Auditor (CIISA)-AAFM
2730 Rismayani Certified International Information System Auditor (CIISA)-AAFM
2731 Lasmedi Afuan Certified International Information System Auditor (CIISA)-AAFM
2732 Yumarlin MZ Certified International Information System Auditor (CIISA)-AAFM
2733 Sri Sulistyowati Certified International Information System Auditor (CIISA)-AAFM
2734 A Sjamsjiar Rachman Certified International Information System Auditor (CIISA)-AAFM
2735 Ani Yoraeni Certified International Information System Auditor (CIISA)-AAFM
2736 Anie Rose Irawati Certified International Information System Auditor (CIISA)-AAFM
2700 Nurul Chairany Certified International Information System Auditor (CIISA)-AAFM
2737 Nur Fajri Azhar Certified International Information System Auditor (CIISA)-AAFM
2738 Aunur Rofiq Mulyarto Certified International Information System Auditor (CIISA)-AAFM
2739 Vivie Deyby Kumenap Certified International Information System Auditor (CIISA)-AAFM
2740 Wahyudin Hasyim Certified International Information System Auditor (CIISA)-AAFM
2741 Kamil Erwansyah Certified International Information System Auditor (CIISA)-AAFM
2742 Fita Indah Maulani Certified International Communication Specialist (CICS)-AAPM
2743 Nurprapti Wahyu Widyastuti Certified International Communication Specialist (CICS)-AAPM
2744 Nina Yuliana Certified International Communication Specialist (CICS)-AAPM
2745 Priharsa Nugraha Certified International Communication Specialist (CICS)-AAPM
2746 Teguh Susilo Certified International Communication Specialist (CICS)-AAPM
2747 Raditya Imam Shafar Certified International Information System Auditor (CIISA)-AAFM
2748 Puspitasari Puspitasari Certified International Information System Auditor (CIISA)-AAFM
2749 Moch Hadiq Afianto Certified International Information System Auditor (CIISA)-AAFM
2750 Jumiatul Ikhlas Certified International Project Manager (CIPM)-AAPM
2751 Laurentiu Gurita Certified International Project Manager (CIPM)-AAPM
2752 M Fadli Certified International Project Manager (CIPM)-AAPM
2753 Hengki Certified International Project Manager (CIPM)-AAPM
2754 Allan Wijaya Amri Certified International Project Manager (CIPM)-AAPM
2755 Rendra Oki Saputra Certified International Project Manager (CIPM)-AAPM
2756 Taufik Roman Certified International Project Manager (CIPM)-AAPM
2757 Oka Hertaber Priyadi Certified International Project Manager (CIPM)-AAPM
2758 Rinal Certified International Project Manager (CIPM)-AAPM
2759 Rizki Sastra Certified International Project Manager (CIPM)-AAPM
2760 Afridayani Certified Marketing Analyst (CMA)-AAPM
2761 Ali Mohammad Certified Marketing Analyst (CMA)-AAPM
2700 Any Urwatul Wusko Certified Marketing Analyst (CMA)-AAPM
2762 Aris Tri Haryanto Certified Marketing Analyst (CMA)-AAPM
2763 Arna Purtina Certified Marketing Analyst (CMA)-AAPM
2764 Asgami Putri Certified Marketing Analyst (CMA)-AAPM
2765 Dede Jajang Suyaman Certified Marketing Analyst (CMA)-AAPM
2766 Dede Suleman Certified Marketing Analyst (CMA)-AAPM
2767 Dian Novita Certified Marketing Analyst (CMA)-AAPM
2768 Ditha Riyansa Certified Marketing Analyst (CMA)-AAPM
2769 Emilia Septiani Certified Marketing Analyst (CMA)-AAPM
2770 Febrina Mahliza Certified Marketing Analyst (CMA)-AAPM
2771 Gunawan Certified Marketing Analyst (CMA)-AAPM
2772 Ilsya Hayadi Certified Marketing Analyst (CMA)-AAPM
2773 Ira Ningrum Resmawa Certified Marketing Analyst (CMA)-AAPM
2774 Januar Wibowo Certified Marketing Analyst (CMA)-AAPM
2775 Kristiana Widiawati Certified Marketing Analyst (CMA)-AAPM
2776 Melan Susanty Purnamasari Certified Marketing Analyst (CMA)-AAPM
2777 Mohamad Najmudin Certified Marketing Analyst (CMA)-AAPM
2778 Muhammad Azizurrohman Certified Marketing Analyst (CMA)-AAPM
2779 Muhammad Khaliqi Certified Marketing Analyst (CMA)-AAPM
2780 Nandang Bekti Karnowati Certified Marketing Analyst (CMA)-AAPM
2781 Rahmat Alfikri Certified Marketing Analyst (CMA)-AAPM
2782 Reza Rahmadi Hasibuan Certified Marketing Analyst (CMA)-AAPM
2783 Robi Awaluddin Certified Marketing Analyst (CMA)-AAPM
2784 Sudiyanti Certified Marketing Analyst (CMA)-AAPM
2785 Yanti Mayasari Ginting Certified Marketing Analyst (CMA)-AAPM
2786 Yulia Nur Hasanah Certified Marketing Analyst (CMA)-AAPM
2787 Yupiter Mendrofa Certified Marketing Analyst (CMA)-AAPM
2788 Yusnaidi Certified Marketing Analyst (CMA)-AAPM
2789 Pratomo Edhi Tjahjono Certified Business Analytic Professional (CBAP)-AAPM
2790 Ari Nugroho Certified International Operation Management Professional (CIOMP)-AAPM
2791 Syofyan K Certified International Operation Management Professional (CIOMP)-AAPM
2792 Syukri Alinti Certified International Operation Management Professional (CIOMP)-AAPM
2793 Muhamad Taufik Certified International Operation Management Professional (CIOMP)-AAPM
2794 Tri Angga Mardyanova Certified International Project Manager (CIPM)-AAPM
2795 Irwan Sembiring Certified International Hacking Forensic Investigator (CIHFI)-AAFM
2796 Astrid Noviana Paradhita Certified Microsoft Project Office Professional CMPP-AAPM
2797 Wong Ka Hing Andrew Master Business Analyst (MBA)-AAFM
2798 Abdul Salam Accredited Financial Analyst (AFA)-AAFM
2799 Amsal Irmalis Accredited Financial Analyst (AFA)-AAFM
2800 Apriani Simatupang Accredited Financial Analyst (AFA)-AAFM
2801 Dandi Bahtiar Accredited Financial Analyst (AFA)-AAFM
2802 Dewi Sartika Accredited Financial Analyst (AFA)-AAFM
2803 Jurica Lucyanda Accredited Financial Analyst (AFA)-AAFM
2804 Karen Alfa Pontoan Accredited Financial Analyst (AFA)-AAFM
2805 Veronica Titi Purwantini Accredited Financial Analyst (AFA)-AAFM
2806 Erna Listyaningsih Accredited Financial Analyst (AFA)-AAFM
2807 Esi Fitriani Komara Accredited Financial Analyst (AFA)-AAFM
2808 Eska Prima Monique Damarsiwi Accredited Financial Analyst (AFA)-AAFM
2809 Ibnu Muttaqin Accredited Financial Analyst (AFA)-AAFM
2810 Indra Mulia Pratama Accredited Financial Analyst (AFA)-AAFM
2811 Intan Diane Binangkit Accredited Financial Analyst (AFA)-AAFM
2812 Tresno Sumbodo Accredited Financial Analyst (AFA)-AAFM
2813 M. Rasyidin Accredited Financial Analyst (AFA)-AAFM
2814 Micrets Agustina Silaya Accredited Financial Analyst (AFA)-AAFM
2815 Puji Muniarty Accredited Financial Analyst (AFA)-AAFM
2816 Rizalnur Firdaus Accredited Financial Analyst (AFA)-AAFM
2817 Shafiera Lazuarni Accredited Financial Analyst (AFA)-AAFM
2818 Rahmat Saleh Accredited Financial Analyst (AFA)-AAFM
2819 Uding Sastrawan Accredited Financial Analyst (AFA)-AAFM
2820 Muhamad Azhar Certified Business Analytic Professional (CBAP)-AAPM
2821 Prasetyono Hendriarto Certified Business Analytic Professional (CBAP)-AAPM
2822 Ahmad Bernadi Certified International Project Manager (CIPM)-AAPM 2823 Bambang Sulistyo Diyono Putro Master Quality Manager (MQM)-AAPM
2824 Dede Ermawan Master Quality Manager (MQM)-AAPM
2825 Dedy Supriadi Master Quality Manager (MQM)-AAPM
2826 Firman Gunawan Master Quality Manager (MQM)-AAPM
2827 Itsna Lathifah Lasmaretty Master Quality Manager (MQM)-AAPM
2828 Khamaludin Master Quality Manager (MQM)-AAPM
2829 Nofrizal Certified International Project Manager (CIPM)-AAPM
2830 Luki Puspitasi Certified International Information System Auditor (CIISA)-AAFM
2831 Moch Hadiq Afianto Certified International Information System Auditor (CIISA)-AAFM
2832 Sudarso Kaderi Wiryono Certified Risk Management Professional (CRMP)-AAPM
2833 Taufik Faturohman Certified Risk Management Professional (CRMP)-AAPM
2834 Oktofa Yudha Sudrajad Certified Risk Management Professional (CRMP)-AAPM
2835 Kurnia Fajar Afgani Certified Risk Management Professional (CRMP)-AAPM
2836 Angkoso Suryocahyono Certified Risk Management Professional (CRMP)-AAPM
2837 Siprianus G.Tefa Certified Risk Management Professional (CRMP)-AAPM
2838 Andrianto Nugroho Certified International Project Manager (CIPM)-AAPM
2839 Jauhar Faradis Certified Marketing Analyst (CMA)-AAPM
2840 Farid Hidayat Certified Marketing Analyst (CMA)-AAPM
2841 Alex Fahrur Riza Certified Marketing Analyst (CMA)-AAPM
2842 Defi Insani Saibil Certified Marketing Analyst (CMA)-AAPM
2843 Berliana Napitu Certified Marketing Analyst (CMA)-AAPM
2844 Herning Indriastuti Certified Marketing Analyst (CMA)-AAPM
2845 Asnawati Certified Marketing Analyst (CMA)-AAPM
2846 Saida Zainurossalamia ZA Certified Marketing Analyst (CMA)-AAPM
2847 Rahmawati Certified Marketing Analyst (CMA)-AAPM
2848 Heni Rahayu Rahmawati Certified Marketing Analyst (CMA)-AAPM
2849 Leis Suzanawaty Certified Marketing Analyst (CMA)-AAPM
2850 Agus Rahman Alamsyah Certified International Information System Auditor (CIISA)-AAFM
2851 Syafril Putra Certified Strategic Business Analyst (CSBA)-AAFM
2852 Dewi Kurniaty Certified Strategic Business Analyst (CSBA)-AAFM
2853 Irfan Nurfalah Certified Strategic Business Analyst (CSBA)-AAFM
2854 Cynitalia Benyamin Certified Strategic Business Analyst (CSBA)-AAFM
2855 Suheriyatmono Certified Risk Management Professional (CRMP)-AAPM
2856 Hengky Sumisto Certified Risk Management Professional (CRMP)-AAPM
2857 Hasto Gesang Wicaksono Certified International Information System Security Professional (CIISSP)-AAPM
2858 Sutriyono Certified International Information System Security Professional (CIISSP)-AAPM
2859 Andriansyah Certified Human Resource Analyst (CHRA)-AAPM
2860 Dadang Hermawan Master Project Manager (MPM)-AAPM
2861 Arif Nurakhman Master Project Manager (MPM)-AAPM
2862 Ratih Hurriyati Certified Strategic Business Analyst (CSBA)-AAFM
2863 Syamsul Hadi Senen Certified Strategic Business Analyst (CSBA)-AAFM
2864 Hari Mulyadi Certified Strategic Business Analyst (CSBA)-AAFM
2865 B. Lena Nuryanti S. Certified Strategic Business Analyst (CSBA)-AAFM
2866 Eded Tarmedi Certified Strategic Business Analyst (CSBA)-AAFM
2867 Ahim Surachim Certified Strategic Business Analyst (CSBA)-AAFM
2868 Rd. Dian Herdiana Utama Certified Strategic Business Analyst (CSBA)-AAFM
2869 Bambang Widjajanta Certified Strategic Business Analyst (CSBA)-AAFM
2870 Girang Razati Certified Strategic Business Analyst (CSBA)-AAFM
2871 Ridwan Purnama Certified Strategic Business Analyst (CSBA)-AAFM
2872 Lili Adi Wibowo Certified Strategic Business Analyst (CSBA)-AAFM
2873 Puspo Dewi Dirgantari Certified Strategic Business Analyst (CSBA)-AAFM
2874 Lisnawati Certified Strategic Business Analyst (CSBA)-AAFM
2875 Masharyono Certified Strategic Business Analyst (CSBA)-AAFM
2876 Sulastri Certified Strategic Business Analyst (CSBA)-AAFM
2877 Asep Ridwan Lubis Certified Strategic Business Analyst (CSBA)-AAFM
2878 Dita Amanah Certified Strategic Business Analyst (CSBA)-AAFM
2879 Nono Supriatna Certified International Information System Auditor (CIISA)-AAFM
2880 Agus Widarsono Certified International Information System Auditor (CIISA)-AAFM
2881 R. Nelly Nur Apandi Certified International Information System Auditor (CIISA)-AAFM
2882 Hanifa Zulhaimi Certified International Information System Auditor (CIISA)-AAFM
2883 Arvian Triantoro Certified International Information System Auditor (CIISA)-AAFM
2884 M. Ikbal Abdullah Certified International Information System Auditor (CIISA)-AAFM
2885 Fikry Karim Certified International Information System Auditor (CIISA)-AAFM
2886 Muhammad Din Certified in Financial Risk Management (CFRM)-AAFM
2887 Andi Chairil Furqan Certified International Information System Auditor (CIISA)-AAFM
2888 Fadli Moh. Saleh Certified International Information System Auditor (CIISA)-AAFM
2889 Femilia Zahra Certified International Information System Auditor (CIISA)-AAFM
2890 Mohammad Iqbal Bakry Certified International Information System Auditor (CIISA)-AAFM
2891 Supriadi Laupe Certified International Information System Auditor (CIISA)-AAFM
2892 Abdul Pattawe Certified International Information System Auditor (CIISA)-AAFM
2893 Abdul Kahar Certified International Information System Auditor (CIISA)-AAFM
2894 Nina Yusnita Yamin Certified International Information System Auditor (CIISA)-AAFM
2895 Rahma Masdar Certified International Information System Auditor (CIISA)-AAFM
2896 Muhammad Iqbal Certified International Information System Auditor (CIISA)-AAFM
2897 Mustamin Certified International Information System Auditor (CIISA)-AAFM
2898 Lucyani Meldawati Certified International Information System Auditor (CIISA)-AAFM
2899 Betty Certified International Information System Auditor (CIISA)-AAFM
2900 Latifah Sukmawati Yuniar Certified International Information System Auditor (CIISA)-AAFM
2901 Muh. Natsir Certified in Financial Risk Management (CFRM)-AAFM
2902 Chalarce Totanan Certified in Financial Risk Management (CFRM)-AAFM
2903 Muliati Certified in Financial Risk Management (CFRM)-AAFM
2904 Jurana Certified in Financial Risk Management (CFRM)-AAFM
2905 Rahayu Indriasari Certified in Financial Risk Management (CFRM)-AAFM
2906 Ni Made Suwitri Parwati Certified in Financial Risk Management (CFRM)-AAFM
2907 Masruddin Certified in Financial Risk Management (CFRM)-AAFM
2908 Andi Ainil Mufidah Tanra Certified in Financial Risk Management (CFRM)-AAFM
2909 Nadhira Afdalia Certified in Financial Risk Management (CFRM)-AAFM
2910 Munawarah Certified in Financial Risk Management (CFRM)-AAFM
2911 Suryana Certified Strategic Business Analyst (CSBA)-AAFM
2912 Vanessa Gaffar Certified Strategic Business Analyst (CSBA)-AAFM
2913 Maya Sari Certified Strategic Business Analyst (CSBA)-AAFM
2914 Rofi Rofaida Certified Strategic Business Analyst (CSBA)-AAFM
2915 Chairul Furqon Certified Strategic Business Analyst (CSBA)-AAFM
2916 Ayu Krishna Yuliawati Certified Strategic Business Analyst (CSBA)-AAFM
2917 Heny Hendrayati Certified Strategic Business Analyst (CSBA)-AAFM
2918 Mokh Adib Sultan Certified Strategic Business Analyst (CSBA)-AAFM
2919 Eka Surachman Certified Strategic Business Analyst (CSBA)-AAFM
2920 Askolani Certified Strategic Business Analyst (CSBA)-AAFM
2921 Budhi Pamungkas Gautama Certified Strategic Business Analyst (CSBA)-AAFM
2922 Netti Siska Nurhayati Certified Strategic Business Analyst (CSBA)-AAFM
2923 Annisa Ciptagustia Certified Strategic Business Analyst (CSBA)-AAFM
2924 Tia Yuliawati Certified Strategic Business Analyst (CSBA)-AAFM
2925 Yoga Perdana Certified Strategic Business Analyst (CSBA)-AAFM
2926 Afifudin Certified Digital Marketing Professional (CDMP)-AAPM
2927 Arya Satriananta Certified Digital Marketing Professional (CDMP)-AAPM
2928 Bernaully Cinditha S Certified Digital Marketing Professional (CDMP)-AAPM
2929 Dyah Rachmawati Rasyida Certified Digital Marketing Professional (CDMP)-AAPM
2930 Ellin Devihana P Certified Digital Marketing Professional (CDMP)-AAPM
2931 Erick Rahman Certified Digital Marketing Professional (CDMP)-AAPM
2932 Febtriany Certified Digital Marketing Professional (CDMP)-AAPM
2933 Fressilya Caroline T Certified Digital Marketing Professional (CDMP)-AAPM
2934 Rizki Ramadhan Certified Digital Marketing Professional (CDMP)-AAPM
2935 Widi Andika Hidayat Certified Digital Marketing Professional (CDMP)-AAPM
2936 Renny Friska Chartered Fraud Investigator (ChFI)-GAFM
2937 Rizal Nurjaman Chartered Fraud Investigator (ChFI)-GAFM
2938 Maryam Khoirotunnisa Chartered Fraud Investigator (ChFI)-GAFM
2939 Hanifa Zulhaimi Chartered Fraud Investigator (ChFI)-GAFM
2940 Irsyad F. Prasetia Chartered Fraud Investigator (ChFI)-GAFM
2941 Taufik Ramadan Chartered Fraud Investigator (ChFI)-GAFM
2942 Heni Mulyani Chartered Fraud Investigator (ChFI)-GAFM
2943 Syamsul Hadi Senen Chartered Fraud Investigator (ChFI)-GAFM
2944 Yogie Rahmanda Putra Chartered Fraud Investigator (ChFI)-GAFM
2945 Rozmita Dewi Yuniarti Rozali Chartered Fraud Investigator (ChFI)-GAFM
2946 Indah Fitriani Chartered Fraud Investigator (ChFI)-GAFM
2947 Mimin Widaningsih Chartered Fraud Investigator (ChFI)-GAFM
2948 Prayudha Hendro Prajoko Certified International Project Manager (CIPM)-AAPM
2949 Ari Wibowo Certified Human Resource Professional (CHRP)-AAPM
2950 Muhammad Din Certified in Financial Risk Management (CFRM)-AAFM
2951 Angkoso Suryocahyono Certified Human Resource Professional (CHRP)-AAPM
2952 Windi Yulianti Certified Human Resource Professional (CHRP)-AAPM
2953 R. Herna Gunawan Certified Human Resource Professional (CHRP)-AAPM
2954 Eko Adesufwiant Certified Human Resource Professional (CHRP)-AAP
2955 Rd. Rahmat Kurniawan Certified Human Resource Professional (CHRP)-AAPM
2956 Tantri Sujiwati Certified Human Resource Professional (CHRP)-AAPM
2957 Dian Tresnawati Certified Human Resource Professional (CHRP)-AAPM
2958 Arif Firman Susanto Certified Risk Management Professional (CRMP)-AAPM
2959 Nesan Sujana Certified Risk Management Professional (CRMP)-AAPM
2960 H. Muh. Syarif Certified Risk Management Professional (CRMP)-AAPM
2961 Deni Setya Bagus Yuherawan Certified Risk Management Professional (CRMP)-AAPM
2962 Abdul Azis Jakfar Certified Risk Management Professional (CRMP)-AAPM
2963 Agung Ali Fahmi Certified Risk Management Professional (CRMP)-AAPM
2964 Trimulyani Budianingsih Certified Risk Management Professional (CRMP)-AAPM
2965 Sutanto Certified Risk Management Professional (CRMP)-AAPM
2966 Mariana Puspa Dewi Certified Risk Management Professional (CRMP)-AAPM
2967 Agus Mansur Master Quality Manager (MQM)-AAPM
2968 Sabila Rizki Alifian Accredited Supply Chain Analyst (ASCA)-AAPM
2969 Faiq Faidhal Akmal Accredited Supply Chain Analyst (ASCA)-AAPM
2970 Argha Satria Nugraha Accredited Supply Chain Analyst (ASCA)-AAPM
2971 Muhammad Kevin Alfirdaus Accredited Supply Chain Analyst (ASCA)-AAPM
2972 Rafly Galih Saputra Accredited Supply Chain Analyst (ASCA)-AAPM
2973 Margawinata Suryakusuma Accredited Supply Chain Analyst (ASCA)-AAPM
2974 Adiyan Alam Pradana Accredited Supply Chain Analyst (ASCA)-AAPM
2975 Muh. Albara Husain Haq Bimakasa Accredited Supply Chain Analyst (ASCA)-AAPM
2976 Cynitalia Benyamin Certified Strategic Business Analyst (CSBA)-AAFM
2977 Zainal Arifin Certified Health Care Manager (CHCM)-IBS
2978 Zainal Arifin Certified Alternative Physician Professional (CAPP)-IBS
2979 Kukuh Padli Rohman Master Quality Manager (MQM)-AAPM
2980 Sudikse Inggrid Natalia Master Quality Manager (MQM)-AAPM
2981 Indri Dwi Sapitri Chartered Wealth Manager (CWM)-AAFM
2982 Danuh Nuraga Chartered Wealth Manager (CWM)-AAFM
2983 Linda Boen Certified International Communication Specialist (CICS)-AAPM
2984 Sufi Himawan Master Project Manager (MPM)-AAPM
2985 Antonius Eko Indriarto Master of Quality Control (MQC)-AAPM
2986 Revo Gilang Firdaus M Chartered Wealth Manager (CWM)-AAFM
2987 Aditya Perdana Kusuma Certified International Project Manager (CIPM)-AAPM 2987 Andrianto Nugroho Certified International Project Manager (CIPM)-AAPM
2988 Hary febriansyah Certified International Project Manager (CIPM)-AAPM
2989 Aris Setiyani Certified Supply Chain Manager (CSCM)-AAPM
2990 Alwi Certified Cryptocurrency System Specialist (CCSS)-GAFN
2991 Andi wiryawan Certified Cryptocurrency System Specialist (CCSS)-GAFM
2992 Andi wiryawan Certified Cryptocurrency Auditor (CCA)-GAFM
2993 Reza Ronaldo Chartered Certified Insurance Professional (CCIP)-GAFM
2994 Yul Maulini Management Consultant Professional (MCP)-GAFM
2995 Joko Supono Certified Strategic Business Analyst (CSBA)-AAFM
2996 Puji Rahayu Certified International Operation Management (CIOMP)-AAPM
2997 Winoto Agniawan Senoadji Certified in Information Technology Service Management Based on ITIL V4 (CITSM)-AAPM
2998 Winoto Agniawan Senoadji Master Project Manager (MPM)-AAPM
2999 Winoto Agniawan Senoadji Certified Human Resource Analyst (CHRA)-AAPM
3000 Winoto Agniawan Senoadji Certified International Scrum Product Owner (CISPO)-AAPM
3001 Winoto Agniawan Senoadji Accredited Agile Project Manager (AAPM)-AAPM
3002 Tauhidi Management Consultant Professional (MCP)-GAFM
3003 Ari Nugroho Certified International Operation Management Professional (CIOMP)-AAPM
3004 Hariyani Certified International Operation Management Professional (CIOMP)-AAPM
3005 Mariatin Sri Widowati Certified Risk Management Professional (CRMP)-AAPM
3006 Ayu Astrid Suci Purnamasari Certified Risk Management Professional (CRMP)-AAPM
3007 Mochamad Gilang Fajar Ramadhan Certified Risk Management Professional (CRMP)-AAPM
3008 Budi Jaya Sugiarto Certified Risk Management Professional (CRMP)-AAPM
3009 Prasetyo Nugroho Certified Risk Management Professional (CRMP)-AAPM
3010 A. Yahya Surya Winata Certified Risk Management Professional (CRMP)-AAPM
3011 Widiawan Ari Sarwanto Certified Risk Management Professional (CRMP)-AAPM
3012 Lalu Dodot Patria Ary S. Certified Risk Management Professional (CRMP)-AAPM
3013 Frans Ber Surolemba Pontoh Certified Risk Management Professional (CRMP)-AAPM
3014 Muhammad Jasrif Teguh Certified Risk Management Professional (CRMP)-AAPM
3015 Muhammad Ismail Certified Marketing Analyst (CMA)-AAPM
3016 Suryadi Certified Marketing Analyst (CMA)-AAPM
3017 Kurnia Endah Riana Certified Marketing Analyst (CMA)-AAPM
3018 Dian Nurdiana Certified Marketing Analyst (CMA)-AAPM
3019 Muhammad Jasrif Teguh Certified Marketing Analyst (CMA)-AAPM
3020 Paulus Johan Lolo Certified Marketing Analyst (CMA)-AAPM
3021 R. Alamsyah Sutantio Certified Marketing Analyst (CMA)-AAPM
3022 Maya Maria Certified Marketing Analyst (CMA)-AAPM
3023 Yuli Tirtariandi El Anshori Certified Marketing Analyst (CMA)-AAPM
3024 Gunawan Wiradharma Certified Marketing Analyst (CMA)-AAPM
3025 Putu Saroyini Piartrini Certified Marketing Analyst (CMA)-AAPM
3026 Made Ayu Dyah Indriana Sari Certified Marketing Analyst (CMA)-AAPM
3027 Bernadeth Tongli Certified Internasional Project Manager (CIPM)-AAPM
3028 Galih Ristiantoro Widagdo Certified Business Analytic Professional (CBAP)-AAPM
3029 Rabani Puja Ismanu Certified Business Analytic Professional (CBAP)-AAPM
3030 Prasetyono Hendriarto Master Project Manager (MPM)-AAPM
3031 Bambang Aryo Nugroho Certified International Project Manager (CIPM)-AAPM
3032 H. Suheriyatmo Accredited Financial Analyst (AFA)-AAFM
3033 Hengky Sumisto Halim Certified International Corporate Strategy Specialist (CICSS)-AAFM
3034 Galih Trisno Saputra Accredited Supply Chain Professional (ASCP)-AAPM
3035 Linda Certified Supply Chain Manager (CSCM)-AAPM
3034 Aan Hasanah Certified in Science Education Expert (CSEE)-IBS
3035 Rahayu Kariadinata Applied Mathematics Learning Expert (AMLE)-IBS
3036 Wahyudin Darmalaksana Certified in Humanistic Studies (CHS)-IBS
3037 Ateng Ruhendi Certified Linguistics Expert (CLE)-IBS
3038 Ayi Yunus Rusyana Certified Legal Analytics (CLA)-IBS
3039 Utang Rosidin Certified Legal Analytics (CLA)-IBS
3040 Chaerul Shaleh Certified Legal Analytics (CLA)-IBS
3041 Jaenudin Certified International Economic Law Professional (CIELP)-IBS
3042 Agus Abdul Rahman Certified International Psychology Professional (CIPP)-IBS
3043 Tahrir Certified International Psychology Professional (CIPP)-IBS
3044 Ahmad Sarbini Master Management Consultant (MMC)-AAFM
3045 Enjang AS Certified International Communication Specialist (CICS)-AAPM
3046 Dadan Suherdiana Certified Leadership Consultant (CLC)-AAPM
3047 Dedi Supriadi Certified Philology Expert (CPE)-IBS
3048 Ading Kusdiana Certified International History and Culture Specialist (CIHCS)-IBS
3049 Muhammad Ali Ramdhani Information Technology Research Expert (ITRE)-IBS
3050 Yudha Satya Perkasa Certified Computational Science Expert (CCSE)-IBS
3051 Elis Ratna Wulan Applied Mathematics Learning Expert (AMLE)-IBS
3052 Aep Saepulah Certified Educational Anthropology Expert (CEAE)-IBS
3053 Mada Sanjaya WS Artificial Intelligence and Robotics Expert (AIRE)-IBS
3054 Ida Kinasih Certified Entomology Expert (CEC)-IBS
3055 Asep Supriadin Certified Natural Products Specialist (CNPS)-IBS
3056 Teo Candra Gunawan Certified Cryptocurrency System Specialist (CCSS)-GAFM
3057 Moh. Mukhsin Certified Supply Chain Management (CSCM)-AAPM
3058 Cepy Slamet Certified Management Information System Expert (CMIE)-IBS
3059 Cecep Hidayat Soil Bio Technology Expert (SBTE)-IBS
3060 Nanang Ismail Certified Telematics Expert (CTE)-IBS
3061 Ahmad Ali Nurdin Certified Political Scientist (CPS)-IBS
3062 Muhamad Zuldin Certified International Sociology Expert (CISE)-IBS
3063 Dede Syarif Certified International Sociology Expert (CISE)-IBS
3064 Endah Ratna Sonya Certified International Sociology Expert (CISE)-IBS
3065 Faizal Pikri Certified in Public Administration and Management (CPAM)-IBS
3066 Ii Sumantri Certified in Public Administration and Management (CPAM)-IBS
3067 Muslim Mufti Certified Political Scientist (CPS)-IBS
3068 Heldi Certified Political Scientist (CPS)-IBS
3069 Abdulah Safe'i Certified International Law Analytics CILA)-IBS
3070 Deni Kamaludin Yusup Certified Islamic Finance Analyst (CIFA)-AAFM
3071 Supiana Certified in Science Education Expert (CSEE) -IBS
3072 Ajid Thohir Certified International History and Culture Specialist CIHCS)-IBS
3073 Ahmad Hasan Ridwan Certified Islamic Finance Analyst (CIFA)-AAFM
3074 Mulyana Certified Religious Moderation Instructor (CRMI)-IBS
3075 Hasan Basri Certified in Science Education Expert (CSEE) -IBS
3076 Oyo Sunaryo Mukhlas Certified Sociology Law Expert (CSLE)-IBS
3077 Bambang Samsul Arifin Certified in Science Education Expert (CSEE) -IBS
3078 Rifki Rosyad Certified Religious Moderation Instructor(CRMI)-IBS
3079 Mohammad Taufiq Rahman Certified International Sociology Expert (CISE)-IBS
3080 Zaenal Mukarom Certified International Communication Specialist (CICS)-AAPM
3081 Imron Rosyidi Certified International Communication Specialist (CICS) -AAPM
3082 Sofian Al Hakim Certified International Economic Law Professional (CIELP)-IBS
3083 Mohamad Sar'an Certified International Economic Law Professional (CIELP)-IBS
3084 Badrudin Certified in Educational Administration and Management (CEAM)-IBS
3085 Wildan Taufiq Certifified Linguistics Expert (CLE)-IBS
3086 Jauharoti Alfin Certified in Science Education Expert (CSEE)-IBS
3087 Lilis Sulastri Certified Human Resource Analyst (CHRA)-AAPM
3088 Deni Miharja Certified in Humanistic Studies (CHS)-IBS
3089 Aep Kusnawan Certified Psychological Counselling Expert (CPCE)-IBS
3090 Akmaliyah Certified Linguistics Expert (CLE)-IBS
3091 Sarbini Certified Educational Psychologist (CEP)-IBS
3092 Husnul Qodim Certified Religion and Cultural Expert (CRCE)-IBS
3093 Reza Ronaldo Certified Risk Management Professional (CRMP)-AAPM
3094 Muhammad Zaky Certified Human Resource Analyst (CHRA)-AAPM
3095 Yul Maulini Certified Marketing Analyst (CMA)-AAPM
3096 Mochammad Mukti Ali Certified Maturity Model Professional (CMMP)-AAPM
3097 Sandy Martsanto Master Project Manager (MPM)-AAPM
3098 David Hermansyah Certified Maturity Model Professional (CMMP)-AAPM
3099 Dadang Darmawan Certified in Humanistic Studies (CHS)-IBS 3100 Ayi Yunus Rusyana Certified Legal Analytics (CLA)-IBS
3101 Utang Rosidin Certified Legal Analytics (CLA)-IBS
3102 Chaerul Shaleh Certified Legal Analytics (CLA)-IBS
3103 Jaenudin Certified International Economic Law Professional (CIELP)-IBS
3104 Agus Abdul Rahman Certified International Psychology Professional (CIPP)-IBS
3105 Tahrir Certified International Psychology Professional (CIPP)-IBS
3106 Ahmad Sarbini Master Management Consultant (MMC)-AAFM
3107 Enjang AS Certified International Communication Specialist (CICS)-AAPM
3108 Dadan Suherdiana Certified Leadership Consultant (CLC)-AAPM
3109 Dedi Supriadi Certified Philology Expert (CPE)-IBS
3110 Ading Kusdiana Certified International History and Culture Specialist (CIHCS)-IBS
3111 Muhammad Ali Ramdhani Information Technology Research Expert (ITRE)-IBS
3112 Yudha Satya Perkasa Certified Computational Science Expert (CCSE)-IBS
3113 Elis Ratna Wulan Applied Mathematics Learning Expert (AMLE)-IBS
3114 Aep Saepulah Certified Educational Anthropology Expert (CEAE)-IBS
3115 Mada Sanjaya WS Artificial Intelligence and Robotics Expert (AIRE)-IBS
3116 Ida Kinasih Certified Entomology Expert (CEC)-IBS
3117 Asep Supriadin Certified Natural Products Specialist (CNPS)-IBS
3118 Cepy Slamet Certified Management Information System Expert (CMIE)-IBS
3119 Cecep Hidayat Soil Bio Technology Expert (SBTE)-IBS
3120 Nanang Ismail Certified Telematics Expert (CTE)-IBS
3121 Ahmad Ali Nurdin Certified Political Scientist (CPS)-IBS
3122 Muhamad Zuldin Certified International Sociology Expert (CISE)-IBS
3123 Dede Syarif Certified International Sociology Expert (CISE)-IBS
3124 Endah Ratna Sonya Certified International Sociology Expert (CISE)-IBS
3125 Faizal Pikri Certified in Public Administration and Management (CPAM)-IBS
3126 Ii Sumantri Certified in Public Administration and Management (CPAM)-IBS
3127 Muslim Mufti Certified Political Scientist (CPS)-IBS
3128 Heldi Certified Political Scientist (CPS)-IBS
3129 Abdulah Safe'i Certified International Law Analytics CILA)-IBS
3130 Deni Kamaludin Yusup Certified Islamic Finance Analyst (CIFA)-AAFM
3131 Supiana Certified in Science Education Expert (CSEE) -IBS
3132 Ajid Thohir Certified International History and Culture Specialist CIHCS)-IBS
3133 Ahmad Hasan Ridwan Certified Islamic Finance Analyst (CIFA)-AAFM
3134 Mulyana Certified Religious Moderation Instructor (CRMI)-IBS
3135 Hasan Basri Certified in Science Education Expert (CSEE) -IBS
3136 Oyo Sunaryo Mukhlas Certified Sociology Law Expert (CSLE)-IBS
3137 Bambang Samsul Arifin Certified in Science Education Expert (CSEE) -IBS
3138 Rifki Rosyad Certified Religious Moderation Instructor(CRMI)-IBS
3139 Mohammad Taufiq Rahman Certified International Sociology Expert (CISE)-IBS
3140 Zaenal Mukarom Certified International Communication Specialist (CICS)-AAPM
3141 Imron Rosyidi Certified International Communication Specialist (CICS) -AAPM
3142 Sofian Al Hakim Certified International Economic Law Professional (CIELP)-IBS
3143 Mohamad Sar'an Certified International Economic Law Professional (CIELP)-IBS
3144 Badrudin Certified in Educational Administration and Management (CEAM)-IBS
3145 Wildan Taufiq Certifified Linguistics Expert (CLE)-IBS
3146 Jauharoti Alfin Certified in Science Education Expert (CSEE)-IBS
3147 Lilis Sulastri Certified Human Resource Analyst (CHRA)-AAPM
3148 Deni Miharja Certified in Humanistic Studies (CHS)-IBS
3149 Aep Kusnawan Certified Psychological Counselling Expert (CPCE)-IBS
3150 Akmaliyah Certified Linguistics Expert (CLE)-IBS
3151 Sarbini Certified Educational Psychologist (CEP)-IBS
3152 Husnul Qodim Certified Religion and Cultural Expert (CRCE)-IBS
3153 Reza Ronaldo Certified Risk Management Professional (CRMP)-AAPM
3154 Muhammad Zaky Certified Human Resource Analyst (CHRA)-AAPM
3155 Yul Maulini Certified Marketing Analyst (CMA)-AAPM
3156 Mochammad Mukti Ali Certified Maturity Model Professional (CMMP)-AAPM
3157 Sandy Martsanto Master Project Manager (MPM)-AAPM
3158 David Hermansyah Certified Maturity Model Professional (CMMP)-AAPM
3159 Indah Nursanti Certified International Project Manager (CIPM)-AAPM
3160 Prima Mulyasari Agustini Certified International Communication Specialist (CICS)-AAPM
3161 Indah Nursanti Certified International Communication Specialist (CICS)-AAPM
3162 Isti Budhi Setiawati Certified International Communication Specialist (CICS)-AAPM
3163 Eric Hermawan Certified Supply Chain Manager (CSCM)-AAPM
3164 Eric Hermawan Certified Professional Logistics Expert (CPLE)-AAPM
3165 Jeny Salvina Certified Business Analytic Professional (CBAP)-AAPM
3166 Aji Maulana Master Project Manager (MPM)-AAPM
3167 Fitriaman Certified International Information System Auditor
3168 Umi Laili Yuhana Certified International Information System Auditor (CIISA)-AAFM
3169 Kurniawan Patma Certified International Information System Auditor (CIISA)-AAFM
3170 Eriadi Certified International Information System Auditor (CIISA)-AAFM
3171 Irani Hoeronis Certified International Information System Auditor (CIISA)-AAFM
3172 La Ode Anto Certified International Information System Auditor (CIISA)-AAFM
3173 Fifi Yusmita Certified International Information System Auditor (CIISA)-AAFM
3174 Muslim A. Djalil Certified International Information System Auditor (CIISA)-AAFM
3175 Ria Mardiana Yusuf Certified Human Resource Professional (CHRP)-AAPM
3176 Egan Asdianto Saksono Certified Human Resource Professional (CHRP)-AAPM
3177 Eko Sapdo Wigoro Certified Human Resource Professional (CHRP)-AAPM
3178 Rahcmad Budi Suharto Certified Human Resource Professional (CHRP)-AAPM
3179 Dio Caisar Darma Certified Human Resource Professional (CHRP)-AAPM
3180 Siti Maghfiroh Certified Human Resource Professional (CHRP)-AAPM
3181 H. Suheriyatmono Accredited Financial Analyst (AFA)-AAFM
3182 Harry Susatyo Certified Business Analytic Professional (CBAP)-AAPM
3183 Cepy Slamet Certified Management Information System Expert (CMISE)-IBS
3184 Oyo Sunaryo Mukhlas Certified Sociology of Law Expert (CSLE)-IBS
3185 Edwin Dhirgantara Certified Leadership Consultant (CLC)-AAPM
3186 Luh Ismayanti Ray Certified Human Resource Analyst (CHRA)-AAPM
3187 Gilar Perdana Putra Certified Earned Value Management Analyst (CEVMA)-AAPM
3188 Gilar Perdana Putra Certified International Change Manager (CICM)-AAPM
3189 Gilar Perdana Putra Certified Business Strategist (CBS)-GAFM
3190 Dedi Rustandi Certified International Purchasing Professional (CIPP)-AAPM
3191 Rio Widarobi Certified International Purchasing Professional (CIPP)-AAPM
3192 Ferdinandus Sampe Master Project Manager (MPM)-AAPM
3193 Sony Hidajat Accredited Supply Chain Professional (ASCP)-AAPM
3194 Ryo Rivaldo Certified Cryptocurrency System Specialist (CCSS)-GAFM
3195 Ronaldo Widodo Certified Cryptocurrency System Specialist (CCSS)-GAFM
3196 David Cerdy Certified Cryptocurrency System Specialist (CCSS)-GAFM
3197 Hermas Kornelius Certified International Project Manager (CIPM)-AAPM
3198 Prasetyo Mimboro Certified International Project Manager (CIPM)-AAPM
3199 R. Reza Mahendra Certified International Project Manager (CIPM)-AAPM
3200 Edo Purwanto Certified International Project Manager (CIPM)-AAPM
3201 Raden Kurdiat Amaldi S Certified International Project Manager (CIPM)-AAPM
3202 Apriyanto Fajri Wahyu Sarmanto Master Quality Manager (MQM)-AAPM
3203 Adrian Nugraha Putera Certified International Project Management (CIPM)-AAPM
3204 Mahmudyan Nuriil Fahmi Certified International Project Management (CIPM)-AAPM
3205 Moh. Ali Afandi Certified International Project Management (CIPM)-AAPM
3206 Rr Annisaa Poernama Sari Certified International Project Management (CIPM)-AAPM
3207 Andika Pratama Certified International Project Management (CIPM)-AAPM
3208 Taufik Rizkiandi Certified Risk Management Professional (CRMP)-AAPM
3209 R Wisnu Prio Pamungkas Certified Business Analytic Professional (CBAP)-AAPM
3210 Merviyandi Septian Kusuma Pradana Certified International Project Management (CIPM)-AAPM
3211 Rabani Puja Ismanu Certified Accredited Project Manager (CAPM)
3212 Agustino Al Hakim Certified Maintenance Reliability Professional (CMRP)-AAPM
3213 Endi Sahrial Certified Maintenance Reliability Professional (CMRP)-AAPM
3214 Fajar Dwi Kusnoaji Certified Maintenance Reliability Professional (CMRP)-AAPM
3215 Faturrakhman Khairan Certified Maintenance Reliability Professional (CMRP)-AAPM
3216 Huda Diwang Ariyoseto Certified Maintenance Reliability Professional (CMRP)-AAPM
3217 Ridwan Rusjayanto Rusli Certified Maintenance Reliability Professional (CMRP)-AAPM
3218 Ridwansyah Certified Maintenance Reliability Professional (CMRP)-AAPM
3219 Rudy Certified Maintenance Reliability Professional (CMRP)-AAPM
3220 Nila Apriani Certified Competency Development and Implementation Professional (CCDIP)-AAPM
3221 Sutriandhi Certified Human Resource Management Auditor (CHRMA)-AAPM
3222 Ngadi Purnomo Certified International OSHA Professional (CIOP)-AAPM
3223 Muhammad Erman Triutomo. Master Project Manager (MPM)-AAPM
3224 Ahmad Ali Nurdin Certified Political Scientist (CPS)-IBS
3225 Amalia Setyani Lestari Certified International Information System Auditor (CIISA)-AAFM
3226 Mardhatillah Certified International Information System Auditor (CIISA)-AAFM
3227 Raisiffah Kunthi Certified International Information System Auditor (CIISA)-AAFM
3228 Diar Eka Hidayatullah Certified International Information System Auditor (CIISA)-AAFM
3229 Riska Jaya Adi Nugraha Certified International OSHA Professional (CIOP)-AAPM
3230 Arief Budiman Certified International Professional Entrepreneur (CIPE)-GAFM
3231 Azizah Fauziyah Certified International Professional Entrepreneur (CIPE)-GAFM
3232 Nizza Nadya Rachmani Certified International Professional Entrepreneur (CIPE)-GAFM
3233 Mira Nurfitriya Certified International Professional Entrepreneur (CIPE)-GAFM
3234 Tika Annisa Lestari Koeswandi Certified International Professional Entrepreneur (CIPE)-GAFM
3235 Ismail Yusuf Certified International Professional Entrepreneur (CIPE)-GAFM
3236 Ellyana Santi Certified Business Law Specialist (CBLS)-IBS
3237 Alifia Cahya Mareta Certified Business Law Specialist (CBLS)-IBS
3238 Dwi Syafina Koestendyah Certified Business Law Specialist (CBLS)-IBS
3239 Muhamad Alfat Fauzie Certified Business Law Specialist (CBLS)-IBS
3240 Wardhani Prihartiwi Certified Business Law Specialist (CBLS)-IBS
3241 Edwin Dirghantara Certified Leadership Consultant (CLC)-AAPM
3242 Mirza Tabrani Certified in Financial Risk Management (CFRM)-AAFM
3243 Reners Certified in Financial Risk Management (CFRM)-AAFM
3244 Teguh Yanto Certified in Financial Risk Management (CFRM)-AAFM
3245 Nofrivul Certified in Financial Risk Management (CFRM)-AAFM
3246 Dito Rozaqi Arazy Certified in Financial Risk Management (CFRM)-AAFM
3247 Mohammad Hafi Certified in Financial Risk Management (CFRM)-AAFM
3248 Aria Mandala Putra Ginting Certified in Financial Risk Management (CFRM)-AAFM
3249 Rudy Budiatmaja Certified in Financial Risk Management (CFRM)-AAFM
3250 Endang Sri Apriani Certified in Financial Risk Management (CFRM)-AAFM
3251 Rustam Effendi Certified in Financial Risk Management (CFRM)-AAFM
3252 Faisal Certified in Financial Risk Management (CFRM)-AAFM
3253 Hasan Al-Banna Certified in Financial Risk Management (CFRM)-AAFM
3254 Ernst Tunggul Pardomuan S Certified Business Analytic Professional (CBAP)-AAPM 3255 Didi Indigus Certified International Purchasing Professional (CIPP)-AAPM
3256 Arief Lestadi Master Management Consultant (MMC)-AAPM
3257 Ahmad Bernadi Master Project Manager (MPM)-AAPM
3258 Merviyandi Septian Kusuma Pradana Master Quality Manager (MQM)-AAPM
3259 Amalia Setyanti Lestari Certified International Information System Auditor (CIISA)-AAFM
3260 Diar Eka Risqi Hidayatullah Certified International Information System Auditor (CIISA)-AAFM
3261 Asep Zulfikar Certified Business Analytic Professional (CBAP)-AAPM
3262 Merah Fajariyanto Certified Supply Chain Manager (CSCM)-AAPM
3263 Baihaqi Widhatama Certified Business Analytic Professional (CBAP)-AAPM
3264 Tommy Satrio Wibowo Certified Business Analytic Professional (CBAP)-AAPM
3265 Dipta Parahita Setia Pramana Certified Business Analytic Professional (CBAP)-AAPM
3266 Yuni Santoso Certified Business Analytic Professional (CBAP)-AAPM
3267 Adi Setyo Tri Handoko Certified Business Analytic Professional (CBAP)-AAPM
3268 Devi Hendriyono Certified Business Analytic Professional (CBAP)-AAPM
3269 Rendy Yuliansyah Certified Business Analytic Professional (CBAP)-AAPM
3270 Andi Ahmad Fauzan Certified Business Analytic Professional (CBAP)-AAPM
3271 Bramantyo Arief Certified Business Analytic Professional (CBAP)-AAPM
3272 Sibran MI Putra Certified Business Analytic Professional (CBAP)-AAPM
3273 Muhammad Erman Triutomo Certified Internasional Project Manager (CIPM)-AAPM
3274 Rey Ramsha Pandita Certified Marketing Analyst (CMA)-AAPM
3275 Siska Ernawati Fatimah Certified Marketing Analyst (CMA)-AAPM
3276 Edward Leo Pratama Certified Marketing Analyst (CMA)-AAPM
3277 Arlena Dii Lisjiyanti Certified Marketing Analyst (CMA)-AAPM
3278 Henny W. Napitupulu Certified Marketing Analyst (CMA)-AAPM
3279 Fajar Adriansyah Certified Marketing Analyst (CMA)-AAPM
3280 Ariean Saputra Certified Marketing Analyst (CMA)-AAPM
3281 Galih Trisno Saputra Certified International Purchasing Professional (CIPP)-AAPM
3282 Winda Clarisa Certified Marketing Analyst (CMA)-AAPM
3283 Munjin Certified Human Resource Professional (CHRP)-AAPM
3284 Zuri Pamuji Certified Human Resource Professional (CHRP)-AAPM
3285 Donny Khoirul Azis Certified Human Resource Professional (CHRP)-AAPM
3286 Mohammad Hafi Certified Human Resource Analyst (CHRA)-AAPM
3287 Muhamad Nugraha Master Compliance Analyst (MCA)-GAFM
3288 Rudy Susanto Certified Supply Chain Manager (CSCM)
3289 Dedy Hartanto Certified International Project Manager (CIPM)-AAPM
3290 Dedy Hartanto Certified Strategic Business Analyst (CSBA)-AAFM
3291 Dedy Hartanto Certified International Marketing Analyst (CIMA)-AAPM
3292 Prasetyo Momboro Certified Asset Management Professional (CAMP)-AAPM
3293 Candra Setia Bakti Certified Asset Management Professional (CAMP)-AAPM
3294 Muhammad Havidz Certified Asset Management Professional (CAMP)-AAPM
3295 Daniel Kus Edilistio Certified Business Analytic Professional (CBAP)-AAPM
3296 Mentari Asharia Indrayani Certified Business Analytic Professional (CBAP)-AAPM
3297 Octavianti Nurwiningtyas Certified Business Analytic Professional (CBAP)-AAPM
3298 Riza Indra Kurniawan Certified Business Analytic Professional (CBAP)-AAPM
3299 Hans Stardian Lumingas Certified Business Analytic Professional (CBAP)-AAPM
3300 Hijrah Saputra Robianto Certified Business Analytic Professional (CBAP)-AAPM
3301 Bramantia Willy Arsandy Certified Business Analytic Professional (CBAP)-AAPM
3302 Ibnu Sustiarsono Certified Business Analytic Professional (CBAP)-AAPM
3303 Asep Zulfikar Certified Supply Chain Manager (CSCM)-AAPM
3304 Handi Risza Accredited Financial Analyst (AFA)-AAFM
3305 Prima Naomi Accredited Financial Analyst (AFA)-AAFM
3306 Vita Briliana Certified Marketing Analyst (CMA)-AAPM
3307 Klemens Wedanaji Prasastyo Certified Marketing Analyst (CMA)-AAPM
3308 Arton Briyan Prasetio Certified Marketing Analyst (CMA)-AAPM
3309 Pande Putu Buda Prasada Certified Marketing Analyst (CMA)-AAPM
3310 Deasy Ariyanti Rahayuningsih Certified Human Resource Analyst (CHRA)-AAPM
3311 Setia Tjahyanti Certified Human Resource Analyst (CHRA)-AAPM
3312 Aldi Bin Syamsul Kamal Certified Human Resource Analyst (CHRA)-AAPM
3313 Eli Jamilah Mihardja Certified International Communication Specialist (CICS)-AAPM
3314 Surseinny Hali Registered Financial Specialist (RFS)-AAFM
3315 Helena Iryanti Marshella Registered Financial Specialist (RFS)-AAFM
3316 Eka wulandari Registered Financial Specialist (RFS)-AAFM
3317 Ni Nyoman Putri Yani Registered Financial Specialist (RFS)-AAFM
3318 Alibasyarah Putra Bhayangkara Registered Financial Specialist (RFS)-AAFM
3319 Dwi Kumalasari Registered Financial Specialist (RFS)-AAFM
3320 Faray Todi Registered Financial Specialist (RFS)-AAFM
3321 I Made Yudha Wijaya Registered Financial Specialist (RFS)-AAFM
3322 Ayu Pratiwi Lubis Registered Financial Specialist (RFS)-AAFM
3323 Nityas Dian Cahyanti Registered Financial Specialist (RFS)-AAFM
3324 Lia Fransisca Registered Financial Specialist (RFS)-AAFM
3325 Hana Patricia Registered Financial Specialist (RFS)-AAFM
3326 Anita Sari Registered Financial Specialist (RFS)-AAFM
3327 Yulyana Anggreyni Registered Financial Specialist (RFS)-AAFM
3328 Zarra Monica Kriswiansyah Registered Financial Specialist (RFS)-AAFM
3329 Ulan Sari Registered Financial Specialist (RFS)-AAFM
3330 Prins Lodewijk Meijer Registered Financial Specialist (RFS)-AAFM
3331 Clarissa Megawati Sidabutar Registered Financial Specialist (RFS)-AAFM
3332 Dumaria Isabella Simanjuntak Registered Financial Specialist (RFS)-AAFM
3332 Arina Pramudita Trisuwito Registered Financial Specialist (RFS)-AAFM
3333 Fabella Izza Nurina Registered Financial Specialist (RFS)-AAFM
3334 Zahira Ariesta Haryanto Registered Financial Specialist (RFS)-AAFM
3335 Marcelia Noorsyahwi Belamapa Registered Financial Specialist (RFS)-AAFM
3336 Melisa Veronica Registered Financial Specialist (RFS)-AAFM
3337 Marsenda Aisya Putri Registered Financial Specialist (RFS)-AAFM
3338 Linawati Yulianti Registered Financial Specialist (RFS)-AAFM
3339 Amalia Nur Milla Certified Marketing Analyst (CMA)-AAPM
3340 Ema Hilma Meilani Certified Marketing Analyst (CMA)-AAPM
3341 Endang Tri Astutiningsih Certified Marketing Analyst (CMA)-AAPM
3342 Ika Sofia Rizqiani Certified Marketing Analyst (CMA)-AAPM
3343 Neneng Kartika Rini Certified Marketing Analyst (CMA)-AAPM
3343 Reny Sukmawani Certified Marketing Analyst (CMA)-AAPM
3344 Ashari Arinto Master Project Manager (MPM)-AAPM
3345 Ernst Tunggul Pardomuan S Certified International Corporate Strategy Specialist (CICSS)-AAFM
3346 Dedy Hartanto Certified International Marketing Analyst (CIMA)-AAPM
3347 Prasetyo Mimboro Certified Asset Management Professional (CAMP)-AAPM
3348 Budi Triastomo Certified Human Resource Management Auditor (CHRMA)-AAPM
3349 Musthika Cahyo Certified Human Resource Management Auditor (CHRMA)-AAPM
3350 Julius Heryanto Certified Human Resource Management Auditor (CHRMA)-AAPM
3351 Rahmad Hidayat Sinaga Certified Human Resource Management Auditor (CHRMA)-AAPM
3351 Fadlan Suryadi Certified Human Resource Management Auditor (CHRMA)-AAPM
3352 Sony Hidajat Certified Lean Supply Chain Professional (CLSCP)-AAPM
3353 Radita Sonixtus Arauna Master Management Consultant (MMC)-GAFM
3354 Kurniawan Putra Master Project Manager (MPM)-AAPM
3355 Syahrul Rusli Certified Marketing Analyst (CMA)-AAPM
3356 Muniaty Aisyah Certified Marketing Analyst (CMA)-AAPM
3357 Ferry Hariawan Certified Marketing Analyst (CMA)-AAPM
3358 Mohammad Yanuar Certified Marketing Analyst (CMA)-AAPM
3359 Setyana Eka Nurvidyaning Certified Human Resources Analyst (CHRA) - AAPM
3360 Deni Hidayat Certified Risk Management Professional (CRMP) - AAPM
3300 Edy Aslam Certified Risk Management Professional (CRMP) - AAPM
3381 Jenri Doan Saragih Certified Risk Management Professional (CRMP) - AAPM
3362 Risang Raheditya Certified Risk Management Professional (CRMP) - AAPM
3363 Witarsa Certified Risk Management Professional (CRMP) - AAPM
3364 Fralus Dolfy Ellyson Certified in Financial Risk Management (CFRM)-AAFM
3365 Jeihan Ali Azhar Certified in Financial Risk Management (CFRM)-AAFM
3366 Darmawan Certified in Financial Risk Management (CFRM)-AAFM
3367 Fathurrahman Certified in Financial Risk Management (CFRM)-AAFM
3368 Herry Achmad Buchory Certified in Financial Risk Management (CFRM)-AAFM
3369 Rhini Fatmasari Certified in Financial Risk Management (CFRM)-AAFM
3370 Sudarso Kaderi Wiryono Certified in Financial Risk Management (CFRM)-AAFM
3371 Taufik Faturohman Certified in Financial Risk Management (CFRM)-AAFM
3372 Kurnia Fajar Afgani Certified in Financial Risk Management (CFRM)-AAFM
3373 Raden Aswin Rahadi Certified in Financial Risk Management (CFRM)-AAFM
3374 Ana Noveria Certified in Financial Risk Management (CFRM)-AAFM
3375 Yunieta Anny Nainggolan Certified in Financial Risk Management (CFRM)-AAFM
3376 Andi Pramana Matondang Registered Financial Specialist (RFS)-AAFM
3377 Anita Putri Utami Registered Financial Specialist (RFS)-AAFM
3378 Astrid Tumiwa Registered Financial Specialist (RFS)-AAFM
3379 Atras Alif Firmansyah Registered Financial Specialist (RFS)-AAFM
3380 Aulya Marina Registered Financial Specialist (RFS)-AAFM
3381 Bella Putri Patria Registered Financial Specialist (RFS)-AAFM
3382 Dyan Maratani Registered Financial Specialist (RFS)-AAFM
3383 Erwin Hasudungan Registered Financial Specialist (RFS)-AAFM
3384 Farid Rahman Trimandana Registered Financial Specialist (RFS)-AAFM
3385 Funi Febriyani Registered Financial Specialist (RFS)-AAFM
3386 Helmi Abdillah Yogaswara Registered Financial Specialist (RFS)-AAFM
3387 Heru Gunawan Registered Financial Specialist (RFS)-AAFM
3388 Irfan Registered Financial Specialist (RFS)-AAFM
3389 Michael Danniel Registered Financial Specialist (RFS)-AAFM
3390 Miskat Agussalim Registered Financial Specialist (RFS)-AAFM
3391 Munarso Registered Financial Specialist (RFS)-AAFM
3392 Nivea Paradita Registered Financial Specialist (RFS)-AAFM
3393 Nur Alityasari Registered Financial Specialist (RFS)-AAFM
3394 Plenty Rejeki Registered Financial Specialist (RFS)-AAFM
3395 Syamsuriadi Registered Financial Specialist (RFS)-AAFM
3396 Tommy Heryadi Registered Financial Specialist (RFS)-AAFM
3397 Mirza Tabrani Certified in Financial Risk Management (CFRM)-AAFM
3398 Reners Certified in Financial Risk Management (CFRM)-AAFM
3399 Teguh Yanto Certified in Financial Risk Management (CFRM)-AAFM
3400 Nofrivul Certified in Financial Risk Management (CFRM)-AAFM
3401 Dito Rozaqi Arazy Certified in Financial Risk Management (CFRM)-AAFM
3402 Mohammad Hafi Certified in Financial Risk Management (CFRM)-AAFM
3403 Aria Mandala Putra Ginting Certified in Financial Risk Management (CFRM)-AAFM
3404 Rudy Budiatmaja Certified in Financial Risk Management (CFRM)-AAFM
3405 Endang Sri Apriani Certified in Financial Risk Management (CFRM)-AAFM
3406 Rustam Effendi Certified in Financial Risk Management (CFRM)-AAFM
3407 Faisal Certified in Financial Risk Management (CFRM)-AAFM
3408 Hasan Al-Banna Certified in Financial Risk Management (CFRM)-AAFM
3409 Fifi Yusmita Certified International Information System Auditor (CIISA)-AAFM
3410 Erns Tunggul Pardomuan S Certified International Project Management (CIPM)-AAPM
3411 Meilinda Puji Pamungkas Certified International Information System Auditor (CIISA)-AAFM
3412 Damian Adhi Susastyo Certified International Information System Auditor (CIISA)-AAFM
3413 Gita Adhani Certified International Information System Auditor (CIISA)-AAFM
3414 Lutfi Verdian Akbar Certified International Information System Auditor (CIISA)-AAFM
3415 Arfian Certified International Information System Auditor (CIISA)-AAFM
3416 Indra Kurniadi Certified International Purchasing Professional (CIPP)-AAPM
3417 Wilson Siahaan Certified International Purchasing Professional (CIPP)-AAPM
3418 Dimas Kurniawan Certified International Project Manager (CIPM)-AAPM
3419 Juan Carlo Certified Human Resource Analyst (CHRA)-AAPM
3420 Diana Rosari Certified Human Resource Analyst (CHRA)-AAPM
3421 Kristo Nathanael Certified Human Resource Analyst (CHRA)-AAPM
3422 Bruce Carlson Chang Certified Human Resource Analyst (CHRA)-AAPM
3423 Hermansyah Certified Human Resource Analyst (CHRA)-AAPM
3424 Pajar Machmud Certified Strategic Business Analyst (CSBA)
3425 Ayep Zaki Certified Marketing Analyst (CMA)-AAPM
3426 Agus Rahman Alamsyah Certified Business Analytic Professional (CBAP)-AAPM
3427 Agus Rahman Alamsyah Certified Strategic Business Analyst (CSBA)-AAFM
3428 Khusnul Chotimah Certified Strategic Business Analyst (CSBA)-AAFM
3429 Sammy Certified Marketing Analyst (CMA)-AAPM
3430 Ratih Puspita Kusumaningrum Certified Marketing Analyst (CMA)-AAPM 3431 R. Reza Mahendra Master Project Manager (MPM)-AAPM
3432 Agus Rahman Alamsyah Certified Risk Management Auditor (CRMA)-AAFM
3433 Asep Zulfikar Master Project Manager (MPM)-AAPM
3434 Noval Tajudin Accredited Supply Chain Analyst (ASCA)-AAPM
3435 Noval Tajudin Certified Marketing Analyst (CMA)-AAPM
3436 Panca Satri Hudiono Certified International Project Manager (CIPM)-AAPM
3437 Rizky Kurniawan Certified International Project Manager (CIPM)-AAPM
3438 Hari Karsadi Certified International Project Manager (CIPM)-AAPM
3439 Ardi Nugraha Certified Anti-Money Laundering Specialist (CAMS
3440 Ridho Y. Putra Certified Anti-Money Laundering Specialist (CAMS
3441 Chusnul Rahma Yuniarni Certified Psychological Counselling Expert (CPCE)-IBS
3442 Taufik Kurrohman Certified International Information System Auditor (CIISA)-AAFM
3443 Aisa Tri Agustini Certified International Information System Auditor (CIISA)-AAFM
3444 Septarina Prita Dania Sofianti Certified International Information System Auditor (CIISA)-AAFM
3445 Moch. Shulthoni Certified International Information System Auditor (CIISA)-AAFM
3446 N. Ari Subagio Certified International Information System Auditor (CIISA)-AAFM
3447 Nining Ika Wahyuni Certified International Information System Auditor (CIISA)-AAFM
3448 Novi Wulandari Widiyanti Certified in Financial Risk Management (CFRM)-AAFM
3449 Oktaviani Ari Wardhaningrum Certified in Financial Risk Management (CFRM)-AAFM
3450 Agung Budi Sulistiyo Certified in Financial Risk Management (CFRM)-AAFM
3451 Bayu Aprillianto Certified in Financial Risk Management (CFRM)-AAFM
3452 Resha Dwi Ayu Pangesti Mulyono Certified in Financial Risk Management (CFRM)-AAFM
3453 Eza Gusti Anugerah Certified in Financial Risk Management (CFRM)-AAFM
3454 Ernst Tunggul Pardomuan S Certified International Project Management (CIPM)-AAPM
3455 Vitto Andhika Putra Certified Human Resource Analyst (CHRA)-AAPM
3456 Sriyanto Certified International Project Manager (CIPM)-AAPM
3457 Christian Efrata Certified Business Analytic Professional (CBAP)-AAPM
3458 Teofilus Certified Retail Management Expert (CRME)-AAPM
3459 Irantha Hendrika Kenang Certified Information Technology Service Management (CITSM)-AAPM
3460 Yuli Kartika Dewi Certified International Marketing Analyst (CIMA)-AAPM
3461 Wiliam Santoso Certified Business Analytic Professional (CBAP)-AAPM
3462 Agus Rahman Alamsyah Certified International Lead Auditor (CILA)-AAFM
3463 Timotius Febry Christian Wahyu CDS - Certified in Data Science-AAPM
3464 Christina Sudyasjayanti Certified Digital Business Transf ormation (CDBT)- IBS
3465 Yoseva Maria Pujirahayu Sumaji Certified Wealth Manager (CWM)-AAFM
3466 Christina Whidya Utami Certified Retail Management Expert (CRME)-AAPM
3467 Sonata Christian Certified International Marketing Analyst (CIMA)-AAPM
3468 Gracia Ongkowijoyo Certified Senior Business Strategy Professional (CSBSP)-AAFM
3469 Helena Sidharta Certified Business Process Architecture (CBPA)-AAPM
3470 Gladys Greselda Gosal CWM - Certified Wealth Manager (CWM)-AAFM
3471 Henry Susanto Pranoto Certified International Project Management (CIPM)-AAPM
3472 Cliff Kohardinata Certified in Data Science (CDS)-AAPM
3473 David Sukardi Kodrat Certified Retail Management Expert (CRME)-AAPM
3474 Melinda Alfiani Rosida Dewi Certified Digital Marketing Professional (CDMP)-AAPM
3475 Romauli Nainggolan Certified Forecaster and Demand Management (CFDM)-AAPM
3476 Auditia Setiobudi Certified Strategic Business Analyst (CSBA)-AAFM
3477 Christina Yanita Setyawati Certified in Financial Risk Management (CFRM)-AAFM
3478 Galuh Dian Pramadewi Certified Digital Marketing Professional (CDMP)-AAPM
3479 Alifia Cahya Mareta Certified in Contract Management Professional-(CIMP)-AAPM
3480 Graynie Syahni Fratami Certified in Contract Management Professional-(CIMP)-AAPM
3481 Moch Irianda Certified in Contract Management Professional-(CIMP)-AAPM
3482 Ellyana Santi Certified in Contract Management Professional-(CIMP)-AAPM
3483 Raisa Fitri Certified Strategic Business Analyst (CSBA)-AAFM
3484 Della Ayu Zonna Lia Certified Strategic Business Analyst (CSBA)-AAFM
3485 Rayie Tariaranie W Certified Strategic Business Analyst (CSBA)-AAFM
3486 Aulia Faqih Rifa'i Certified Business Analytic Professional (CBAP)-AAPM
3487 Annisa Dian Arini Certified Business Analytic Professional (CBAP)-AAPM
3488 Ni Kadek Pujiani Dewi Certified Risk Management Officer (CRMO)-AAPM
3489 Aris Risdiana Accredited Management Consultant (AMC)-GAFM
3490 Rifaatul Indana Certified Marketing Analyst (CMA)-AAPM
3491 Handini Certified Digital Marketing Professional (CDMP)-AAPM
3492 R. Novan Aryo Seto Certified Digital Marketing Professional (CDMP)-AAPM
3493 Siti Khodijah Nurul Aula Certified International Project Manager (CIPM)-AAPM
3494 Burhanuddin Latif Certified International Project Manager (CIPM)-AAPM
3495 Anggit Damaz Istoko Certified International Project Manager (CIPM)-AAPM
3496 Ulfa Septi Muslimah Certified International Project Manager (CIPM)-AAPM
3497 Isyqie Firdausah Certified International Project Manager (CIPM)-AAPM
3498 Budi Wahyu Mahardhika Accredited Financial Analyst (AFA)-AAFM
3499 Marista Oktaviani Accredited Financial Analyst (AFA)-AAFM
3500 Nurullaili Mauliddah Accredited Financial Analyst (AFA)-AAFM
3501 Muhammad Fachrurrozy Certified International Project Manager (CIPM)-AAPM
3502 Agung Sasetyo Hermawan Certified International Project Manager (CIPM)-AAPM
3503 Satria Nugraha Certified International Project Manager (CIPM)-AAPM
3504 Didi Sulanto Certified International Project Manager (CIPM)-AAPM
3505 Sutomo Master Project Manager (MPM)-AAPM
3506 Noor Syam Sidiq Himawan Master Project Manager (MPM)-AAPM
3507 Dani Sahirul Alim Master Project Manager (MPM)-AAPM
3508 Sutriandhi Certified Human Resource Management Auditor (CHRMA)-AAPM
3509 Ilfi Nur Diana Certified Advanced Human Resource Management (CAHRM)-IBS
3510 Isroqunnajah Certified Advanced Human Resource Management (CAHRM)-IBS
3511 Misbahul Munir Certified Advanced Human Resource Management (CAHRM)-IBS
3512 Sri Harini Certified Advanced Human Resource Management (CAHRM)-IBS
3513 Rifa Hidayah Certified Advanced Human Resource Management (CAHRM)-IBS
3514 Yuyun Yueniwati Certified Advanced Human Resource Management (CAHRM)-IBS
3515 Sudirman Certified Advanced Human Resource Management (CAHRM)-IBS
3516 Agus Maimun Certified Advanced Human Resource Management (CAHRM)-IBS
3517 H. Basri Certified Advanced Human Resource Management (CAHRM)-IBS
3518 Siswanto Certified Advanced Human Resource Management (CAHRM)-IBS
3519 M. Abdul Hamid Certified Advanced Human Resource Management (CAHRM)-IBS
3520 Abid Yusron Certified Advanced Human Resource Management (CAHRM)-IBS
3521 Mufid Certified Advanced Human Resource Management (CAHRM)-IBS
3522 Zainur Rofiq Certified Advanced Human Resource Management (CAHRM)-IBS
3523 Setiani Certified Advanced Human Resource Management (CAHRM)-IBS
3524 Ikhsan Maksum Certified Advanced Human Resource Management (CAHRM)-IBS
3525 Barianto Nurasri Sudarmawan Certified Advanced Human Resource Management (CAHRM)-IBS
3526 Budi Baharudin Certified International Project Manager (CIPM)-AAPM
3527 Himawan Mochtoha Certified International Project Manager (CIPM)-AAPM
3528 Eddo Nanda Oktarici Certified International Project Manager (CIPM)-AAPM
3529 Aditya Wirangga Pratama Certified International Project Manager (CIPM)-AAPM
3530 Erna Wijayanti Certified International Project Manager (CIPM)-AAPM
3531 Pristiyani solikhah Certified International Project Manager (CIPM)-AAPM
3532 Ali Mustofa Certified International Project Manager (CIPM)-AAPM
3533 Agung Jaka Raharja Certified International Project Manager (CIPM)-AAPM
3534 Faisal Rosady Master Project Manager (MPM)-AAPM
3535 Ryan Eka Pasca Adikara Certified Digital Marketing Professional (CDMP)-AAPM
3536 Arnolt Kristian Pakpahan Certified Marketing Analyst (CMA)-AAPM
3537 Debbie Aryani Tribudhi Certified Marketing Analyst (CMA)-AAPM
3538 Aekram Faisal Certified Marketing Analyst (CMA)-AAPM
3539 Ayu Ekasari Certified Marketing Analyst (CMA)-AAPM
3540 Hermanto Yaputra Certified Marketing Analyst (CMA)-AAPM
3541 Husna Leila Yusran Certified Marketing Analyst (CMA)-AAPM
3542 Kurniawati Certified Marketing Analyst (CMA)-AAPM
3543 Muhammad Pratomo Certified Marketing Analyst (CMA)-AAPM
3544 Moch Sabur Certified Marketing Analyst (CMA)-AAPM
3545 Robert Kristaung Certified Marketing Analyst (CMA)-AAPM
3546 Sri Vandayuli Riorini Certified Marketing Analyst (CMA)-AAPM
3547 Yolanda Masnita Certified Marketing Analyst (CMA)-AAPM
3548 Ina Oktaviana Matusin Certified Marketing Analyst (CMA)-AAPM
3549 RR Dyah Astarini Certified Marketing Analyst (CMA)-AAPM
3550 Fatik Rahayu Certified Marketing Analyst (CMA)-AAPM
3551 Iwan Ekawanto Certified Marketing Analyst (CMA)-AAPM
3552 Nico Lukito Certified Marketing Analyst (CMA)-AAPM
3553 Renny Risqiani Certified Marketing Analyst (CMA)-AAPM
3554 Rayi Retno Dwi Asih Certified Marketing Analyst (CMA)-AAPM
3555 Sherwin Ary Busman Certified Marketing Analyst (CMA)-AAPM
3556 Asyidatur Rosmaniar Certified Marketing Analyst (CMA)-AAPM
3557 Ali Imaduddin Futuwwah Certified Marketing Analyst (CMA)-AAPM
3558 Nico Alhakim Danurwindo Certified Marketing Analyst (CMA)-AAPM
3559 Mirza Tabrani Certified Human Resource Analyst (CHRA)-AAPM
3560 Muslim A. Djalil Certified Human Resource Analyst (CHRA)-AAPM
3561 Faisal Certified Human Resource Analyst (CHRA)-AAPM
3562 Rustam Effendi Certified Human Resource Analyst (CHRA)-AAPM
3563 Syarifuddin Certified Human Resource Analyst (CHRA)-AAPM
3564 Fifi Yusmita Certified Human Resource Analyst (CHRA)-AAPM
3565 Wasito Certified International Lead Auditor (CILA)-AAFM
3566 Imam Mas'ud Certified International Lead Auditor (CILA)-AAFM
3567 Siti Maria Wardayati Certified International Lead Auditor (CILA)-AAFM
3568 Septarina Prita Dania Certified International Lead Auditor (CILA)-AAFM
3569 Bayu Aprillianto Certified International Lead Auditor (CILA)-AAFM
3570 Renold Partogi Lumbantoruan Certified Risk Management Professional
3571 Singgih Budi Hendrawan Certified Risk Management Professional
3572 Achmad Fadhil Almasyhur Certified Risk Management Professional (CRMP)-AAPM
3573 Rina Maretasari Certified Human Resource Analyst (CHRA)-AAPM
3574 Dina Novita Certified Human Resource Analyst (CHRA)-AAPM
3575 Fauzie Senoaji Certified Human Resource Analyst (CHRA)-AAPM
3576 Muhammad Nur Fietroh Certified Strategic Business Analyst (CSBA)-AAFM
3577 Abdul Hadi Ilman Certified Strategic Business Analyst (CSBA)-AAFM
3578 Adrianto Trimarjono Certified Marketing Analyst (CMA)-AAPM
3579 Atty Erdiana Certified Marketing Analyst (CMA)-AAPM
3580 Dwi Bhakti Iriantini Certified Marketing Analyst (CMA)-AAPM
3581 Maqbula Arochman Certified Marketing Analyst (CMA)-AAPM
3582 Santirianingrum Soebandhi Certified Marketing Analyst (CMA)-AAPM
3583 Dwi Indah Mustikorini Certified Marketing Analyst (CMA)-AAPM
3584 Wiwik Herawati Certified Marketing Analyst (CMA)-AAPM
3585 Yavida Nurim Certified International Information System Auditor (CIISA)-AAFM
3586 Dewi Puspitasari Certified International Information System Auditor (CIISA)-AAFM
3587 Angelia Pribadi Certified International Information System Auditor (CIISA)-AAFM
3588 Wika Harisa Putri Certified International Information System Auditor (CIISA)-AAFM
3589 Siti Rochmah Ika Certified International Information System Auditor (CIISA)-AAFM
3590 Theofilus Yoel Lufung Master Project Manager (MPM)-AAPM
3591 Jacquelyn Anita Esther Tasik Master Project Manager (MPM)-AAPM
3592 R Hari Jatmiko Certified Supply Chain Manager (CSCM)-AAPM
3593 Daud Daniel Verdritoniar Certified International Project Manager (CIPM)-AAPM
3594 Sri Andriani Accredited Financial Analyst (AFA)-AAFM
3595 Serli Oktapiani Accredited Financial Analyst (AFA)-AAFM
3596 Nova Aditya Ananda Accredited Financial Analyst (AFA)-AAFM
3597 Joko Supono Certified Risk Management Professional (CRMP) - AAPM
3598 Erma Suryani Certified International Training Manager (CITM)-IBS
3599 Suratno Adi Saputro Master Quality Manager (MQM)-AAPM
3600 Alifia Cahya Mareta Certified in Contract Management Professional-(CCMP)-AAPM
3601 Graynie Syahni Fratami Certified in Contract Management Professional-(CCMP)-AAPM
3602 Moch Irianda Certified in Contract Management Professional-(CCMP)-AAPMD
3603 Ellyana Santi Certified in Contract Management Professional-(CCMP)-AAPM
3604 Galuh Annaba Maharani Master Project Manager (MPM)-AAPM
3605 Yuni Heriyanti Certified Business Analytic Professional (CBAP)-AAPM
3606 Ernst Tunggul Pardomuan Master Project Manager (MPM)-AAPM
3607 Pahoot Master Project Manager (MPM)-AAPM
3608 Dodi Hendra Certified International Negotiation Specialist (CINS)-IBS
3609 Doan Pamica Certified International Purchasing Professional (CIPP)-AAPM
3610 Aditya Wirangga Pratama Certified International Operation Management and Production (CIOMP)-AAPM
3611 Budi Baharudin Certified International Operation Management and Production (CIOMP)-AAPM
3612 Benny Haddli Irawan Certified International Operation Management and Production (CIOMP)-AAPM
3613 Himawan Mochtoha Certified International Operation Management and Production (CIOMP)-AAPM
3614 Ari Wibowo Certified International Operation Management and Production (CIOMP)-AAPM
3615 Hanifah Widiastuti Certified International Operation Management and Production (CIOMP)-AAPM
3616 Ahmad Sudjaib Certified Professional Supply Chain Manager (CPSCM)-AAPM
3617 Dorina Widowati Certified Professional Supply Chain Manager (CPSCM)-AAPM
3618 Gatri Lunarindiah Certified Professional Supply Chain Manager (CPSCM)-AAPM
3619 Nova Triana Ningsih Certified Professional Supply Chain Manager (CPSCM)-AAPM
3620 Ratna Darasih Certified Professional Supply Chain Manager (CPSCM)-AAPM
3621 Rr. Ovy Noviati Nuraini Magetsari Certified Professional Supply Chain Manager (CPSCM)-AAPM
3622 Wahyuningsih Certified Professional Supply Chain Manager (CPSCM)-AAPM
3623 Firra Astria Noezar Certified Human Resource Professional (CHRP)-AAPM
3624 Maulida Ulfah Regista Certified Human Resource Professional (CHRP)-AAPM
3625 Chitra Indah Sari Certified Human Resource Professional (CHRP)
3626 Ismadi YS Certified Human Resource Analyst (CHRA)-AAPM
3627 Amang Sudarsono Certified Blockchain System Specialist (CBSS)-IBS
3628 Mike Yuliana Certified Blockchain System Specialist (CBSS)-IBS
3629 Ida Anisah Certified Blockchain System Specialist (CBSS)-IBS
3630 Haryadi Amran Darwito Certified Blockchain System Specialist (CBSS)-IBS
3631 Mohamad Ridwan Certified Blockchain System Specialist (CBSS)-IBS
3632 Aditya Wirangga Pratama. Certified Human Resource Analyst (CHRA)-AAPM
3633 Sharon Hanmy Angel Master Project Manager (MPM)-AAPM
3634 Ancala Laras Putri Certified Human Resource Analyst (CHRA)-AAPM
3635 Mutiara Master Project Manager (MPM)-AAPM
3636 Basuki Winarno Certified Prince-2 Foundation Professional (CPFP)-AAPM
3637 Deograsias Yoseph Yustinianus Ferdinand Master Financial Planner (MFP)-AAFM
3638 Maria Widyastuti Master Financial Planner (MFP)-AAFM
3639 Muhammad Nur Fietroh Master Financial Planner (MFP)-AAFM
3640 Nova Adhitya Ananda Master Financial Planner (MFP)-AAFM
3641 Sri Andriani Master Financial Planner (MFP)-AAFM
3642 Agus Santoso Certified Digital Marketing Professional (CDMP)-AAPM
3643 Tomy Dwi Cahyono Certified Digital Marketing Professional (CDMP)-AAPM
3644 Karen Alfa Pontoan Certified Risk Management Professional (CRMP) - AAPM
3645 A.Besse Riyani Indah Certified Risk Management Professional (CRMP) - AAPM
3646 Idang Nurodin Certified Risk Management Professional (CRMP) - AAPM
3647 Supardi Certified Risk Management Professional (CRMP) - AAPM
3648 Dhiani Dyahjatmayanti Certified Risk Management Professional (CRMP) - AAPM
3649 Dian Pratiwi Sahar Certified Risk Management Professional (CRMP) - AAPM
3650 Mohamad Bastomi Certified Risk Management Professional (CRMP) - AAPM
3651 Grace Tianna Solovida Certified Risk Management Professional (CRMP) - AAPM
3652 Irsan Rahman Certified Risk Management Professional (CRMP) - AAPM
3653 Anggita Langgeng Wijaya Certified Risk Management Professional (CRMP) - AAPM
3654 Indah Yuliana Certified Islamic Finance Analyst (CIFA)-AAFM
3655 Muhammad Sulhan Certified Islamic Finance Analyst (CIFA)-AAFM
3656 Fitriyah Certified Islamic Finance Analyst (CIFA)-AAFM
3657 Maretha Ika Prajawati Certified Islamic Finance Analyst (CIFA)-AAFM
3658 Mega Noerman Ningtyas Certified Islamic Finance Analyst (CIFA)-AAFM
3659 Fadlil Abdani Certified Islamic Finance Analyst (CIFA)-AAFM
3660 Ahmad Fahrudin Alamsyah Certified Islamic Finance Analyst (CIFA)-AAFM
3661 Nawirah Certified Islamic Finance Analyst (CIFA)-AAFM
3662 Ulfi Kartika Oktaviana Certified Islamic Finance Analyst (CIFA)-AAFM
3663 Segaf Certified Islamic Finance Analyst (CIFA)-AAFM
3664 Dyah Febriantina Istiqomah Certified in Financial Accounting (C.F.A)-AAFM
3665 Zuraida Certified in Financial Accounting (C.F.A)-AAFM
3666 Kholilah Certified in Financial Accounting (C.F.A)-AAFM
3667 Yuniarti Hidayah Suyoso Putra Certified in Financial Accounting (C.F.A)-AAFM
3668 Yayuk Sri Rahayu Certified Marketing Analyst (CMA)-AAPM
3669 Fani Firmansyah Certified Marketing Analyst (CMA)-AAPM
3670 Irmayanti Hasan Certified Marketing Analyst (CMA)-AAPM
3671 Arum Prasasti Certified Marketing Analyst (CMA)-AAPM
3672 Della Ayu Zonna Lia Certified Marketing Analyst (CMA)-AAPM
3673 Ika Zutiasari Certified Strategic Business Analyst (CSBA)-AAFM
3674 Choirul Anam Certified Strategic Business Analyst (CSBA)-AAFM
3675 Dede Rusmana Certified Strategic Business Analyst (CSBA)
3676 Andika Bayu Saputra Certified International Information System Auditor (CIISA)-AAFM
3677 Ani Mutaqiyatun Certified Human Resource Analyst (CHRA)-AAPM
3678 Ema Nurmaya Certified Human Resource Analyst (CHRA)-AAPM
3679 Bagus Gumelar Certified Human Resource Analyst (CHRA)-AAPM
3680 Utik Bidayati Certified Leadership Consultant (CLC)-AAPM
3681 Dyah Fitriani Certified Leadership Consultant (CLC)-AAPM
3682 Rikha Muftia Khoirunnisa Certified Leadership Consultant (CLC)-AAPM
3683 Fitroh Adhilla Certified Digital Marketing Professional (CDMP)-AAPM
3684 Hendro Setyono Certified Digital Marketing Professional (CDMP)-AAPM
3685 Rai Rake Setyawan Certified Digital Marketing Professional (CDMP)-AAPM
3686 Suryana Hendrawan Certified Digital Marketing Professional (CDMP)-AAPM
3687 Gita Madha Putri Certified Risk Management Professional (CRMP) - AAPM
3688 Ahmad Zaqi Firdausi Certified Strategic Business Analyst (CSBA)-AAFM
3689 Rizka Hasna Delvika Certified Strategic Business Analyst (CSBA)-AAFM
3690 Ayu Rosyida Zain Certified Cyber Security First Responder (CCSFR)-IBS
3691 Iik Muhamad Malik Matin Certified Cyber Security First Responder (CCSFR)-IBS
3692 Fachroni Arbi Murad Certified Cyber Security First Responder (CCSFR)-IBS
3693 Defiana Arnaldy Certified Cyber Security First Responder (CCSFR)-IBS
3694 Asep Kurniawan Certified Cyber Security First Responder (CCSFR)-IBS
3695 Indra Hermawan Certified Cyber Security First Responder (CCSFR)-IBS
3696 Prihatin Oktivasari Certified Master Internet of Things Specialist.(CMIoTS )-IBS
3697 Ayu Rosyida Zain Certified Master Internet of Things Specialist.(CMIoTS )-IBS
3698 Maria Agustin Certified Master Internet of Things Specialist.(CMIoTS )-IBS
3699 Indra Hermawan Certified Master Internet of Things Specialist.(CMIoTS )-IBS
3700 Nur Fauzi Soelaiman Certified Master Internet of Things Specialist.(CMIoTS )-IBS
3701 Bunga Maharani Certified in Financial Accounting (C.F.A)-AAFM
3702 Dewi Ayu Puspita Certified in Financial Accounting (C.F.A)-AAFM
3703 Sudarno Certified in Financial Accounting (C.F.A)-AAFM
3704 Nur Hisamuddin Certified in Financial Accounting (C.F.A)-AAFM
3705 Ririn Irmadariyani Certified in Financial Accounting (C.F.A)-AAFM
3706 Yosefa Sayekti Certified in Financial Accounting (C.F.A)-AAFM
3707 Cucu Subagja Certified Marketing Analyst (CMA)-AAPM
3708 Andreas Ariefianto Accredited Financial Analyst (AFA)-AAFM
3709 Hartini Certified Human Resource Analyst (CHRA)-AAPM
3710 Hanifa Sri Nuryani Certified Human Resource Analyst (CHRA)-AAPM
3711 M. Yusuf Certified Human Resource Analyst (CHRA)-AAPM
3712 Jayanti Mandasari Accredited Management Accountant (AMA)
3713 Ahmad Jibrail Accredited Management Accountant (AMA
3714 Reza Muhammad Rizqi Accredited Management Accountant (AMA
3715 Abdul Salam Certified in Financial Risk Management (CFRM)-AAFM
3716 Serli Oktapiani Certified in Financial Risk Management (CFRM)-AAFM
3717 Rini Anggraeni Certified Marketing Analyst (CMA)-AAPM
3718 Retno Lantarsih Certified Marketing Analyst (CMA)-AAPM
3719 Cungki Kusdarjito Certified Marketing Analyst (CMA)-AAPM
3720 Nadia Certified Marketing Analyst (CMA)-AAPM
3721 Untoro Hariadi Certified Marketing Analyst (CMA)-AAPM
3722 Siti Rochmah Ika Accredited Financial Analyst (AFA)-AAFM
3723 Dewi Puspitasari Accredited Financial Analyst (AFA)-AAFM
3724 Yavida Nurim Accredited Financial Analyst (AFA)-AAFM
3725 Joko Purwanto Nugroho Accredited Financial Analyst (AFA)-AAFM
3726 Angelia Pribadi Accredited Financial Analyst (AFA)-AAFM
3727 Handoko Arwi Hasthoro Accredited Financial Analyst (AFA)-AAFM
3728 Agustin Setiyorini Certified E-Commerce Consultant (CEC)
3729 Candarisma Dhanes Noor Viana Certified E-Commerce Consultant (CEC)
3730 Putri Perdana Certified E-Commerce Consultant (CEC)
3731 Lintia Putri Nanda Certified E-Commerce Consultant (CEC)
3732 Eri Haryanto Certified E-Commerce Consultant (CEC)
3733 B. Tresno Sumbodo Master Quality Manager (MQM)-AAPM
3734 Hapsari Anggraini Master Quality Manager (MQM)-AAPM
3735 Sulistiya Master Quality Manager (MQM)-AAPM
3736 Nining Widiyanti Master Quality Manager (MQM)-AAPM
3737 Danang Wahyudi Master Quality Manager (MQM)-AAPM
3738 Eni Andari Master Quality Manager (MQM)-AAPM
3739 Kusmaryati Dwi Rahayu Master Quality Manager (MQM)-AAPM
3740 Titop Dwiwinarno Master Quality Manager (MQM)-AAPM
3741 Kadarso Master Quality Manager (MQM)-AAPM
3742 Subeni Master Quality Manager (MQM)-AAPM
3743 Rodi Kalces Master Quality Manager (MQM)-AAPM
3744 Subkhan Sadzali Certified Asset Management Professional (CAMP)-AAPM
3745 Gari Wicaksono Certified Asset Management Professional (CAMP)-AAPM
3746 Fatoni Certified Asset Management Professional (CAMP)-AAPM
3747 Deni Budi Utomo Certified Asset Management Professional (CAMP)-AAPM
3748 5. Akbar Dwitama Certified Asset Management Professional (CAMP)-AAPM
3749 Akhmad Badristo Certified Asset Management Professional (CAMP)-AAPM
3750 Alhakim Bagus Panuntun Certified Asset Management Professional (CAMP)-AAPM
3751 Slamet Aprilyanto Priyatin Certified Asset Management Professional (CAMP)-AAPM
3752 Erna Herlinawati Certified in Financial Risk Management (CFRM)-AAFM
3753 Dayan Hakim NS Certified in Financial Risk Management (CFRM)-AAFM
3754 Yoyo Sudaryo Certified in Financial Risk Management (CFRM)-AAFM
3755 Nunung Ayu Sofiati Certified Marketing Analyst (CMA)-AAPM
3756 Anggono Raras TS Certified Marketing Analyst (CMA)-AAPM
3757 Taufik Kurrohman Certified Risk Management Professional (CRMP) - AAPM
3758 Nining Ika Wahyuni Certified Risk Management Professional (CRMP) - AAPM
3759 Whedy Prasetyo Certified Risk Management Professional (CRMP) - AAPM
3760 Yulia Indrawati Certified Risk Management Professional (CRMP) - AAPM
3761 Siti Maria Wardayati Certified Risk Management Professional (CRMP) - AAPM
3762 Rachmania Nurul Fitri Amijaya Certified Risk Management Professional (CRMP) - AAPM
3763 Ahmad Roziq Accredited Financial Analyst (AFA)-AAFM
3764 Hari Sukarno Accredited Financial Analyst (AFA)-AAFM
3765 Ketut Indramingrat Accredited Financial Analyst (AFA)-AAFM
3766 Hadi Paramu Accredited Financial Analyst (AFA)-AAFM
3767 Marmono Singgih Accredited Financial Analyst (AFA)-AAFM
3768 Muhammad Miqdad Accredited Financial Analyst (AFA)-AAFM
3769 Arif Rakhman Perdana Certified Business Analytic Professional (CBAP)-AAPM
3770 Ahmad Rofiq Rivani Certified Business Analytic Professional (CBAP)-AAPM
3771 Faris Arif Rahman Certified Business Analytic Professional (CBAP)-AAPM
3772 Christian Ricky David Silitonga Accredited Supply Chain Professional (ASCP)-AAPM
3773 Rianita Pramitasari Master Quality Manager (MQM)-AAPM
3774 Reni Tri Cahyani Master Quality Manager (MQM)-AAPM
3775 Azmi Alvian Gabriel Master Quality Manager (MQM)-AAPM
3776 Hadi Suprapto Master Quality Manager (MQM)-AAPM
3777 Arif Sabta Aji Master Quality Manager (MQM)-AAPM
3778 Mohammad Thezar Afifudin Master Quality Manager (MQM)-AAPM
3779 Ai Mahmudatussa'adah Master Quality Manager (MQM)-AAPM
3780 Nuzulia Khoiriyah Master Quality Manager (MQM)-AAPM
3781 Eka Septiani Cahya Dewi Certified Maturity Model Professional (CMMP)-AAPM
3782 Nurdin Syaeful Bahri Certified Maturity Model Professional (CMMP)-AAPM
3783 Sigit Permana Certified Maturity Model Professional (CMMP)-AAPM
3784 Elisabeth N. Rosmayaputri Certified Maturity Model Professional (CMMP)-AAPM
3785 Petsi Chandra Certified Maturity Model Professional (CMMP)-AAPM
3786 Imam F. Arief Certified Maturity Model Professional (CMMP)-AAPM
3787 Ayu Wandira Purba Certified Maturity Model Professional (CMMP)-AAPM
3788 Fredy Andiamo Estrada Certified Maturity Model Professional (CMMP)-AAPM
3789 Fidel Remor Putra Certified Maturity Model Professional (CMMP)-AAPM
3790 Irsa Riyandi Certified Maturity Model Professional (CMMP)-AAPM
3791 Hermawan Putro Sutrisno Certified Maturity Model Professional (CMMP)-AAPM
3792 Agastya Herpradana Certified Maturity Model Professional (CMMP)-AAPM
3793 Anisa Utari Humaera Certified Maturity Model Professional (CMMP)-AAPM
3794 Anton Darmawan Certified Maturity Model Professional (CMMP)-AAPM
3795 Leonard Tambunan Certified Maturity Model Professional (CMMP)-AAPM
3796 Aminudin Hidayat Certified Quality Control (CQC)-AAPM
3797 Endang Prihatin Certified Quality Control (CQC)-AAPM
3798 Muhammad Amri Fathoni Certified Quality Control (CQC)-AAPM
3799 Rizky Antariksa Certified Quality Control (CQC)-AAPM
3800 Gery Riyandi Certified Quality Control (CQC)-AAPM
3801 Fadli Faisal Putra Certified Quality Control (CQC)-AAPM
3802 Didik Bintoro Jati Certified Quality Control (CQC)-AAPM
3803 Rusman Hidayat Certified Quality Control (CQC)-AAPM
3804 Fadely Paddiyatu Certified Quality Control (CQC)-AAPM
3805 Ahmad Riyadinal Ricky Certified Quality Control (CQC)-AAPM
3806 Sigit Permadi Certified Quality Control (CQC)-AAPM
3807 Wahono Hendro Certified Quality Control (CQC)-AAPM
3808 Eko Prasetiyo Certified Quality Control (CQC)-AAPM
3809 Dodik Teguh Arifianto Certified Quality Control (CQC)-AAPM
3810 Riki Yulanda Certified Quality Control (CQC)-AAPM
3811 Danang Setiawan Certified Quality Control (CQC)-AAPM
3812 Muhammad Gusti Nugraha Certified Quality Control (CQC)-AAPM
3813 Agus Salim Anshori Certified Quality Control (CQC)-AAPM
3814 R. Gatot Heru Pranjoto Certified in Financial Risk Management (CFRM)-AAFM
3815 Makhmud Zulkifli Certified in Financial Risk Management (CFRM)-AAFM
3816 Evaliati Amaniyah Certified in Financial Risk Management (CFRM)-AAFM
3817 Bambang Sudarsono Certified in Financial Risk Management (CFRM)-AAFM
3818 Prasetyo Nugroho Certified in Financial Risk Management (CFRM)-AAFM
3819 Purnamawati Certified in Financial Risk Management (CFRM)-AAFM
3820 Aprilina Susandini Certified in Financial Risk Management (CFRM)-AAFM
3821 Moh. Zaki Kurniawan Certified in Financial Risk Management (CFRM)-AAFM
3822 Arie Setyo Dwi Purnomo Certified in Financial Risk Management (CFRM)-AAFM
3823 Mochamad Reza Adiyanto Certified in Financial Risk Management (CFRM)-AAFM
3824 Vidi Hadyarti Certified in Financial Risk Management (CFRM)-AAFM
3825 M. Boy Singgih Gitayuda Certified in Financial Risk Management (CFRM)-AAFM
3826 Echsan Gani Certified in Financial Risk Management (CFRM)-AAFM
3827 Yuli Agustina Certified in Financial Risk Management (CFRM)-AAFM
3828 Lulu Nurul Istanti Certified in Financial Risk Management (CFRM)-AAFM
3829 RM. Mochammad Wispandono Certified Human Resource Analyst (CHRA)-AAPM
3830 Hj. Iriani Ismail Certified Human Resource Analyst (CHRA)-AAPM
3831 Muhammad Alkirom Wildan Certified Human Resource Analyst (CHRA)-AAPM
3832 Helmi Buyung Aulia Safrizal Certified Human Resource Analyst (CHRA)-AAPM
3833 Mudji Kuswinarno Certified Human Resource Analyst (CHRA)-AAPM
3834 Faidal Certified Human Resource Analyst (CHRA)-AAPM
3835 Samsuki Certified Human Resource Analyst (CHRA)-AAPM
3836 Zainiyatul Afifah Certified Human Resource Analyst (CHRA)-AAPM
3837 Muh. Syarif Certified Marketing Analyst (CMA)-AAPM
3838 Nurita Andriani Certified Marketing Analyst (CMA)-AAPM
3839 Mohammad Arief Certified Marketing Analyst (CMA)-AAPM
3840 A. Yahya Surya Winata Certified Marketing Analyst (CMA)-AAPM
3841 Bambang Setiyo Pambudi Certified Marketing Analyst (CMA)-AAPM
3842 Fathor AS. Certified Marketing Analyst (CMA)-AAPM
3843 Yustina Chrismardani Certified Marketing Analyst (CMA)-AAPM
3844 Nirma Kurriwati Certified Marketing Analyst (CMA)-AAPM
3845 Yudhi Prasetya Mada Certified Marketing Analyst (CMA)-AAPM
3846 Triana Setiyarini Certified Marketing Analyst (CMA)-AAPM
3847 Hadi Purnomo Certified Marketing Analyst (CMA)-AAPM
3848 Suyono Certified Marketing Analyst (CMA)-AAPM
3849 Miftahul Jannah Certified Marketing Analyst (CMA)-AAPM
3850 Darul Islam Certified Marketing Analyst (CMA)-AAPM
3851 Deykha Aguilika Certified Marketing Analyst (CMA)-AAPM
3852 Muhammad Husni Arifin Certified Strategic Business Analyst (CSBA)-AAFM
3853 Arie Wibowo Khurniawan Certified Strategic Business Analyst (CSBA)-AAFM
3854 Majidah Certified Strategic Business Analyst (CSBA)-AAFM
3855 Benny Nugraha Certified Strategic Business Analyst (CSBA)-AAFM
3856 Agus Joko Purwanto Certified Strategic Business Analyst (CSBA)-AAFM
3857 Kurnia Endah Riana Certified Strategic Business Analyst (CSBA)-AAFM
3858 Siti Aisyah Certified Strategic Business Analyst (CSBA)-AAFM
3859 Endang Indrawati Certified Strategic Business Analyst (CSBA)-AAFM
3860 Dyah Ayuningtyas Certified Strategic Business Analyst (CSBA)-AAFM
3861 Joelianti Dwi Supraptiningsih Certified Strategic Business Analyst (CSBA)-AAFM
3862 Faizin Rahmad Setiadi Certified Risk Management Professional (CRMP) - AAPM
3863 Askam Tuasikal Certified Risk Management Professional (CRMP) - AAPM
3864 Dina Karlina Certified Risk Management Professional (CRMP) - AAPM
3865 Evi Noviani Certified Risk Management Professional (CRMP) - AAPM
3866 Agus Rahman Alamsyah Certified in Financial Accounting (C.F.A) - AAFM
3867 Agus Rahman Alamsyah Master Project Manager (MPM) - AAPM
3868 Agus Rahman Alamsyah Master Management Consultant (MMC) - AAPM
3869 Agus Rahman Alamsyah Master Quality Manager (MQM) - AAPM
3870 Agus Rahman Alamsyah Master Financial Planner (MFP) - AAFM
3871 Agus Rahman Alamsyah Certified in International Financial Reporting Standards (CIFRS) - AAFM
3872 Agus Rahman Alamsyah Master International Financial Analyst (MIFA) - AAFM
3873 Anang Siswanto Certified Risk Management Professional (CRMP) - AAPM 3874 Agus Rahman Alamsyah Certified in Financial Accounting (C.F.A) - AAFM
3875 Agus Rahman Alamsyah Master Project Manager (MPM) - AAPM
3876 Agus Rahman Alamsyah Master Management Consultant (MMC) - AAPM
3877 Agus Rahman Alamsyah MasterQuality Manager (MQM) - AAPM
3878 Agus Rahman Alamsyah Master Financial Planner (MFP) - AAFM
3879 Agus Rahman Alamsyah Certified in International Financial Reporting Standards (CIFRS) - AAFM
3880 Agus Rahman Alamsyah Master International Financial Analyst (MIFA) - AAFM
3881 Ganes Agni Wibisono Certified Procurement Professional (CPP)-AAPM
3882 Skolastika Natalia Certified Procurement Professional (CPP)-AAPM
3883 Abdul Rosid Certified Procurement Professional (CPP)-AAPM
3884 Asrul Certified E-Commerce Consultant (CEC)-AAPM
3885 Brav Deva Bernadhi Certified E-Commerce Consultant (CEC)-AAPM
3886 Dhina Puspasari Wijaya Certified E-Commerce Consultant (CEC)-AAPM
3887 Fatsyahrina Fitriastuti Certified E-Commerce Consultant (CEC)-AAPM
3888 Layung Paramesti Martha Certified E-Commerce Consultant (CEC)-AAPM
3889 M. Yoka Fathoni Certified E-Commerce Consultant (CEC)-AAPM
3890 Marlince Novita Karoseri Nababan Certified E-Commerce Consultant (CEC)-AAPM
3891 Masyuni Hutasuhut Certified E-Commerce Consultant (CEC)-AAPM
3892 Oviliani Yenty Yuliana Certified E-Commerce Consultant (CEC)-AAPM
3893 Siti Nazilah Certified E-Commerce Consultant (CEC)-AAPM
3894 Aris Setiyani Certified Quality Engineer (CQE)-AAPM
3895 Etanto Heiliano Wijayanto Certified International Project Manager (CIPM)-AAPM
3896 Arfian Dikron Septiandri Certified International Information System Auditor (CIISA)-AAFM
3897 Ahmad Muhazir Certified International Information System Auditor (CIISA)-AAFM
3898 Andree Emmanuel Widjaja Certified International Information System Auditor (CIISA)-AAFM
3899 Arfiani Nur Khusna Certified International Information System Auditor (CIISA)-AAFM
3900 Asep Budiman Kusdinar Certified International Information System Auditor (CIISA)-AAFM
3901 Dian Permata Sari Certified International Information System Auditor (CIISA)-AAFM
3902 Farid Wahyudi Certified International Information System Auditor (CIISA)-AAFM
3903 Fietri Setiawati Sulaeman Certified International Information System Auditor (CIISA)-AAFM
3904 Gamal Batara Certified International Information System Auditor (CIISA)-AAFM
3905 Hannie Certified International Information System Auditor (CIISA)-AAFM
3906 Helmi Fauzi Siregar Certified International Information System Auditor (CIISA)-AAFM
3907 Hendra Gunawan Certified International Information System Auditor (CIISA)-AAFM
3908 Juarni Siregar Certified International Information System Auditor (CIISA)-AAFM
3909 Milfa Yetri Certified International Information System Auditor (CIISA)-AAFM
3910 Mochamad Subchan Mauludin Certified International Information System Auditor (CIISA)-AAFM
3911 Reni Aryani Certified International Information System Auditor (CIISA)-AAFM
3912 Setiyowati Certified International Information System Auditor (CIISA)-AAFM
3913 Tri Rochmadi Certified International Information System Auditor (CIISA)-AAFM
3914 Yanuar Wicaksono Certified International Information System Auditor (CIISA)-AAFM
3915 Yunita Sari Siregar Certified International Information System Auditor (CIISA)-AAFM
3916 Zaimah Panjaitan Certified International Information System Auditor (CIISA)-AAFM
3917 Bobby Hartanto Certified International Information System Auditor (CIISA)-AAFM
3918 I Wayan Sudarmayasa Master Hotel Manager (MHM)-AAPM
3919 A.Rinto Dwiatmojo Master Room Division Executive (MRDE)-AAPM
3920 I Wayan Lanang Nala Master Hospitality Revenue Manager (MHRM)-AAPM
3921 Sigit Pamungkas Certified International Operation Management Professional (CIOMP)-AAPM
3922 Triandi Kuseno Certified International Operation Management Professional (CIOMP)-AAPM
3923 Remon Simatupang Certified International Operation Management Professional (CIOMP)-AAPM
3924 Ramadika Certified Business Development Manager (CBDM)-GAFM
3925 Acip Rakhmat Certified Marketing Analyst (CMA)-AAPM
3926 Adika Fajar Putra Certified Marketing Analyst (CMA)-AAPM
3927 Alshaf Pebrianggara Certified Marketing Analyst (CMA)-AAPM
3928 Danny Hidayat Certified Marketing Analyst (CMA)-AAPM
3929 Dian Nur Mastuti Certified Marketing Analyst (CMA)-AAPM
3930 Eva Dolorosa Certified Marketing Analyst (CMA)-AAPM
3931 Nur Hayati Certified Marketing Analyst (CMA)-AAPM
3932 Septiana Novita Dewi Certified Marketing Analyst (CMA)-AAPM
3933 Ghaling Achmad Abdul Ghonisyah Certified Marketing Analyst (CMA)-AAPM
3934 Muhammad Dominique Mendoza Certified Marketing Analyst (CMA)-AAPM
3935 Abdul Razak Munir Certified Marketing Analyst (CMA)-AAPM
3936 Rezi Muhamad Taufik Permana Certified Marketing Analyst (CMA)-AAPM
3937 Syahrul Ganda Sukmaya Certified Marketing Analyst (CMA)-AAPM
3938 Tinik Sugiati Certified Digital Marketing Professional (CDMP)-AAPM
3939 Ridho Riadi Akbar Certified Digital Marketing Professional (CDMP)-AAPM
3940 Nurul Komalasari Certified Marketing Analyst (CMA)-AAPM
3941 Ni'matuz Zuhroh Certified Competency Development and Implementation Professional (CCDIP)-IBS
3942 Marhayati Certified Competency Development and Implementation Professional (CCDIP)-IBS
3943 Mohammad Miftahusyai'an Certified Competency Development and Implementation Professional (CCDIP)-IBS
3944 M. Ibnu Ahmad Certified Competency Development and Implementation Professional (CCDIP)-IBS
3945 Abdul Fattah Certified Competency Development and Implementation Professional (CCDIP)-IBS
3946 Devi Pramitha Certified Competency Development and Implementation Professional (CCDIP)-IBS
3947 Sandy Tegariyani Putri Santoso Certified Competency Development and Implementation Professional (CCDIP)-IBS
3948 Maryam Faizah Certified Competency Development and Implementation Professional (CCDIP)-IBS
3949 Arini Mayan Fa'ani Certified Competency Development and Implementation Professional (CCDIP)-IBS
3950 Tanti Widia Nurdiani Certified Competency Development and Implementation Professional (CCDIP)-IBS
3951 Muallifah Certified Psychological Counselling Expert (CPCE)-IBS
3952 Aprilia Mega Rosdiana Certified Psychological Counselling Expert (CPCE)-IBS
3953 Agus Iqbal Hawabi Certified Psychological Counselling Expert (CPCE)-IBS
3954 Umdatul Khoirot Certified Psychological Counselling Expert (CPCE)-IBS
3955 Rika Fu'aturosida Certified Psychological Counselling Expert (CPCE)-IBS
3956 Hilda Halida Certified Psychological Counselling Expert (CPCE)-IBS
3957 Selly Candra Ayu Certified Psychological Counselling Expert (CPCE)-IBS
3958 Abd. Hamid Cholili Certified Psychological Counselling Expert (CPCE)-IBS
3959 Muhammad Arif Furqon Certified Psychological Counselling Expert (CPCE)-IBS
3960 Yusuf Ratu Agung Certified Psychological Counselling Expert (CPCE)-IBS
3961 Novia Solichah Certified Psychological Counselling Expert (CPCE)-IBS
3962 Fuji Astutik Certified Psychological Counselling Expert (CPCE)-IBS
3963 Ainindita Aghniacakti Certified Psychological Counselling Expert (CPCE)-IBS
3964 Yudi Suharsono Certified Psychological Counselling Expert (CPCE)-IBS
3965 Tanti Widia Nurdiani Master Islamic Finance Analyst (MIFA)-AAFM
3966 Tanti Widia Nurdiani Master Project Manager (MPM)
3967 Heru Fahlevi Accredited Financial Analyst (AFA)-AAFM
3968 Kadarusman Accredited Financial Analyst (AFA)-AAFM
3969 Arnadi Chairunnas Accredited Financial Analyst (AFA)-AAFM
3970 Agus Munandar Accredited Financial Analyst (AFA)-AAFM
3971 Dhidhin Noer Ady Rahmanto Accredited Financial Analyst (AFA)-AAFM
3972 Teti Chandrayanti Accredited Financial Analyst (AFA)-AAFM
3973 Eka Zahra Solikahan Accredited Financial Analyst (AFA)-AAFM
3974 Adilah Permananingrum Accredited Financial Analyst (AFA)-AAFM
3975 Muhammad Faisal Arpelu Accredited Financial Analyst (AFA)-AAFM
3976 Asri Nur Wahyuni Accredited Financial Analyst (AFA)-AAFM
3977 Shella Rizqi Amelia Accredited Financial Analyst (AFA)-AAFM
3978 Emilda Accredited Financial Analyst (AFA)-AAFM
3979 Ridhotama Shanti Darsih Ottemoesoe Accredited Financial Analyst (AFA)-AAFM
3980 Hakim Muttaqim Accredited Financial Analyst (AFA)-AAFM
3981 Khusnul Khotimah Certified Risk Management Auditor(CRMA)-AAPM
3982 Arief Fachruddin Certified International Information System Security Professional (CIISSP)-IBS
3983 Faries Maulana Certified International Information System Security Professional (CIISSP)-IBS
3984 Agung Budi Sulistiyo Certified Business Analytic Professional (CBAP)-AAPM
3985 Bayu Aprillianto Certified Business Analytic Professional (CBAP)-AAPM
3986 Novi Puspitasari Certified Business Analytic Professional (CBAP)-AAPM
3987 Resha Dwi Ayu Pangesti Mulyono Certified Business Analytic Professional (CBAP)-AAPM
3988 Rochman Effendi Certified Business Analytic Professional (CBAP)-AAPM
3989 Ahmad Ahsin Kusuma Mawardi Certified Business Analytic Professional (CBAP)-AAPM
3990 Aska Primardi Certified Marketing Analyst (CMA)-AAPM
3991 Anis Apriliawati Certified Risk Management Professional (CRMP) - AAPM
3992 Briant Sudwi Julyan Certified Risk Management Professional (CRMP) - AAPM
3993 Fauzan Ismara Amri Certified Risk Management Professional (CRMP) - AAPM
3994 Nanda Gardamewa Certified Risk Management Professional (CRMP) - AAPM
3995 Utami Dewi Nastiti Certified Risk Management Professional (CRMP) - AAPM
3996 Dwi Cahyo Hendra Rinanto Certified Risk Management Professional (CRMP) - AAPM
3997 Linda Boen Certified International Leadership Professional (CILP)-AAPM
3998 Ali Suudi Certified International Project Manager (CIPM)-AAPM
3999 Yohanes Kristanto Certified International Project Manager (CIPM)-AAPM
4000 Barnas Burhanuddin Certified International Project Manager (CIPM)-AAPM
4001 Jajat Sudrajat Certified International Project Manager (CIPM)-AAPM
4002 Linda Boen Certified International Project Manager (CIPM)-AAPM
4003 Yanto Saputra Certified International Purchasing Professional (CIPP)-AAPM
4004 Linda Boen Certified Leadership Consultant (CLC)-AAPM
4005 Siti Rochmah Ika Certified Risk Management Professional (CRMP)-AAPM
4006 Yavida Nurim Certified Risk Management Professional (CRMP)-AAPM
4007 Wika Harisa Putri Certified Risk Management Professional (CRMP)-AAPM
4008 Joko Purwanto Nugroho Certified Risk Management Professional (CRMP)-AAPM
4009 Dewi Puspitasari Certified Risk Management Professional (CRMP)-AAPM
4010 Ig. Jaka Mulyana Certified International Operation Management Professional (CIOMP)-AAPM
4011 Lusia Permata Sari Hartanti Certified International Operation Management Professional (CIOMP)-AAPM
4012 Julius Mulyono Certified International Operation Management Professional (CIOMP)-AAPM
4013 Martinus Edy Siant Certified International Operation Management Professional (CIOMP)-AAPM
4014 Jan Alif Kreshna Certified Information Technology Project Manager (CITPM)-AAPM
4015 Andreas Ronald Setianan Certified International Tax Analyst (CITA)-AAFM
4016 Muhammad Yudhika Elrifi Certified International Tax Analyst (CITA)-AAFM
4017 Handoko Arwi Hasthoro Certified International Tax Analyst (CITA)-AAFM
4018 Wika Harisa Putri Certified Human Resource Analyst (CHRA)-AAPM
4019 Edy Suhendi Hidayat Certified Human Resource Analyst (CHRA)-AAPM
4020 Agung Himawan Certified Human Resource Analyst (CHRA)-AAPM
4021 Imam Bani Mustolik Certified Human Resource Analyst (CHRA)-AAPM
4022 Umi Hanik Certified Risk Management Professional (CRMP) - AAPM
4023 Hanik Tasnida Certified Risk Management Professional (CRMP) - AAPM
4024 Helmi Syaifuddin Certified Risk Management Professional (CRMP) - AAPM
4025 Ahmad Hidayatullah Certified Risk Management Professional (CRMP) - AAPM
4026 Meinarni Susilowati Certified Risk Management Professional (CRMP) - AAPM
4027 Achmad Sani Supriyanto Certified Risk Management Professional (CRMP) - AAPM
4028 Segaf Certified Risk Management Professional (CRMP) - AAPM
4029 Ita Hidayatus Sholihah Certified Risk Management Professional (CRMP) - AAPM
4030 Achmad Diny Hidayatullah Certified Risk Management Professional (CRMP) - AAPM
4031 Ilfi Nur Diana Certified Risk Management Professional (CRMP) - AAPM
4032 Laili Mufarochah Certified Risk Management Professional (CRMP) - AAPM
4033 M. Faisol Certified Risk Management Professional (CRMP) - AAPM
4034 Hilmy Certified Risk Management Professional (CRMP) - AAPM
4035 Slamet Certified Risk Management Professional (CRMP) - AAPM
4036 Uswatun Chasanah Certified Risk Management Professional (CRMP) - AAPM
4037 Isroqunnajah Certified Risk Management Professional (CRMP) - AAPM
4038 Achmad Zamroni Certified Risk Management Professional (CRMP) - AAPM
4039 Muhammad Husnur Ridlo Certified Risk Management Professional (CRMP) - AAPM
4040 Imam Ahmad Certified Risk Management Professional (CRMP) - AAPM
4041 Ance Saputra Pratama Certified Quality Engineer (CQE)-IBS
4042 Muhammad Rifa'i. Certified Quality Engineer (CQE)-IBS
4043 Raden Muhsin Budiono Certified Quality Engineer (CQE)-IBS
4044 Yuliadi Prihatmoko Certified Quality Engineer (CQE)-IBS
4045 Dodik Priyanto Certified International Project Manager (CIPM)-AAPM
4046 Dodik Priyanto Certified Marketing Analyst (CMA)-AAPM
4047 Andika Nuraga Budiman Certified Digital Marketing Professional (CDMP)-AAPM
4048 Intan Tri Annisa Certified Digital Marketing Professional (CDMP)-AAPM
4049 Amalia Setyanti Lestari Certified International Project Manager (CIPM)-AAPM
4050 Nurlaila Evawijayanti Certified International Project Manager (CIPM)-AAPM
4051 Zainah Sufriyati Certified International Project Manager (CIPM)-AAPM
4052 Dini Yuliana Rachman Certified International Project Manager (CIPM)-AAPM
4053 Amanatuz Zuhriyah Certified Marketing Analyst (CMA)-AAPM
4054 Andrie Kisroh Sunyigono Certified Marketing Analyst (CMA)-AAPM
4055 Dian Eswin Wijayanti Certified Marketing Analyst (CMA)-AAPM
4056 Aminah Happy Moninthofa Ariyani Certified Marketing Analyst (CMA)-AAPM
4057 Elys Fauziyah Certified Marketing Analyst (CMA)-AAPM
4058 Fuad Hasan Certified Marketing Analyst (CMA)-AAPM
4059 Isdiana Suprapti Certified Marketing Analyst (CMA)-AAPM
4060 Mardiyah Hayati Certified Marketing Analyst (CMA)-AAPM
4061 Mokh. Rum Certified Marketing Analyst (CMA)-AAPM
4062 Taufik Rizal Dwi Adi Nugroho Certified Marketing Analyst (CMA)-AAPM
4063 Ifan Rizky Kurniyanto Certified Marketing Analyst (CMA)-AAPM
4064 Moh. Wahyudi Priyanto Certified Marketing Analyst (CMA)-AAPM
4065 Novi Diana Badrut Tamami Certified Marketing Analyst (CMA)-AAPM
4066 Nurul Arifiyanti Certified Marketing Analyst (CMA)-AAPM
4067 Resti Prastika Destiarni Certified Marketing Analyst (CMA)-AAPM
4068 Setiani Certified Marketing Analyst (CMA)-AAPM
4069 Slamet Widodo Certified Marketing Analyst (CMA)-AAPM
4070 Sri Ratna Triyasari Certified Marketing Analyst (CMA)-AAPM
4071 Sugeng Purwanto Certified Marketing Analyst (CMA)-AAPM
4072 Daud Pratama Widianto Certified Marketing Analyst (CMA)-AAPM
4073 Iva Nurdiana Nurfarida Certified Marketing Analyst (CMA)-AAPM
4074 Khara Makrothomia Toda Certified Marketing Analyst (CMA)-AAPM
4075 Arief Budiman Certified Marketing Analyst (CMA)-AAPM
4076 Nuruni Ika Kusuma Wardhani Certified Marketing Analyst (CMA)-AAPM
4077 Pricylia Chintya Dewi Buntuang Certified Human Resource Professional (CHRP)-AAPM
4078 Mohammad Ali Murad Certified Human Resource Professional (CHRP)-AAPM
4079 Syaharuddin Y. Certified Human Resource Professional (CHRP)-AAPM
4080 Dirga Lestari AS. Certified Human Resource Professional (CHRP)-AAPM
4081 Afwan Hariri Agus Prohimi Certified Human Resource Professional (CHRP)-AAPM
4082 Elfia Nora Certified Human Resource Professional (CHRP)-AAPM
4083 Madziatul Churiyah Certified Human Resource Professional (CHRP)-AAPM
4084 Harnida Wahyuni Adda Certified Human Resource Professional (CHRP)-AAPM
4085 Wiri Wirastuti CHRA (Certified Human Resource Analyst)-AAPM
4086 Risnawati CHRA (Certified Human Resource Analyst)-AAPM
4087 Erwin Pangihutan Sirait Certified Human Resource Manager (CHRM)-AAPM
4088 Olivia Tanaya Certified Strategic Business Analyst (CSBA)-AAFM
4089 Erwan Sastrawan Farid Certified Strategic Business Analyst (CSBA)-AAFM
4090 Mohammad Fakhruddin Mudzakkir Certified Strategic Business Analyst (CSBA)-AAFM
4091 Cici Rianty K. Bidin Certified Strategic Business Analyst (CSBA)-AAFM
4092 Asna Certified Strategic Business Analyst (CSBA)-AAFM
4093 Cynthia Yohanna Kartikasari Certified Strategic Business Analyst (CSBA)-AAFM
4094 Juliana Kadang Certified Strategic Business Analyst (CSBA)-AAFM
4095 Surayya Certified Strategic Business Analyst (CSBA)-AAFM
4096 Haris Irnawan Certified International Information System Auditor (CIISA)-AAFM
4097 Herna Gunawan Certified International Information System Auditor (CIISA)-AAFM
4098 Narwan Ginanjar Certified International Information System Auditor (CIISA)-AAFM
4099 Bambang Gunawan Hadiyanta Certified International Information System Auditor (CIISA)-AAFM
4100 Rubiyatno Accredited Management Accountant(AMA)-AAFM M
4101 Albertus Yudi Yuniarto Accredited Management Accountant (AMA)-AAFM
4102 Patrick Vivid Adinata Accredited Management Accountant (AMA)-AAFM
4103 Gregorius Hendra Poerwanto Accredited Management Accountant (AMA)-AAFM
4104 R. Adam Medidjati Accredited Supply Chain Analyst (ASCA)-AAPM
4105 Nurbaiti Fadhilah Certified International OSHA Professional (CIOP)-AAPM
4106 Oyok Wahyudin Certified Human Resource Analyst (CHRA)-AAPM
4107 Dian Nurpaida Certified Human Resource Analyst (CHRA)-AAPM
4108 Irsyad Imanuddin Certified Human Resource Analyst (CHRA)-AAPM
4109 Muhammad Nurul Fajar Certified Human Resource Analyst (CHRA)-AAPM
4110 Agung Ridho Widhiatmoko Certified Marketing Analyst (CMA)-AAPM
4111 Ujang Kunadi Certified Marketing Analyst (CMA)-AAPM
4112 Dina Septianawati Certified Hospital Management Professional (CHMP)-IBS
4113 Budi Baharudin Certified International Project Manager (CIPM)-AAPM
4114 Siti Fatimah Certified Health Care Management Professional (CHCMP)-IBS
4115 Fahmy Akbar Idries Certified Leadership Consultant (CLC)-AAPM
4116 Mei Lukiana Certified International Law Analyst (CILA)-IBS
4117 Ahmad Sugeng Suryoatmojo Master Business Analyst (MBA)-AAFM
4118 Ance Saputra Pratama Certified Quality Engineer (CQE)-AAPM
4119 Muhammad Rifa'i. Certified Quality Engineer (CQE)-AAPM
4120 Raden Muhsin Budiono Certified Quality Engineer (CQE)-AAPM
4121 Yuliadi Prihatmoko Certified Quality Engineer (CQE)-AAPM
4122 R. Ela Sulastri Master Financial Planner (MFP)-AAFM
4123 Kiki Kurnia Certified Marketing Analyst (CMA)-AAPM
4124 Agus Gunawan Certified Marketing Analyst (CMA)-AAPM
4125 Agung Mohamad Hikmah Certified Marketing Analyst (CMA)-AAPM
4126 Ferdhy Febryan Certified Marketing Analyst (CMA)-AAPM
4127 Nunur Fitri Pratiwi Certified International Project Manager (CIPM)-AAPM
4128 Surandi Woong Arya Accredited Management Accountant (AMA)-AAFM
4129 Surandi Woong Arya Certified Strategic Auditor (CSA)-AAFM
4130 Surandi Woong Arya Certified in Financial Crimes (CFC)-AAFM
4131 Ketut Indraningrat Accredited Financial Analyst (AFA)-AAFM
4132 Zakaria Ansyori Certified Hospital Management Professional (CHMP)-IBS
4133 Muhamad Taufiq Certified Marketing Analyst (CMA)-AAPM
4134 Yanti Susanti Certified Hospital Management Professional (CHMP)-IBS
4135 Ai Lia Certified Health Care Management Professional (CHCMP)-IBS
4136 Muhammad Norman Master Project Manager (MPM)-AAPM
4137 Dede Suryanda Certified Business Analytic Professional (CBAP)-AAPM
4138 Sutomo Certified Lean Supply Chain Professional (CLSCP)-AAPM
4139 Siti Fajriati Certified Professional in Logistic Management (CPLM)-AAPM
4140 Retno Widayati Certified Professional in Logistic Management (CPLM)-AAPM
4141 Citra Meilia Certified Professional in Logistic Management (CPLM)-AAPM
4142 Maya Chyntia Certified Professional in Logistic Management (CPLM)-AAPM
4143 Agus Rachmat Soleh Certified in Financial Risk Management (CFRM)-AAFM
4144 Yena Wirahma Certified in Financial Risk Management (CFRM)-AAFM
4145 Dzikri Insan Kamil Certified International Project Manager (CIPM)-AAPM
4146 Reza Armeynaldo Certified International Project Manager (CIPM)-AAPM
4147 Widia Eka Putri Certified International Project Manager (CIPM)-AAPM
4148 Nur Iman Muztahidin Certified International Project Manager (CIPM)-AAPM
4149 Moh. Anton Hermawan Eka Putra Certified Human Resource Analyst (CHRA)-AAPM
4150 Salamatun Asakdiyah Certified Marketing Analyst (CMA)-AAPM
4151 Sukardi Certified Marketing Analyst (CMA)-AAPM
4152 Deny Ismanto Certified Marketing Analyst (CMA)-AAPM
4153 Dani Sadikin Gantana Certified Human Resource Analyst (CHRA)-AAPM
4154 Yulia Hamdaini Putri Certified Marketing Analyst (CMA)-AAPM
4155 Iisnawati Certified Marketing Analyst (CMA)-AAPM
4156 Iin Mayasari Certified Marketing Analyst (CMA)-AAPM
4157 Iyus Wiadi Certified Marketing Analyst (CMA)-AAPM
4158 Yanuar Jak Master Project Manager (MPM)-AAPM
4159 Syahrial Abdi Certified International Information System Auditor (CIISA)-AAFM
4160 Rita Anugerah Certified International Information System Auditor (CIISA)-AAFM
4161 Roy Prakoso Certified International Information System Auditor (CIISA)-AAFM
4162 Fahmi Oemar Certified International Information System Auditor (CIISA)-AAFM
4163 Indarti Certified International Information System Auditor (CIISA)-AAFM
4164 Sitti Zakiah Ma'mun Certified in Financial Risk Management (CFRM)-AAFM
4165 Fithriah Napu Certified in Financial Risk Management (CFRM)-AAFM
4166 Fitri Lapau Certified in Financial Risk Management (CFRM)-AAFM
4167 Andre Putra Pradana Certified in Financial Risk Management (CFRM)-AAFM
4168 Aswin Wiyatmoko Certified in Financial Risk Management (CFRM)-AAFM
4169 Erna Garnia Certified in Financial Risk Management (CFRM)-AAFM
4170 Surandi Woong Arya Certified in Financial Risk Management (CFRM)-AAFM
4171 Firman Rosjadi Djoemadi Certified in Financial Risk Management (CFRM)-AAFM
4172 Aluisius Hery Pratono Certified in Financial Risk Management (CFRM)-AAFM
4173 Lim Hendra Certified in Financial Risk Management (CFRM)-AAFM
4174 Olivia Tanaya Certified Digital Marketing Professional ()-AAPM
4175 Cynthia Yohanna Kartikasari Certified Digital Marketing Professional (CDMP)-AAPM
4176 Rio Haribowo Certified Supply Chain Manager (CSCM)-AAPM
4177 Haryono Certified Risk Management Professional (CRMP) - AAPM
4178 Barkah Certified Risk Management Professional (CRMP) - AAPM
4179 Triasih Aritonang Certified Risk Management Professional (CRMP) - AAPM
4180 Tuti Dharmawati Certified Risk Management Professional (CRMP) - AAPM
4181 Halmawati Certified Risk Management Professional (CRMP) - AAPM
4182 Hasbudin Certified Risk Management Professional (CRMP) - AAPM
4183 Yudhi Syarif Rachman Certified Risk Management Professional (CRMP) - AAPM
4184 Reza Viola Purba Certified Risk Management Professional (CRMP) - AAPM
4185 Dwi Putri Emilda Certified Risk Management Professional (CRMP) - AAPM
4186 Farhana Certified Risk Management Professional (CRMP) - AAPM
4187 Endah Labdhameirina Certified Risk Management Professional (CRMP) - AAPM
4188 Erwina Kumala Sari Certified Risk Management Professional (CRMP) - AAPM
4189 I Gusti Ngurah Abdi Wirya Susanta Certified Risk Management Professional (CRMP) - AAPM
4190 Dody Kurnia Lumban Gaol Certified Risk Management Professional (CRMP) - AAPM
4191 Weny Rosalina Certified Risk Management Professional (CRMP) - AAPM
4192 Yoshica Arienda Certified Risk Management Professional (CRMP) - AAPM
4193 Rieni Karina Certified Risk Management Professional (CRMP) - AAPM
4194 Albi Lasano Certified Risk Management Professional (CRMP) - AAPM
4195 Hana Yustiana Certified Risk Management Professional (CRMP) - AAPM
4196 Bella Amanda Negara Certified Risk Management Professional (CRMP) - AAPM
4197 Galuh Tri Pambekti Certified Risk Management Professional (CRMP) - AAPM
4198 Tantri Sujiwati Certified Risk Management Professional (CRMP) - AAPM
4199 Marsha Tyaralita Certified Risk Management Professional (CRMP) - AAPM
4200 Eki Dwi Komara Certified Risk Management Professional (CRMP) - AAPM
4201 Reza Nasharuddin Certified Risk Management Professional (CRMP) - AAPM
4202 Mulky Ananda Certified Risk Management Professional (CRMP) - AAPM
4203 Dian Tresnawati Certified Risk Management Professional (CRMP) - AAPM
4204 Munjin Certified Risk Management Professional (CRMP) - AAPM
4205 Zuri Pamuji Certified Risk Management Professional (CRMP) - AAPM
4206 Siti Farida Certified Risk Management Professional (CRMP) - AAPM
4207 Dinda Nur Hakim Certified Risk Management Professional (CRMP) - AAPM
4208 R. Bayuningrat Hardjakaprabon Certified Business Analytic Professional (CBAP)-AAPM
4209 Atika Irawan Certified Business Analytic Professional (CBAP)-AAPM
4210 Liane Okdinawati Certified Business Analytic Professional (CBAP)-AAPM
4211 Anggara Wisesa Certified Business Analytic Professional (CBAP)-AAPM
4212 Arfenia Nita Certified Business Analytic Professional (CBAP)-AAPM
4213 Kurnia Fajar Afgani Certified Business Analytic Professional (CBAP)-AAPM
4214 Nila Armelia Windasari Certified Business Analytic Professional (CBAP)-AAPM
4215 Prawira Fajarindra Belgiawan Certified Business Analytic Professional (CBAP)-AAPM
4216 Raden Aswin Rahadi Certified Business Analytic Professional (CBAP)-AAPM
4217 Yuanita Handayati Certified Business Analytic Professional (CBAP)-AAPM
4218 Shimaditya Nuraeni Certified Business Analytic Professional (CBAP)-AAPM
4219 Yudo Anggoro Certified Business Analytic Professional (CBAP)-AAPM
4220 Muhammad Rizaldi Makmur Certified Marketing Analyst (CMA)-AAPM
4221 Nisrina Hamid Certified Marketing Analyst (CMA)-AAPM
4222 Waode Maratun Shaleha Certified Marketing Analyst (CMA)-AAPM
4223 Al Asy Ari Adnan Hakim Certified Marketing Analyst (CMA)-AAPM
4224 Marjani Certified Human Resource Analyst (CHRA)-AAPM
4225 Selvi Diliyanti Rizki Certified Human Resource Analyst (CHRA)-AAPM
4226 An Najjar Madjiani Tahir Certified Human Resource Analyst (CHRA)-AAPM
4227 Ahlan Zulfakhri Certified International Project Manager (CIPM)-AAPM
4228 Lidia Ariani Master Management Consultant (MMC)-GAFM
4229 Anang Siswanto Master Management Consultant (MMC)-GAFM
4230 Martinus Edy Sianto Certified International Operation Management Professional (CIOMP)-AAPM
4231 Achmad Hayyunuski Master Quality Manager (MQM)-AAPM
4232 Shafina Abdul Aziz Baraba Accredited Supply Chain Analyst (ASCA)-AAPM
4233 Irfan Tegar Lalang Kurniawan Accredited Supply Chain Analyst (ASCA)-AAPM
4234 Abdurrahman Sidiq Accredited Supply Chain Analyst (ASCA)-AAPM
4235 Muhammad Hoqqil Fatwa Accredited Supply Chain Analyst (ASCA)-AAPM
4236 Nurul Hadi F F Accredited Supply Chain Analyst (ASCA)-AAPM
4237 Muhammad Faadihilah Accredited Supply Chain Analyst (ASCA)-AAPM
4238 Nuraisyah Shafira Meilina Accredited Supply Chain Analyst (ASCA)-AAPM
4239 Rizka Khairika Accredited Supply Chain Analyst (ASCA)-AAPM
4240 Sekar Arum Sari Accredited Supply Chain Analyst (ASCA)-AAPM
4241 Sri Cempaka Accredited Supply Chain Analyst (ASCA)-AAPM
4242 Yunita Auliya Rahman Accredited Supply Chain Analyst (ASCA)-AAPM
4243 Laurensius Ade Suyanto Certified Human Resource Analyst (CHRA)-AAPM
4244 Dewi Ariani Certified Marketing Analyst (CMA)-AAPM
4245 Yadi Sumpeno Certified Construction Project Consultant (CCPC)-AAPM Zaki Muafa Rijae Certified Marketing Analyst (CMA)-AAPM
4246 Amelia Noviani Prabowo Certified Marketing Analyst (CMA)-AAPM
4247 Cholilawati Certified Marketing Analyst (CMA)-AAPM
4248 Tsana Khairunnisa Certified Marketing Analyst (CMA)-AAPM
4249 Sandi Yulianti Certified Marketing Analyst (CMA)-AAPM
4250 Mukthi Ashimuddin Certified International Project Manager (CIPM)-AAPM
4251 Imam Nugroho Certified International Project Manager (CIPM)-AAPM
4252 Agus Budiyanto Certified International Project Manager (CIPM)-AAPM
4253 Tanti Widia Nurdiani Certified International Professional Trainer (CIPT)-IBS
4254 Zulfikar Aditya Chandra Certified Marketing Analyst (CMA)-AAPM
4255 Vera Sandriana Certified Marketing Analyst (CMA)-AAPM
4256 Adwin Widriansyah Certified Marketing Analyst (CMA)-AAPM
4257 Annisa Mutmainna Widiasari Certified Marketing Analyst (CMA)-AAPM
4258 Dana Kristina Certified Marketing Analyst (CMA)-AAPM
4259 Muhammad Ridho Antalo Certified Marketing Analyst (CMA)-AAPM
4260 Galih Trisno Saputra Certified Risk Management Professional (CRMP)-AAPM
4261 Lilim Walim Certified Human Resource Analyst (CHRA)-AAPM
4262 Agista Anggun Kinanti Certified Property Management Professional (CPMP)-AAPM
4263 Ari Indrianto Certified Property Management Professional (CPMP)-AAPM
4264 Indra Purnama Certified International Project Manager (CIPM)-AAPM
4265 Boris Mikhael Aloysius Turnip Certified International Project Manager (CIPM)-AAPM
4266 I Putu Pria Dharma Aprillia Certified International Project Manager (CIPM)-AAPM
4267 Indarti Certified Islamic Finance Analyst (CIFA)-AAFM
4268 Fahmi Oemar Certified Islamic Finance Analyst (CIFA)-AAFM
4269 Rita Anugerah Certified Islamic Finance Analyst (CIFA)-AAFM
4270 Roy Prakoso Certified Islamic Finance Analyst (CIFA)-AAFM
4271 Syahrial Abdi Certified Islamic Finance Analyst (CIFA)-AAFM
4272 Mirza Tabrani Certified Islamic Finance Analyst (CIFA)-AAFM
4273 Muslim A. Djalil Certified Islamic Finance Analyst (CIFA)-AAFM
4274 Faisal Certified Islamic Finance Analyst (CIFA)-AAFM
4275 Rustam Effendi Certified Islamic Finance Analyst (CIFA)-AAFM
4276 Syarifuddin Certified Islamic Finance Analyst (CIFA)-AAFM
4277 Fifi Yusmita Certified Islamic Finance Analyst (CIFA)-AAFM
4278 AgusRahman Alamsyah Certified International Project Manager (CIPM)-AAPM
4279 Agus Rahman Alamsyah Certified Wealth Manager (CWM)-AAFM
4280 Agus Rahman Alamsyah Certified Fraud Professional (CFP)-GAFM
4281 Heni Herlina Certified Human Resource Analyst (CHRA)-AAPM
4282 Zarit Certified Maintenance and Reliability Professional (CMRP)-AAPM
4283 Muhammad Zaini Certified Maintenance and Reliability Professional (CMRP)-AAPM
4284 Dwi Permadi Satrio Wibowo Certified Maintenance and Reliability Professional (CMRP)-AAPM
4285 Dedi Irawan Yusrin Certified Maintenance and Reliability Professional (CMRP)-AAPM
4286 Prastowo Adi Nugroho Certified Maintenance and Reliability Professional (CMRP)-AAPM
4287 Hanif Miftahul Haq Certified Maintenance and Reliability Professional (CMRP)-AAPM
4288 Taopik Hidayat Certified International Information System Auditor (CIISA)-AAFM
4289 Ari Kurniawan Certified International Information System Auditor (CIISA)-AAFM
4290 Noval Tajudin Master Project Manager (MPM)-AAPM
4291 Noval Tajudin Certified Management Consultant Professional (CMCP)-GAFM
4292 Jumiatul Ikhlas Master Quality Manager (MQM)-AAPM
4293 Muhamad Sapei Master Data Center Professional (MDCP)-AAPM
4294 Bachtiar Dumais Laksana Master Data Center Professional (MDCP)-AAPM
4295 Wira Herucakra Certified International Project Manager (CIPM)-AAPM
4296 Lukytoardi Megantoro Certified International Project Manager (CIPM)-AAPM
4297 Iwan Susant o Certified International Project Manager (CIPM)-AAPM
4298 Martinus Edy Sianto Certified International Operation Management Professional (CIOMP)-AAPM
4299 Yohan Effenddy Sunyoto Master Project Manager (MPM)-AAPM
4300 Arip Rahman Sudrajat Certified Public Administration Professional (CPAP)-IBS
4301 Sandy Martsanto Master Project Manager (MPM)-AAPM
4302 Chandra Basuki Master Project Manager (MPM)-AAPM
4303 Chandra Erick Manaek Pandapotan Lumban Gaol Certified International Project Manager (CIPM)-AAPM
4304 Ramli Certified Marketing Analyst (CMA)-AAPM
4305 Izhar Rahman Dwiputra Certified Feasibility Study Specialist (CFSS)-AAPM
4306 Novalin Permata Certified Feasibility Study Specialist (CFSS)-AAPM
4307 Christiono Certified Feasibility Study Specialist (CFSS)-AAPM
4308 Arissetyanto Nugroho Certified Marketing Analyst (CMA)-AAPM
4309 Intan Maulani Yanuar Certified International Purchasing Professional (CIPP)-AAPM
4310 Nabilah Oktaviani Certified International Purchasing Professional (CIPP)-AAPM
4311 Rossi Adi Nugroho Certified Risk Management Professional (CRMP)-AAPM
4312 Yuki Deli Azzolla Malau Certified Risk Management Professional (CRMP)-AAPM
4313 Hendra Setiawan Master Project Manager (MPM)-AAPM
4314 Arief Marzuki Certified Planning Engineer (CPE)-AAPM
4315 Andria Permata Veithzal Certified International Project Portfolio Manager (CIPPM)-AAPM
4316 Imam Kusworo Master Project Manager (MPM)-AAPM
4317 Alwin Hartono limaran Certified International Information System Auditor (CIISA)-AAFM
4318 Ircko Krisdiyanto Sudjarnako Certified International Information System Auditor (CIISA)-AAFM
4319 Ricky Hermayanto Master Islamic Finance Analyst (MIFA)-AAFM
4320 Muhammad Zulfikar Master Islamic Finance Analyst (MIFA)-AAFM
4321 Ridwan Ramadhan Certified Marketing Analyst (CMA)-AAPM
4322 Ridwan Ramadhan Certified in Financial Risk Management (CFRM)-AAFM
4323 Joobu Wahyudi Certified in Financial Risk Management (CFRM)- AAFM
4324 Yudo Anggoro Certified in Financial Risk Management (CFRM)- AAFM
4325 Alfred Boediman Certified in Financial Risk Management (CFRM)-AAFM
4326 Saldy Fitrianda Sabarudin Certified in Financial Risk Management (CFRM)- AAFM
4327 Erwin Sutandar Certified Risk Management Professional (CRMP) - AAPM
4328 Neilcy Tjahjamooniarsih Certified Risk Management Professional (CRMP) - AAPM
4329 Sri Ismawati Certified Risk Management Professional (CRMP) - AAPM
4330 Herlina Certified Risk Management Professional (CRMP) - AAPM
4331 Farah Diba Certified Risk Management Professional (CRMP) - AAPM
4332 Nurhaida Certified Risk Management Professional (CRMP) - AAPM
4333 Denah Suswati Certified Risk Management Professional (CRMP) - AAPM
4334 Sumiadji Certified Risk Management Professional (CRMP) - AAPM
4335 Kemal Akhmad Riza Certified Risk Management Professional (CRMP) - AAPM
4336 Silvia Damayanti Certified Risk Management Professional (CRMP) - AAPM
4337 Fralus Dolfy Ellyson Certified Risk Management Professional (CRMP) - AAPM
4338 Agus Priyantoro Certified Risk Management Professional (CRMP) - AAPM
4339 Slamet Widodo Certified Risk Management Professional (CRMP) - AAPM
4340 R.M. Rustamaji Certified Risk Management Professional (CRMP) - AAPM
4341 Gun Gun Indrayana Certified Risk Management Professional (CRMP) - AAPM
4342 Raden Aswin Rahadi Certified Risk Management Professional (CRMP) - AAPM
4343 Siti Mudayaroh Certified Human Resource Professional (CHRP)-AAPM
4344 Dian Andriady Certified Human Resource Professional (CHRP)-AAPM
4345 Muhammad Ghozali Certified Human Resource Professional (CHRP)-AAPM
4346 Ahmad Zakiyatul Ittihad Certified Human Resource Professional (CHRP)-AAPM
4347 Diani Kadrini Certified Human Resource Professional (CHRP)-AAPM
4348 Wilson Bangun Certified Human Resource Professional (CHRP)-AAPM
4349 Barkah Certified Strategic Business Analyst (CSBA)-AAFM
4350 Puji Wahono Certified Strategic Business Analyst (CSBA)-AAFM
4351 Destria Kurnianti Certified Strategic Business Analyst (CSBA)-AAFM
4352 Husnah Lutfiah Certified Strategic Business Analyst (CSBA)-AAFM
4353 Rio Dilianto Certified Strategic Business Analyst (CSBA)-AAFM
4354 R. Herna Gunawan Certified Strategic Business Analyst (CSBA)-AAFM
4355 Gendut Sukarno Certified Human Resource Analyst (CHRA)-AAPM
4356 Andi Setiawan Abadi Certified Human Resource Analyst (CHRA)-AAPM
4357 Surandi Woong Arya Certified Human Resource Analyst (CHRA)-AAPM
4358 Lissa Rosdiana Noer Certified Marketing Analyst (CMA)-AAPM
4359 Surandi Woong Arya Certified Marketing Analyst (CMA)-AAPM
4360 Ratri Amelia Aisyah Certified Marketing Analyst (CMA)-AAPM
4361 Dea Farahdiba Certified Marketing Analyst (CMA)-AAPM
4362 Egan Evanzha Yudha Amriel Certified Marketing Analyst (CMA)-AAPM
4363 Iman Subejo Sutanto Certified Marketing Analyst (CMA)-AAPM
4364 Prahardika Prihananto Certified Marketing Analyst (CMA)-AAPM
4365 Valentine Lyvia Gultom Certified Marketing Analyst (CMA)-AAPM
4366 Maskuri Sutomo Certified Digital Marketing Professional (CDMP)-AAPM
4367 Farid Certified Digital Marketing Professional (CDMP)-AAPM
4368 Rini Hudiono Certified Digital Marketing Professional (CDMP)-AAPM
4369 Inayah Abdillah Rabbani Certified Digital Marketing Professional (CDMP)-AAPM
4370 Yusdin Tangkesi Certified Digital Marketing Professional (CDMP)-AAPM
4371 Ika Barokah Suryaningsih Certified International Information System Auditor (CIISA)-AAFM
4372 Krisnamurti Certified International Information System Auditor (CIISA)-AAFM
4373 Anik Suwandari Certified International Information System Auditor (CIISA)-AAFM
4374 Galih Wicaksono Certified International Information System Auditor (CIISA)-AAFM
4375 Luh Putu Indah Budyawati Certified International Information System Auditor (CIISA)-AAFM
4376 Kristian Suhartadi WN Certified International Information System Auditor (CIISA)-AAFM
4377 Cempaka Paramita Certified International Information System Auditor (CIISA)-AAFM
4378 Ratih Listyana Chandra Certified International Information System Auditor (CIISA)-AAFM
4379 Nova El Maidah Certified International Information System Auditor (CIISA)-AAFM
4380 Nurul Chotimah Certified International Information System Auditor (CIISA)-AAFM
4381 Dwi Febri Arifiyanto Certified International Information System Auditor (CIISA)-AAFM
4382 Muhammad Nurul Amin Certified International Information System Auditor (CIISA)-AAFM
4383 Indah Yulia N Certified International Information System Auditor (CIISA)-AAFM
4384 Miftahul Choiron Certified International Information System Auditor (CIISA)-AAFM
4385 Wiwik Handayani Certified International Project Manager (CIPM)-AAPM
4386 Iclas Nur Alam Certified Supply Chain Manager (CSCM - AAPM)
4387 Wawan Setyo Budi Certified Supply Chain Manager (CSCM - AAPM)
4388 Dewi Indriani Certified Digital Marketing Professional (CDMP)-AAPM
4389 Doddi Rahayu Nugroho Certified International Project Portfolio Manager (CIPPM)-AAPM
4390 Miftahul Choiron Certified International Information System Auditor (CIISA)-AAFM
4391 Wiwik Handayani Certified International Operation Management Professional (CIOMP)-AAPM
4392 Erieck Ginanjar Sarief Saputra Certified International Operation Management Professional (CIOMP)-AAPM
4393 Runika Hardana Certified Marketing Analyst (CMA)-AAPM
4394 Inan Layyinan Certified Marketing Analyst (CMA)-AAPM
4395 Hikmat Taufik Certified Marketing Analyst (CMA)-AAPM
4396 Entus Wahidin AQ Certified Marketing Analyst (CMA)-AAPM
4397 Cucup Ruhiyat Certified International Project Manager (CIPM)-AAPM
4398 Gilar Perdana Putra Designated Business Analyst (DBA)-AAPM
4399 Gilar Perdana Putra Certified Strategic Human Resource (CSHR)-AAPM
4400 Gilar Perdana Putra Certified Human Resources Project Manager (CHRPM)-AAPM
4401 Angga Aulia Akbar Certified Business Analytic Professional (CBAP)-AAPM
4402 Angga Aulia Akbar Chartered Asset Manager (CAM)-AAPM
4403 Hermansyah Certified Accredited Project Manager (CAPM)-AAPM
4404 Bekti Suprayitno Chartered Risk Management Officer (ChRMO)-AAPM
4405 Bekti Widiharso Chartered Risk Management Officer (ChRMO)-AAPM 4406 Erieck Ginanjar Sarief Saputra Certified International Operation Management Professional (CIOMP)-AAPM
4407 Surandi Woong Arya Certified Compliance Professional (CCP)-GAFM
4408 Surandi Woong Arya Certified Governance Auditor (CGA)-AAFM
4409 Surandi Woong Arya Certified Fraud Investigator (CFI)-GAFM
4410 Surandi Woong Arya Certified Anti Money Laundering Consultant (CAMC)-GAFM
4411 Surandi Woong Arya Certified Human Resources Business Partner (CHRP)-GAFM
4412 Adhi Kholiddin Certified Marketing Analyst (CMA)-AAPM
4413 Abdil Hafiizh Zhafran Certified Marketing Analyst (CMA)-AAPM
4414 Adesta Munas Latief Certified Marketing Analyst (CMA)-AAPM
4415 Budi Fitriawan Certified Strategic Business Analyst (CSBA)-AAFM
4416 Angga Santoso Certified Human Resource Professional(CHRP)-AAPM
4417 Lie Toni Accredited Supply Chain Professional (ASCP)-AAPM
4418 Indra Kurniadi Accredited Supply Chain Professional (ASCP)-AAPM
4419 Wilson Siahaan Accredited Supply Chain Professional (ASCP)-AAPM
4420 Nonic Octavia Certified International Purchasing Professional (CIPP)
4421 Ardhian Bayu Firdauz Certified Business Analytic Professional (CBAP)-AAPM
4422 Ary Sunantiyo Certified Asset Management Professional (CAMP)-AAPM
4423 Ary Sunantiyo Certified International Project Manager (CIPM)-AAPM
4424 M. Yusuf Alhadihaq Certified Human Resource Analyst (CHRA)-AAPM
4425 Surandi Woong Arya Certified Professional in Corporate Finance (CPCF)-AAFM
4426 Ruth Octaviani P. Wermasubun Certified Professional in Corporate Finance (CPCF)-AAFM
4427 Surandi Woong Arya Certified in Operations Finance Due Diligence (COFD)-AAFM
4428 Ruth Octaviani P. Wermasubun Certified in Operations Finance Due Diligence (COFD)-AAFM
4429 Muhaimin Hasbi Certified International Project Manager (CIPM)-AAPM
4430 Fidia Triani Certified in International Financial Reporting Standards (CIFRS)-AAFM
4431 Samuel Manurung Master Project Manager (MPM)-AAPM
4432 Titis Sosro Tri Raharjo Certified Digital Marketing Professional (CDMP)-AAPM
4433 Miftakhul Khoir Nur Rahmawadi Certified Business Analytic Professional (CBAP)-AAPM
4434 Reza Fachrizal Adnan Certified Business Analytic Professional (CBAP)-AAPM
4435 Idad Suhada Certified Professional in Education-CPE-IBS
4436 Mumu Abdurrohman Certified in Linguistics Expert-CLE-IBS
4437 Cucu Zenab Subarkah Certified Professional in Education-CPE-IBS
4438 Yeti Heryati Certified in Linguistics Expert-CLE-IBS
4439 Ida Farida Certified in Natural Science Professional-CNSP-IBS
4440 Adam Malik Certified in Natural Science Professional-CNSP-IBS
4441 Dadan Nurul Haq Certified Professional in Education -CPE-IBS
4442 Irawan Certified in Educational Science Expert- CESE-IBS
4443 Yayan Carlian Certified Professional in Education -CPE-IBS
4444 Yuyun Yulianingsih Certified Professional in Education -CPE-IBS
4445 Nanang Kosim. Certified Professional in Education -CPE-IBS
4446 Juariah Certified in Mathematics Education Professional-CMEP-IBS
4447 Dedih Wahyudin Certified in Linguistics Expert- CLE-IBS
4448 Asep Nursobah Certified in Educational Technology Expert-CETE-IBS
4449 Nia Kurniawati Certified in Linguistics Expert -CLE-IBS
4450 Sumiyati Sa'adah Certified in Natural Science Professional-CNSP-IBS
4451 Cecep Anwar Certified Professional in Education -CPE-IBS
4452 Dadan Fitria Ramdhan Certified in Educational Science Expert- CESE-IBS
4453 Sajidin Certified in Linguistics Expert-CLE-IBS
4454 Hary Priatna Sanusi Certified Professional in Education -CPE-IBS
4455 Irfan Ahmad Zain Certified Professional in Education -CPE-IBS
4456 Iyon Maryono Certified in Mathematics Education Professional-CMEP-IBS
4457 Nurhamzah Certified Professional in Education -CPE-IBS
4458 Heri Hidayat Certified Professional in Education -CPE-IBS
4459 Ali Masrur Certified in Humanistic Studies- CHS-IBS
4460 Irma Riyani Certified in Humanistic Studies-CHS-IBS
4461 Enceng Arif Faizal Certified Professional in Criminalistics-CPC-IBS
4462 Burhanuddin Certified Human Right Specialist-CHRS-IBS
4463 Eneng Nuraeni Certified Family Law Specialist-CFLS-IBS
4464 Harry Yuniardi Certified Family Law Specialist-CFLS-IBS
4465 Ine Fauzia Certified International Law Analyst-CILA-IBS
4466 Neni Nuraeni Certified Family Law Specialist-CFLS-IBS
4467 Rosleny Marliani Certified Professional Psychologists-CPP-IBS
4468 Agus Mulyana Certified Professional Psychologists-CPP-IBS
4469 Syamsuddin Certified Human Resource Professional-CHRP-AAPM
4470 Isep Zaenal Arifin Certified Mental Health Spesialist-CMHS-IBS
4471 Asep Iwan Setiawan Accredited Management Consultant-AMC-GAFM
4472 Dudy Imanuddin Effendi Master Quality Manager-MQM-AAPM
4473 Darajat Wibawa Certified Master of Business Communication-CMBC-GAFM
4474 Asep Shodiqin Certified Human Resource Professional-CHRP-AAPM
4475 Aang Ridwan Certified International Communication Specialist-CICS-AAPM
4476 Arif Rahman Certified Executive in Project Management-CEPM-AAPM
4477 Abdul Mujib Certified Human Resources Analyst-CHRA-AAPM
4478 Setia Gumilar Certified Historical Science Expert-CHSE-IBS
4479 Mawardi Certified Literary Criticism Expert-CLCE-IBS
4480 H. Nurholis Certified Literary Criticism Expert-CLCE-IBS
4481 Widiati Isana Certified Expert in Civilization History-CECH-IBS
4482 Suparman Certified Expert in Historical Science-CEHS-IBS
4483 Samsudin Certified Expert in Civilization History-CECH-IBS
4484 Asep Supianudin Certified Language and Literature Expert-CLLE-IBS
4485 Yana Aditia Gerhana Certified Digital Multimedia Specialist-CDMS-IBS
4486 Dian Sa'adillah Maylawati Certified in Data Science-CDS-AAPM
4487 Endah Ratnawaty Chotim Certified Social Sciences Expert-CSSE-IBS
4488 Encup S Certified Sociology Expert-CSE-IBS
4489 Sahya Public Policy Science Expert-PPSE-IBS
4490 Wawan Setiawan Abdillah Certified Religious Studies Expert-CRSE-IBS
4491 Hasan Mustapa Certified Politics Expert-CPE-IBS
4492 Iwan Setiawan Certified International Economic Law Professional (CIELP)-IBS
4493 Muhammad Hasanuddin Certified Hospitality Tourism Professional-CHTP-IBS
4494 Kadar Nurjaman Certified Human Resource Analyst (CHRA)-AAPM
4495 Evi Sopiah Certified International Economic Law Professional (CIELP)-IBS
4496 Budi Budiman Certified in Islamic Economy Expert-CIEE
4497 Andewi Suhartini Certified in Educational Science Expert- CESE-IBS
4498 Asep Achmad Hidayat Certified Expert in Historical Science-CEHS-IBS
4499 Uu Nurul Huda Certified Constitutional Law Expert-CCLE_IBS
4500 Dedah Jubaedah Certified Social Sciences Expert-CSSE-IBS
4501 Nurrohman Certified in Legal Studies-CLS-IBS
4502 Jaja Jahari Certified in Education Management Professional-CEMP-IBS
4503 Hasan Bisri Certified Law Analyst-CLA-IBS
4504 Engkos Kosasih Certified in Humanistic Studies -CHS-IBS
4505 Izzuddin Mustafa Certified in Linguistics and Literature Expert-CLLE-IBS
4506 Asep Muhyiddin Certified Human Resource Professional-CHRP-AAPM
4507 Mustofa Certified in Humanistic Studies (CHS)-IBS
4508 Usep Saepulah Certified Law Analyst-CLA-IBS
4509 Dian Certified in Education Management Professional-CEMP-IBS
4510 Eni Zulaiha Certified in Humanistic Studies (CHS)-IBS
4511 Isop Syafe'i Certified Linguistics Professional-CLP-IBS
4512 Usman Supendi Certified Expert in Historical Science-CEHS-IBS
4513 Ending Solehudin Certified Law Analyst-CLA-IBS
4514 Yusuf Wibisono Certified in Religious Studies Expert-CRSE-IBS
4515 Adang Hambali Master Psychological Consultant-MPC-IBS
4516 Asep Saeful Muhtadi Certified International Communication Specialist-CICS-AAPM
4517 Dody S.Truna Certified in Sociology of Religion-CSR-IBS
4518 Tedi Priatna Certified Human Resource Professional-CHRP-AAPM
4519 Mahmud Certified Educational Sociology Expert-CESE-IBS
4520 Neneng Hartati Certified Project Risk Manager-CPRM-AAPM
4521 Mia Lasmi Wardiyah Certified Project Risk Manager-CPRM-AAPM
4522 Herry Sutanto Certified Islamic Finance Analyst-CIFA-AAFM
4523 Dudang Gozali Certified International Law Analyst (CILA)-IBS
4524 Ricardo Sabar Pakpahan Certified Marketing Analyst (CMA)-AAPM
4525 Wicky Aji Prabowo Certified Accredited Project Manager (CAPM)-AAPM
4526 Firman Gunawan Chartered Risk Management Professional (CRMP)-AAPM
4527 Raden Ary Relyman Certified Business Analytic Professional (CBAP)-AAPM
4528 Raden Ary Relyman Certified Accredited Project Manager (CAPM)-AAPM
4529 Rini Kuswati Certified Marketing Analyst (CMA)-AAPM
4530 Aflit Nuryulia Praswati Certified Marketing Analyst (CMA)-AAPM
4531 Kussudyarsana Certified Marketing Analyst (CMA)-AAPM
4532 Muhammad Fawaiq Certified in Financial Risk Management (CFRM)-AAFM
4533 A. Sakir Certified in Financial Risk Management (CFRM)-AAFM
4534 Linna Ismawati Certified in Financial Risk Management (CFRM)-AAFM
4535 Gentiga Muhammad Zairin Certified in Financial Risk Management (CFRM)-AAFM
4536 Andi Muhammad Iqbal Walinono Certified in Financial Risk Management (CFRM)-AAFM
4537 Sufrin Hannan Certified in Financial Risk Management (CFRM)-AAFM
4538 Rully Styono Certified International Information System Auditor (CIISA)-AAFM
4539 Rahmayati Certified International Information System Auditor (CIISA)-AAFM
4540 Askam Tuasikal Certified International Information System Auditor (CIISA)-AAFM
4541 Zahri Fadli Certified International Information System Auditor (CIISA)-AAFM
4542 Ernst Tunggul Pardomuan S Certified Maintenance and Reliability Consultant (CMRC)-AAPM
4543 Rexy Darmawan Certified Business Analytic Professional (CBAP)-AAPM
4544 Muhammad Fajri Certified Business Analytic Professional (CBAP)-AAP
4545 Rahmat Santoso Master Project Manager (MPM)-AAPM
4546 Ali Syafiq Certified In International Financial Reporting Standards (CIFRS)-AAFM
4547 Novita Elfiani Certified In International Financial Reporting Standards (CIFRS)-AAFM
4548 Bagas Ardhianto Certified In International Financial Reporting Standards (CIFRS)-AAFM
4549 Intan Alfitasari Certified In International Financial Reporting Standards (CIFRS)-AAFM
4550 Risma Yulianthi Certified In International Financial Reporting Standards (CIFRS)-AAFM
4551 Rizky Tahara Shita Certified Business Analytic Professional (CBAP)-AAPM
4552 Gunadi Sumantri. Certified Risk Management Professional (CRMP)-AAPM
4553 Serli Wijaya Certified Digital Marketing Specialist (CDMS)-AAPM
4554 Regina Jokom Certified Digital Marketing Specialist (CDMS)-AAPm
4555 Trixie Nova Bella Tandijaya Certified Digital Marketing Specialist (CDMS)-AAPM
4556 Michael Adiwijaya Certified Digital Marketing Specialist (CDMS)-AAPM
4557 Yohan Gunawan Henuk Certified Digital Marketing Specialist (CDMS)-AAPM
4558 Qoliqina Zolla Sabrina Certified in Contract Management Professional-(CIMP)-AAFM
4559 Sonny Rustiadi Certified Business Analytic Professional (CBAP)-AAPM
4560 Rifqy Master Data Center Professional (MDCP)-AAPM
4561 Mega Rachmani Certified International Procurement Professional (CIPP)-AAPM
4562 Virgo Nila Krisna Certified International Procurement Professional (CIPP)-AAPM
4563 M Ridwan Fauzi Certified International Procurement Professional (CIPP)-AAPM
4564 Indra Bharata Certified International Procurement Professional (CIPP)-AAPM
4565 Muhammad Harris Certified General Affairs Management Professional (CGAMP)-IBS
4566 Hamam Anwaruddin Al Ghifari Certified General Affairs Management Professional (CGAMP)-IBS
4567 Ratih Certified General Affairs Management Professional (CGAMP)-IBS
4568 Poppy Henita Christin Certified International Procurement Professional (CIPP)-AAPM
4569 Agung Surya Dwianto Certified Strategic Business Analyst (CSBA)-AAFM
4570 Bunga Mareti Permatasari Certified Strategic Business Analyst (CSBA)-AAFM
4571 Elisabeth Galih Dyah Gayatri Certified Strategic Business Analyst (CSBA)-AAFM
4572 Lingga Yuliana Certified Strategic Business Analyst (CSBA)-AAFM
4573 Nurliya Apriyana Certified Strategic Business Analyst (CSBA)-AAFM
4574 Putri Sion H. Sipahutar Certified International Law Analyst (CILA)-IBS
4575 Renghat Indra Marbun Certified Supply Chain Manager (CSCM)-AAPM
4576 Teguh Santoso Certified Supply Chain Manager (CSCM)-AAPM
4577 Didik Endroprasetyo Master Project Manager (MPM)-AAPM
4578 Arya Pramudya Certified Business Analytic Professional (CBAP)-AAPM
4579 Berlian Fajar Yusuf Certified Business Analytic Professional (CBAP)-AAPM
4580 Dwi Nugroho Certified Business Analytic Professional (CBAP)-AAPM
4581 Muhammad Fadhil Maulana Certified Business Analytic Professional (CBAP)-AAPM
4582 Ines Wahyuniati Riza Certified Business Analytic Professional (CBAP)-AAPM
4583 Kartika Lestari Certified Business Analytic Professional (CBAP)-AAPM
4584 Kintan Dwi Sedilana Certified Business Analytic Professional (CBAP)-AAPM
4585 Malvin Heraldo Certified Business Analytic Professional (CBAP)-AAPM
4586 Sastria Wresniwira Certified Business Analytic Professional (CBAP)-AAPM
4587 Silliana Surya Aini Certified Business Analytic Professional (CBAP)-AAPM
4588 Zain Maulana Azmi Certified Business Analytic Professional (CBAP)-AAPM
4589 Adi Janatra Certified Business Analytic Professional (CBAP)-AAPM
4590 Ahmad Fariz Hadyan Certified Business Analytic Professional (CBAP)-AAPM
4591 Dextrin Ar Rissya Certified Business Analytic Professional (CBAP)-AAPM
4592 Erika Wahyu Fajarwanto Certified Business Analytic Professional (CBAP)-AAPM
4593 Firdaus Nugroho Aji Certified Business Analytic Professional (CBAP)-AAPM
4594 Galih Arso Tihardo Certified Business Analytic Professional (CBAP)-AAPM
4595 Sindy Harvi Amalia Certified Business Analytic Professional (CBAP)-AAPM
4596 Sony Lesmana Certified Business Analytic Professional (CBAP)-AAPM
4597 Soehermin Ari Poedjiati Certified Marketing Analyst (CMA)-AAPM
4598 Imam Muslim Certified Marketing Analyst (CMA)-AAPM
4599 Soehermin Ari Poedjiati Certified Leadership Consultant (CLC)-AAPM
4600 Imam Muslim Certified Strategic Business Analyst (CSBA)-AAFM
4601 Sonata Christian Certified Leadership Specialist (CLS)-AAPM
4602 Gracia Ongkowijoyo Certified Leadership Specialist (CLS)-AAPM
4603 Sonata Christian Certified International Professional Enterpreneur (CIPE)
4604 Gracia Ongkowijoyo Certified International Professional Enterpreneur (CIPE)
4605 Wawan Setyo Budi Certified International Operation Management Professional (CIOMP)
4606 Mulyoko Certified International Operation Management Professional (CIOMP)
4607 Dyah Mardiasih Certified in Financial Risk Management (CFRM)-AAFM
4608 Erlianti Indah Budiati Certified Marketing Analyst (CMA)-AAPM
4609 Hafidz Ramadhan Certified Marketing Analyst (CMA)-AAPM
4610 Hanny Aulia Triasita Certified Marketing Analyst (CMA)-AAPM
4611 Pradhianka Prawidar Certified Marketing Analyst (CMA)-AAPM
4612 Kinkin Yuliaty Subarsa Putri Certified International Communication Specialist (CICS)-AAPM
4613 Ary Sunantiyo Certified Master Facility Manager (CMFM)-AAPM
4614 Desy Oktaviani Certified International Marketing Analyst (CIMA)-AAPM
4615 Raeni Dwi Santy Certified International Marketing Analyst (CIMA)-AAPM
4616 Purwadi Certified International Marketing Analyst (CIMA)-AAPM
4617 Yolla Margaretha Certified International Marketing Analyst (CIMA)-AAPM
4618 Mirza Tabrani Certified International Marketing Analyst (CIMA)-AAPM
4619 Andy Pratama Sulistyo Certified Marketing Analyst (CMA)-AAPM
4620 Lina Andrini Certified Risk Management Professional (CRMP)-AAPM
4621 Diani Nurhidayati Certified Risk Management Professional (CRMP)-AAPM
4622 Haris Irnawan Certified Risk Management Professional (CRMP)-AAPM
4623 Ajeng Anggraeni Certified Risk Management Professional (CRMP)-AAPM
4624 Prasdita Intan Ninda Certified Risk Management Professional (CRMP)-AAPM
4625 Raden Rizky Hernanda Certified Risk Management Professional (CRMP)-AAPM
4626 Dian Ayu Aprianti Certified Risk Management Professional (CRMP)-AAPM
4627 Belinda Rahmadiana Certified Risk Management Professional (CRMP)-AAPM
4628 Tria Silvianti Rahayu Certified Risk Management Professional (CRMP)-AAPM
4629 Amanda Inke Mahardika Certified Risk Management Professional (CRMP)-AAPM
4630 Dwiki Hardika Certified Risk Management Professional (CRMP)-AAPM
4631 Eka Afyani Lestari Certified Risk Management Professional (CRMP)-AAPM
4632 Otong Komarudin Certified General Affairs Management Professional (CGAMP)-IBS
4633 Rizky Prasetya Raenaldi Certified General Affairs Management Professional (CGAMP)-IBS
4634 Novian Pradipta Certified Strategic Business Analyst (CSBA)-AAFM
4635 Kurnia Tri Atmojo Certified Strategic Business Analyst (CSBA)-AAFM
4636 Bagus Nugroho Susanto Certified Strategic Business Analyst (CSBA)-AAFM
4637 Sabilul Hudaya Certified Strategic Business Analyst (CSBA)-AAFM
4638 Jhon Leonardus Lantang Certified Strategic Business Analyst (CSBA)-AAFM
4639 Irma Wibiyanti Certified International Project Manager (CIPM)-AAPM
4640 Irma Wibiyanti Certified in Information Technology Risk Management (CITRM)
4641 Rika Tjakrawati Certified in Financial Risk Management (CFRM)-AAFM
4642 Daniel Lukito Certified Leadership Consultant (CLC)
4643 Hendri Irwanto Teja Certified Strategic Business Analyst (CSBA)
4644 Adi Wijaya Master Data Center Professional (MDCP)-AAPM
4645 Benediktus Ronaldy. Master Data Center Professional (MDCP)-AAPM
4646 Evy Rachmawati Chaldun Certified Business Analytic Professional (CBAP)-AAPM
4647 Zaini Abdillah. Certified Human Resource Analyst (CHRA)-AAPM
4648 Tony Wijaya Certified Marketing Analyst (CMA)-AAPM
4649 Hafizh Fitrianna Certified Marketing Analyst (CMA)-AAPM
4650 Djoko Hendro Setiawan Accredited Supply Chain Professional (ASCP)-AAPM
4651 Lukman Nulhakim Certified International Operation Management Professional (CIOMP)-AAPM
4652 Bayu Arko Anggoro Certified International Operation Management Professional (CIOMP)-AAPM
4653 Dian Mohammad Hakim Certified Education Planner Professional (CEPP)-IBS
4654 Anies Fuady Certified Education Planner Professional (CEPP)-IBS
4655 Alifiani Certified Education Planner Professional (CEPP)-IBS
4656 Iman Supratman Certified Human Resource Analyst (CHRA)-AAPM
4657 Tommy Yudistira Certified Human Resource Director (CHRD)-AAPM
4658 Adityo Bagus Saputra Certified Strategic Business Analyst (CSBA)-AAFM



Dr. Fauzi Hassan Initiates and Inaugurates New Members !

American Academy Indonesia Chapter – Prof. Dr. Ir. Fauzi Hasan, MM., MBA., MPM., CWM., ASCA President Chapter The Chapter Office

Jl. Komplek IPB No.2

Loji-Sindang Barang-Bogor Indonesia

Phone: +62 (251) 8310930

Mobile: + 62 816-976-273

E-mail:fauzihasan1112@gmail.com


* This Indonesian Chapter is recognized directly by the BNSP Government Credentialing Agency




Indonesia Regional Partners and Providers under Chapter:





1.

HSP Academy Training Center




Ruko Graha Boulevard Blok D/26 Sumarecon – Gading Serpong – Tangerang-Banten-Indonesia




Phone: 62 21 29001151 or 62 21 29001152 or 62 21 29001153




Mobile Phone: 0812 8190 8009|0812 8388 6030 | 0812 1990 1006




Fax : 62 21-29001152




Email:

info@hspacademy.com

Link: www.hspacademy.com





2.

Expertindo Training and Consulting




Jl. Kaliurang Km 10, Kompleks Perum Puri Gentan Asri No 11, Yogjakarta-Indonesia




Phone 62 85100890284




Fax: 62 274-884489




Email: mail@expertindo-training.com




expertindotraining@gmail.com

http://expertindo-training.com




3.

PT. Astronacci International

Jl. Pegangsaan Indah Barat Blok A No.99

Kelapa Gading-Jakarta 14250-Indonesia.

Phone: 62 21 29385522

Link:

http://www.astronacci.com

4.

AHS Manajemen


Jl. Amil Raya N0.60 Pejaten Barat




Pasar Minggu Jakarta-Indonesia




Contact Person : Dr. Ahmad Hidayat




Phone +60 8112009869




Email :suta.phd@gmail.com




Web :www.ahsmanajemen.com

5.

PT. Nusantara Mitra Berkembang
Office : Green Puspa Asri B2 No 31, Kalipecabean, Candi, Sidoarjo - Jawa Timur-Indonesia
Email :

nusamitraconsulting@gmail.com,

nusantara.mitra.berkembang@gmail.com
Phone : 0851-5900-8687
Website :

www.nusamitraconsulting.com

6.

PT. Hutama Hanriz Indonesia
Office: Grand Permata Jingga, 14th Boulevard Avenue No. 11, Malang - Jawa timur-Indonesia
Marketing: Sekarpuro Residence Blok C45, Malang - Jawa Timur
Email:

admin@hutamaindo.com
Mobile Phone: 0812-3938-3736 / 0821-8038-3736
Link:

www.hutamaindo.com 7. PT. Globaltech -Special Partner
Office: Jl. Darul Quran No. 5 Bogor-Indonesia
Email:

admin@hutamaindo.com
Mobile Phone: 0816-1140-440 / 0819-3012-2000
Link:

www.globaltech.com 8.

MONEY FOR WEALTH – Financial Services
Belleza Office Tower, 7th Floor
Jl. Letjen Soepeno No. 34
Arteri Permata Hijau, Jakarta 12210 – Indonesia
Phone: (021) 27093024 atau 081315666870 (Nathalia Wulansari)
Email:

admin@money4wealth.com 9.

Fakultas Ekonomi dan Bisnis
Universitas Winaya Mukti
Jl. Turangga no. 25 Bandung
Contact Person : Bu Winna, +62 878-2290-1631 (WA)
Website :

http://www.unwim.ac.id 10.

PT. Prodemi Mitra Bisnis
Office : Gedung Masindo lt.3.
Jl. Mampang Prapatan Raya No.73A, Jakarta Selatan - DKI Jakarta
Email :

prodemy.global@gmail.com
Mobile Phone : 0821-1223-5378
Link :

www.prodemyasia.com