Jamaica Board of Advisors & Consultants
The Global Academy and Hamilton Associates Consulting and the Jamaican Institute of Management (JIM) have joined forces for certification training in Jamaica.
GAFM ® Global Jamaica Location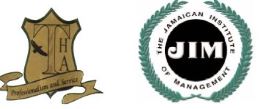 Board of Certification Training Standards Jamaica
Dr. Neville Swaby

Dr. Trevor Hamilton

Dr. Howard Haughton

Dr. Cornel Collins

Dr. George Mentz, Esq.
Executive Office: Hamilton Consulting
CERTIFIED SPEAKERS & TRAINERS
DR. HOWARD HAUGHTON
• Howard has over 20 years of working experience in Banking and Finance as well as other disciplines including engineering and is currently the managing director of a boutique finance & risk management consultancy based in the UK and Jamaica.
• Howard is recognized as a world class expert in finance and has conducted numerous consulting and training assignments internationally.
• Howard has held executive roles, within risk and capital markets, at Regional institutions in the Caribbean and senior roles in institutions including Merrill Lynch, Deutsche Bank, Dresdner Bank and JP Morgan.
• Howard has written many papers and books in the area of mathematics and its applications and has research interests covering corporate governance, risk management, asset valuation, securitization and portfolio optimization and management..
Howard holds a PhD in Mathematical Computer Science from Wolverhampton University; he read for a B.Sc. from Teesside University in Mathematics, Statistics & Computer Science and is a Fellow of the Institute of Mathematics and its Applications in the UK. In addition, Howard was awarded the Security & Financial Derivatives qualification in the United Kingdom and has read for a master's level qualification at Oxford University in Financial Strategy at which he obtained a distinction. Howard is also a Certified Treasury Professional awarded by the Association of Finance Professionals.
DR. NEVILLE SWABY
Dr. Neville Swaby, an Associate Professor/Associate Dean in the College of Business and Management is also the Executive Director of the UTech/JIM School of Advanced Management. He is well qualified to hold senior positions in the College with qualifications such as: The DBA in International Business (University Sarasota/Argosy Business School) the MBA. Finance & Management (Barry University). BBA (Double Major) Finance & International Business (FIU). Dr. Swaby has a wide range of experience across both large multi-national and smaller organizations and has worked in venture-funded, high growth entrepreneurial environments, as well as on social entrepreneurship and corporate innovation projects.
Internationally, Dr. Swaby worked for example in the USA as a licensed Investment Advisor for First Investment Corporation, Wall Street; Manager, Asset Management Corporate Bank; Operations Officer, City Bank; and locally as Financial Consultant to the, National Development Bank of Jamaica and Financial Controller of the Agricultural Credit Bank of Jamaica.
His leadership at the UTech/JIM School of Advanced Management has been pioneering and exemplary. He has successfully merged a private sector organization (JIM) with an academic institution (UTech). He has succeeded in making the institution not only a credible academic centre but also a profitable unit of the College.
He has been instrumental in the development of several new programmes including:
Master of Business Administration (MBA) programmes with specializations in the areas of: Marketing, Finance and Management, Agripreneurship, Entrepreneurship with Information Technology, Hospitality & Tourism Management; Master of Science in Finance (M.Sc. Finance) with specializations in Investment and International Banking; Streamlined the Advanced Securities Course for Financial Sector professionals with the introduction of the Bloomberg Caribbean training Seminar; Doctor of Business Administration (DBA) with specializations in Finance, Management, Accounting and Hospitality and Tourism Management and Doctor of Philosophy (PhD) in Finance and Accounting As an academic he has been active in the supervision of higher degree students at both masters and doctoral levels, published extensively and entered the local media debate on critical national financial issues. Dr. Swaby is a member of The American Finance Association, The Academy of International Business and The Jamaica Institute of Management and is actively involved with the Jamaica Red Cross. Jamaica Chamber of Commerce. A Fellow of the Jamaican Institute of Management
Dr. TREVOR HAMILTON
Dr. Hamilton is an international business consultant who is Founder and President of Trevor Hamilton & Associates- International Managements Consultants, Ltd. As a consultant, he has worked in more than 30 countries spanning: the Caribbean, Central America, South America, USA, Canada and the Commonwealth Pacific, His list of clients include some of the leading international, regional and national organizations and corporations such as:
World Bank
Inter-American Development Bank (IADB)
U.S Agency for International Development (USAID)
Canadian International Development Agency (CIDA)
Caribbean Development Bank (CDB)
United Nations Agencies
European Union (EU)
Caribbean Common Market (CARICOM) Secretariat
Commonwealth Secretariat
Government of Mauritius
EXIM Bank of Jamaica
National Investment Bank of Jamaica
Capital and Credit Group
First Caribbean International Bank
National Development Bank of Jamaica
National Insurance Board of Turks and Caicos Islands
Blue Cross Blue Shield of Jamaica
Petroleum Corporation of Jamaica
University of Technology, Jamaica
University College of the Caribbean
University of the West Indies
Caribbean Maritime Institute
Foundation for International Training
Fourteen Caribbean Governments
City of Kingston Cooperative Credit Union
Prior to becoming a consultant, Dr. Hamilton held very senior professional and executive positions in 3 major Caribbean organizations and enterprises. Namely:
Chief of Industry, Technology, Transport, Tourism and Standards at the 15 member country Caribbean Common Market (CARICOM) Secretariat.
Senior Executive (General Superintendent) at the Guyana Bauxite Company.
Divisional Director/ Advisor at the Planning (Economic) Institute of Jamaica, responsible for the management of the Government of Jamaica-World Bank funded Economic Structural Adjustment Program.
Dr. Hamilton is an GAFM/AAFM Certified Wealth Manager ® and is Fellow of the following 3 major professional organizations: The British Institute of Management, The Jamaican Institute of Management and the Institute of Management Consultants of Jamaica.